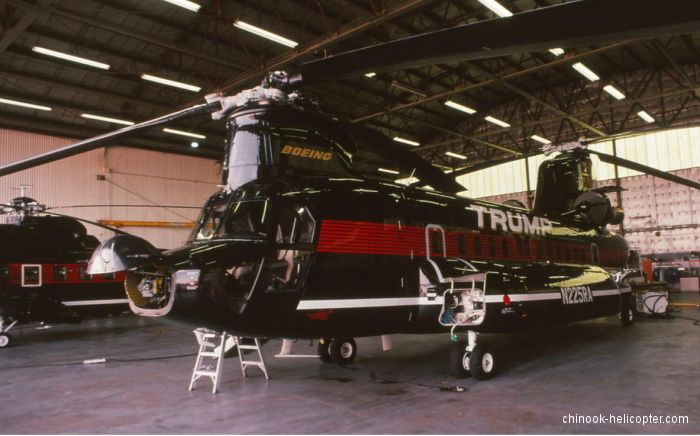 Trump Shuttle Inc
, best know as Trump Airlines or
Trump Air
was started by Donald Trump in 1989 by purchasing the landing rights and some of the physical assets of the Eastern Air Shuttle from Eastern Air Lines. Like its predecessor, it operated hourly flights of Boeing 727 aircraft from LaGuardia Airport in New York City to Logan International Airport in Boston, Massachusetts and Washington National Airport. It ceased operation in 1992.
A scheduled helicopter service between New York and The Hamptons was operated with 3 Sikorsky S-61 and 2 Boeing-Vertol 234 Commercial Chinook. An AS332 Super Puma was used for chartered flights

Model
C/N
Built
ID
S-76B
760362
1990
G-TRMP : DT Connect Europe Ltd ( Donald Trump) from Jun15

S-61N
61-744
1975
N222RA : USA 1984-?
: Trump Airlines

234ER
MJ-016
1985
N224TA : Trump Airlines ~ 1989-1991

234LR
MJ-023
1986
N225RA : Trump Airlines ~ 1989-1992

AS332L Super Puma
2087
1983
N25AN : Trump Airlines, VIP ~1990

S-76B
760351
1989
N76DT : Djt Aerospace at Dover, DE from Aug10
: pictured (pic3) as Donald Trump campaign helicopter
: Jul20-Jan21 for sale Sikorsky S76B 1989 - 6.259 flight hours, loc ...


6 Construction Numbers in this organisation found