The United States Coast Guard was one of the first organizations to recognise the usefulness of the helicopter.

Was during World War II, due to the insistence of several Coast Guards officers, that the helicopter was developed for war and peacetime uses.

Their efforts helped this new revolutionary aircraft to evolve into the machine that is known today.



1940, May 13 : Igor I. Sikorsky's flew his VS-300 helicopter for the first time in a public demonstration. Commander William J. Kossler, US Coast Guard, was an observer and began plans for its use by the Coast Guard.



1942, April 20: Igor Sikorsky flew the R-4/HNS in a new demonstration. Kossler was there once again to witness this flight. He would spend the rest of his life devoted to an aviation organization built around the helicopter for use by the Coast Guard.



1942, June 29 : Following an inspection of Igor I. Sikorsky's VS-300 helicopter on 26 June, Lieutenant Commander F. A. Erickson, US Coast Guard, recommended that helicopters be obtained for antisubmarine convoy duty and life-saving.



1942, July 24: The US Bureau of Aeronautics issued a Planning Directive calling for procurement of four Sikorsky helicopters for study and development by US Navy and US Coast Guard aviation forces.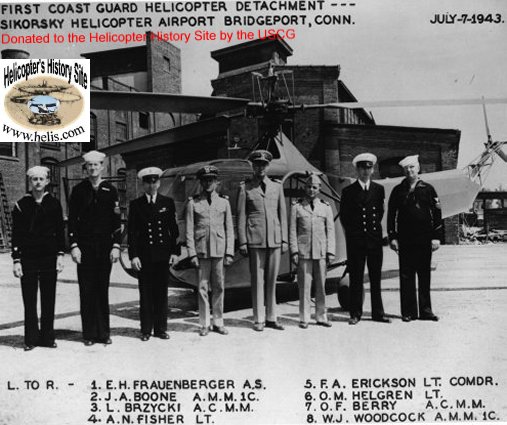 1943, February 15 : The Commander in Chief US Fleet, Admiral King, assigned responsibility for sea-going development of helicopters and their operation in convoys to the Coast Guard and directed that tests be carried out to determine if helicopters operating from merchant ships would be of value in combating submarines.



1943, June 10 : Erickson, proposed that helicopters be developed for antisubmarine warfare, To this end he recommended that helicopters be equipped with radar and dunking sonar.

"not as a killer craft but as the eyes and ears of the convoy escorts."



1943, December 18 : On the basis of his belief that tests indicated the practicability of ship-based helicopters, the US Chief of Naval Operations separated the pilot training from test and development functions in the helicopter program. He directed that, effective 1 January 1944, a helicopter pilot training program be conducted by the US Coast Guard at Floyd Bennett Field, under the direction of the Deputy Chief of Naval Operations (Air).



1944, January 3: The first US recorded helicopter lifesaving operation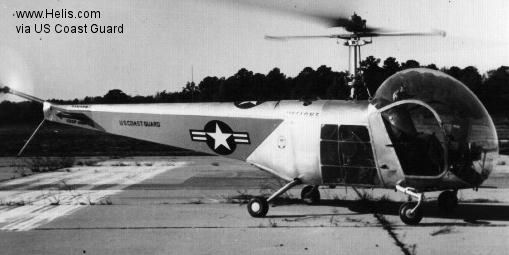 1944, January 16 : Lieutenant Junior Grade Stewart R. Graham, US Coast Guard, made the first anti-submarine patrol from the british freighter Daghestan in mid-Atlantic during a convoy from United States to England flying a Royal Navy R-4.

Between March 3rd 1944 and December that year, at Floyd Bennett Field along with the USCG staff, 4 courses of RN and RAF trainees were introduced to the R-4 (Hoverfly in British service ). On December 30, the 10 Hoverflies were shipped to Britain (Faslane, Scotland) aboard HMS Thane.



1945: Bell 47 The Coast guard had two Bell HTL-1 on wheels One was based at USCG Air Station Traverse City, Mich. and the other at USCG Air Station Miami, Fla. Most of the Traverse City helicopter was on the Icebreaker Mackinaw on the Great lakes and the other on the CGC Eastwind in Greenland and Ellesmere Island in the far North of Canada. Both were lost in crashes.



Continue