EC145 for the Namibia Police Air Wing, 10-Aug-11 : Marignane, France, Namibia's Ministry of Safety & Security has ordered a Eurocopter EC145 to expand the capabilities and reach of the Namibia Police Force's (NAMPOL) Air Wing.
AS350B3 for the Namibia s Police Air Wing, 22-Sep-10 : Cape Town, Eurocopter, the world's leading helicopter manufacturer, today delivered an AS350 B3 "Squirrel" to Namibia's fledgling Police Airwing during a ceremony at the biennial Africa Aerospace & Defence (AAD) exhibition.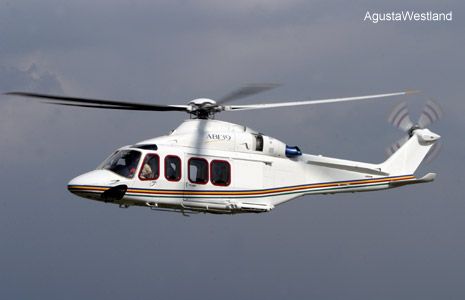 Handover Of The First Namibian AB139 Helicopter, 16-Sep-04 : In a handover ceremony on 16 September at Eros Airport, Windhoek, the first of two AB139 helicopter for the Namibian Government was handed over to the President of the Republic of Namibia, H.E. Dr. Sam Nujoma. The aircraft will be operated by the Government Air Transport Services performing utility, emergency medical service and transportation roles.
Model
C/N
Built
ID
407
53081
V5-HKD : del Govt of Namibia as V5-HKD, unk

AS350B Ecureuil
1226
V5-HKT : ex N350GC, ex ZS-HKT; del Govt of Namibia as V5-HKT, Mar 91.
: Aug.2010 conv into AS350BA

AS350B Ecureuil
1791
V5-HNG : ex ZS-HNG; del Govt of Namibia as V5-HKT, Mar 91; to ZS-HNG.

ab139
31008
2004
V5-HNG : del Govt of Namibia as V5-HNG, Sep 2004.

ab139
31009
2004
V5-HNM : del Govt of Namibia as V5-HNM, Sep 2004.

AS350B3 Ecureuil
4548
2008
V5-HNP : del Govt of Namibia as V5-HNP, Feb 2009.
: NAMPOL
: 10jul15 at Swakopmund airport, Namibia

AS350B3 Ecureuil
4998
V5-HPA : NAMPOL del.2010

EC145
9533
2012
V5-HPB : Namibia Police (NAMPOL)
: 22sep12 pictured at AAD Expo South Africa

AS350B Ecureuil
1877
1985
V5-HRN : ex ZS-HRN; del Govt of Namibia as V5-HRN, Apr 91; rtnd South Afri ...

S-61L
61-427
1968
V5-HSP : Govt of Namibia, Namibian Fisheries Dept, as V5-HSP, Jul93; wfu & ...

AS350B2 Ecureuil
2880
1995
V5-HTJ : F-WQDE, to V5-HTJ, to ZS-RWY, to 5Y-EXF


11 Construction Numbers in this organisation found