CGAS Astoria was established on August 14, 1964 at Tongue Point Naval Station with 2 HH-52A Seaguard to be operated from that location. The helicopters moved to Port of Astoria Airport during bad weather until February 25, 1966 when they moved permanently to their present location at the airport

The 2 HH-52A were replaced with 3 larger HH-3F Pelican in March 1973 and 2 HU-25A Falcon jet aircraft were assigned to the Air Station in October 1983.

A 4.8 million dollar construction began in 1982 and was completed in August 1984 resulting in a two-fold expansion on the hangar building. A third HU-25A Falcon was added in June 1988.

In September 1987 the HH-3F Pelicans were replaced with 3 HH-65 Dolphins. In 1995 both the HU-25A Falcons and the HH-65 Dolphins were replaced by the HH-60J Jayhawk
News about this Rotary Wing Unit :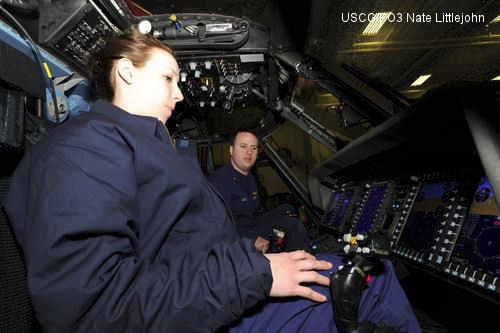 MH-60T for CGAS Astoria, 17-Feb-12 : ASTORIA, Ore. — Coast Guard Sector Columbia River, Ore., received an upgraded rescue helicopter at Air Station Astoria Thursday.
Years
Location
ICAO/FAA
1964/now
Astoria
KAST




Construction Numbers for Astoria
Help Us
C/N
Version
Built
In this Org
In other Org
61-669
hh-3f
1492 : 1974 pictured at CGAS Astoria ( not clearly seen, this also prob be 1482 )

70-622
hh-60j
6001 : conv MH-60T; 2011 CGAS Astoria

70-651
hh-60j
6003 : 1997 at CGAS Astoria
: 15jan16 at CGAS Astoria in yellow paint scheme as part of the centennial +

70-661
hh-60j
6006 : Apr10 CGAS Astoria

70-1565
hh-60j
6008 : Jun05 CGAS Astoria

hh-60j
6011 : Feb12 CGAS Astoria
: March 2012 based CGAS Astoria, Washington

70-1581
hh-60j
6013 : Aug98 CGAS Astoria
: 2013 type:MH-60T CGAS Astoria
: 05aug15 asg CGAS Astoria pictured during the Pathfinder-Minutemen joint ex+

70-1699
hh-60j
6017 : w/o 07jul10 en route from Astoria, Oregon to Coast Guard station Sitka, Al+

70-1703
hh-60j
6021 : Sikorsky S-70B-5, cn 70-1703, ff?; ordered by USN as HH-60J 163821; del US+

70-1788
hh-60j
6029 : Feb12 MH-60T type at CGAS Astoria
: 21oct15 asg CGAS Astoria pictured sits on beach while the crew rescue swim+

70-1789
hh-60j
6030 : Jan08 at CGAS Astoria

70-1956
hh-60j
6035 : 2013 CGAS Astoria

12 serials found for Astoria