Drawing upon the experience of combat search and rescue in Southeast Asia, the Air Mobility Command activated the 1550 ATTW at Hill AFB, Utah, on 1 April 1971 to serve as a test center and school house for rescue aircrews and technology. Moved to Kirtland AFB on 20 February 1976, the 1550 ATTW continued training helicopter and fixed-wing aircrews. The Air Force redesignated the unit as the 1550th Combat Crew Training Wing (1550 CCTW) on 15 May 1984 and then inactivated it on 1 October 1991, transferring the training mission to the 542d Crew Training Wing (542 CTW). The 542d inactivated in turn on 1 April 1994, transferring the mission to the 58th, now redesignated as a Special Operations Wing (SOW)
The unit took delivery of 4 MH-53J Pave Low III airframes in the late 1980s.

---
I was in tne initial cadre. Arrived from Vietnam where I was a gunner in the
20th SOS
. Assigned to the 1550th Flying Training Squadron. We had H-43s, UH-1Fs and UH-1Ns. We were training crew members for the gun mission until it was dropped. Concentrated on Hoist and Sling ops after that. The HH-1H arrived in 1973 or 74. I left for AC-130 duty in mid 74. Great time flying across the Great Salt Lake or doing training in the mountains. Cross countries to Mountain Home AFB. Water Ops on Utah Lake.

I was in the unit from the beginning, came up from ARRTC at Eglin. I was in the Comm shop (Airborne Radio Maintenance) 1971-72. Would have stayed longer (loved Utah!) but born & raised in SAC, so had to get a
Base-Of-Preference
to Barksdale and go back home to SAC!

May71-Jun72, I was at Hill AFB with the 1550th. The unit was just getting started then. I trained for operations in Base Ops at Hill before actually working in Ops with the 1550th.

1971-1972, I was stationed at Hill AFB, worked in plans. The 1550th was a new unit at that time and I designed the emblem for the wing through a competion. We also had C-130 acft in the 1550th. As a matter of fact we turned one of our C-130 over to the Air national guard. When we turned the acft over I went with the acft to Selfridge ANG base, Michigan as that is my home near there. I just turned 77 today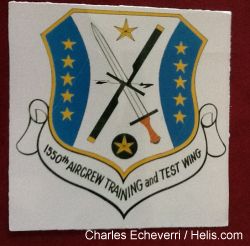 1971-1973, I was in the 1550th, did a tour in Nam and the rest at Hill AFB. I have
this decal
from when I was in the service and now I m trying to get some made that are weatherproof to adhere to my windshield. I m 60 years old. Please let me know if you can help me

1971-1973, I was there at Hill as a crew chief on N and H models. . Wish I could get in touch with Rick Neal, RC Miller Marty Martinez, Al Magnum. Langerbe. I remember working long hours to meet deadlines, and training mandates. Dan Browm. Im on facebook

1971 to 1974, I was at Hill. Was Expediter (HOTEL 2) on the HC-130's. We had 10 of the various types ie. H,P and N models. SMSgt Oliphant was my line chief. I was there for Operation Nickel Grass where we supplied the Isralis with munitions to save their country. Saw lots of interesting things happen to the choppers , like when the H-43 tried to land while missing one of its fwd. landing gear. Ended up setting down on a pile of matteresses. I loved Utah and moved back out there for 4 more years after getting off active duty.

Aug73-Oct74, I was at Hill as an H-3 mechanic. Im currently in DVQ,. I d love to find some friends I had here

1973/74, I was at Hill AFB, worked on H-53s
66-14429
and
66-14431
. Arkie was my crew chief on 429, it was nrs. I was ate up with it for sure and still feel that way. I was sent to crew chief school as an E3 which pissed off a lot of the men above me, I was young and dumb and didnt understand the attitudes, Im sorry. I later heard a CC was supposed to be E5 if your aircraft carried weapons and here I was a 19yr old A1C and my ship was 431
Hollywood
like I was some posterboy. Remember airport 75? That was my ship. I wish I hadnt told my pregnant old lady about the early outs at that time she wanted home instead of Elmendorf and gave my a lot of grief over it, that and the attitudes about the E3 crew chief goin to the movie made me feel unworthy so I went AWOL a week and Woods didnt say shit went AWOL a second week and that was enough to piss off the powers that be that sent me to CC school in the first place. Those Powers let it be known to me that flight engineer school was coming my way and I just blew a great career. Only thing in my life I would change if I could because I was Ate Up With It! I love the AF and my short f up time with the 1550th ATTW. It should have been forever. Im sorry SSGT Arkie and CMSGT Woods hate it bad I let you and the AF down in my dreams its a different story. Side note: article 15 Honorable Discharge and I had accrued 10 days leave that covered the awols strange things strange days! We ll if anyone out there gives a shit drop A1C Miller a line or two at milman5519 at yahoo com. Hey Woods I wish you would have taken me out behind the hanger and got my head straight like you said you were gonna do. Love ya Chief you were a great boss

Nov75, I was assigned to the 15 50th after returning from a 12 month tour in Iceland. I was in the MMS shop as a E4 Sgt. The Air Force would not allow me to transfer to Kirtland as I planned to get out at the end of my 4 year tour on Jan 28, 1977. I helped pack up the outfit and our shop, then sat around for a couple of months doing nothing until the TAC Squadron (388th) from Korat Thailand arrived, then assigned to it until end of my tour, I really wanted to go to New Mexico with them, I enjoyed Utah however

I was assigned to 1550th right out of basic training. I had the glorified job of working the the wing's library. I was there when the wing was moved to New Mexico. I went to NM for two weeks to train the new airmen there how to run the library. Wish I could have been part of it there in NM; but back to Utah I went. I love the Air Force but I had to leave after ten years...my fault; regrets.

Feb78-Aug81, I was with the 1550th at Kirtland AFB. I was with the FMS squadron. As a training wing for helicopter crews. H-53, H-3, H-1 training and the C-130 air crew rescue. In connection with the final phase training for Para-Rescue training. Basically we were a training operation. But during the time of the
Iran Hostage Crisis
, the aircrew training at that time. Were the only crews fully trained to us the H-53 equipted with Pay-Low (low level night vision equipted technology). These crew were to be used as the primary rescue team to bring the hostages out if Iran, after they were rescued from the hands of Iranian captures. The only reason the operation did not go through as planned was because of fear that the information about the operation had been learned by the Iranian causing the entire operation to be moved up by weeks, and the use if the US Marines helicopters off of the carriers in the Gulf which were not equiped with the Pay-Low technology. As a result history records the accident that happened in the desert of Iran between the C-130 that was the aircraft on the ground to refuel the H-53 on the ground before the hostages arrived in the desert from their places of beinning held captive.

1550 ATTW List of helicopters

Help Us
C/N
Version
Built
In this Org
In other Org
61-506
ch-3c
1963
62-12581 : del USAF as CH-3C 62-12581 22Nov63; xfer 1550th ATTW, Hill AFB, UT 73 74;+

61-511
ch-3c
1964
63-9679 : del USAF as CH-3C 63-9679 01May64; xfer Stead AFB, NE; xfer 1550th ATTWG, +

61-550
ch-3c
1966
65-5699 : Sikorsky S-61R, c/n 61-550, ff?; del USAF as CH-3C 65-5699, 07Apr66; conv +

65-090
HH-53B
66-14435 : USAF; 1550th ATTW w/o 23sep81

65-265
HH-53C
69-5786 : USAF; 1550th ATTW w/o 18jul80 Dugway Proving Grounds Utah

31070
UH-1N
69-6664 : 1971-1973 asg 1550th ATTW at Hill AFB. I was the alternate crew chief on t+

PNC-5002 : Policia N-06. ex N2767X. BuNo 69-6664. w/o 17dec05
- PNC-5002 : Oct09 at scrapyard Lakeside, AZ

17114
hh-1h
70-2470 : USAF d/d 23mar73 to 1550th ATTW (Aircrew Training and Test Wing) Hill AFB;+