Haynes Life Flight will begin service on June 15, 2014. With nine locations throughout Montgomery, Elmore, Pike and neighboring counties, Haynes is the largest locally owned ambulance service in Central Alabama.
News about this Rotary Wing Unit :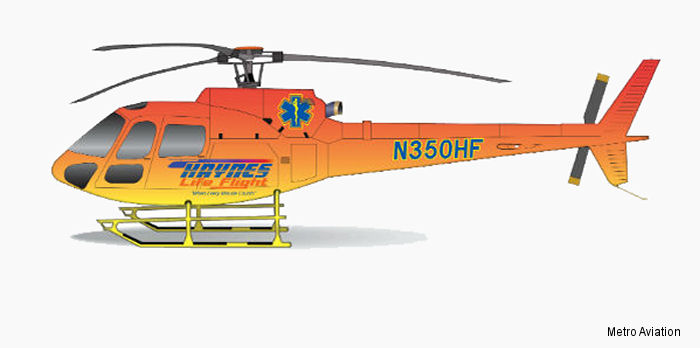 Alabama Haynes Ambulance with Metro Aviation, 25-Mar-14 : Haynes Ambulance has partnered with Metro Aviation to introduce an air ambulance helicopter to their fleet. Haynes Ambulance, headquartered in Wetumpka, AL, has contracted with Metro for the completion and operation of an AS350.
Years
Models
Eurocopter AS350B2 Ecureuil




Construction Numbers for Haynes Ambulance
Help Us
C/N
Version
Built
In this Org
In other Org
3119
as350b2
1998
N911GF : Haynes Ambulance Life Flight at Wetumpka, AL from May14; w/o 26mar16 at C+

G-MSMS : McAlpine Aug/Oct 1998
- G-MSMS : Fairview Securities Investments Ltd Oct98-Sep00
- N53G : USA, to N350LF
N911GF : Metro Aviation Apr03-May14





1 serials found for Haynes Ambulance