A company = A/1-376th AVN.
Iowa ArNG
.

B company = B/1-376th AVN.
Missouri ArNG
.
2014 flying with UH-72

C company = C/1-376th AVN.
Kentucky ArNG
. Flying from Boone.
From 2014 flying with the UH-72 previous used OH-58

News of 1st Battalion, 376th Aviation Regiment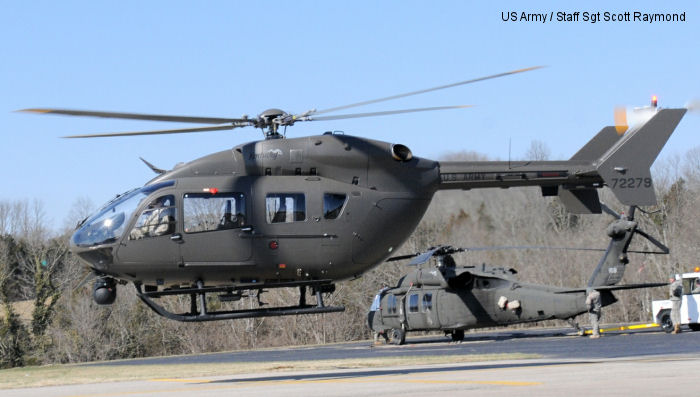 Kentucky Army Guard unveils new UH-72A Lakota, 25-Apr-14 : FRANKFORT, Ky by Staff Sgt Scott Raymond, 63rd Theater Aviation Brigade, — Lt. Gov. Jerry Abramson joined Adjutant General Edward W. Tonini and members of the Kentucky Army National Guard's aviation community for the inaugural roll out of the Guard's newest acquisition, the LUH-72 Lakota helicopter at Boone National Guard Center in Frankfort, Ky., April 24.
1-376 AVN List of helicopters

Help Us
C/N
Version
Built
In this Org
In other Org
9292
uh-72a
09-72092 : Missouri Army National Guard;Co B(-) 1-376th AVN jul14 +

9447
uh-72a
11-72189 : Nebraska Army National Guard, Central Nebraska Regional Airport, Grand Isl+
: 22may18 1-376th AVN. departure Bremerhaven direction Southern Germany for +

9449
uh-72a
11-72190 : Nebraska Army National Guard, Central Nebraska Regional Airport, Grand Isl+
: 22may18 1-376th AVN. departure Bremerhaven direction Southern Germany for +

9450
uh-72a
11-72191 : Nebraska Army National Guard, Central Nebraska Regional Airport, Grand Isl+
: 22may18 1-376th AVN. departure Bremerhaven direction Southern Germany for +

9451
uh-72a
11-72192 : Nebraska Army National Guard, Central Nebraska Regional Airport, Grand Isl+
: Aug14 D Co, 1-376 AVN, Nebraska National Guard
: 22may18 1-376th AVN. departure Bremerhaven direction Southern Germany for +

9453
uh-72a
2011
11-72193 : US Army; 2015 Det.1 Co 1-376th AVN OH ARNG

N178AE : American Eurocopter Jun11

9455
uh-72a
2011
11-72194 : US Army; 2018 Det.1 Co 1-376th AVN OH ARNG

9456
uh-72a
11-72195 : Ohio ARNG AASF Akron-Canton Regional Airport, North Canton;Det.1 Co +

9458
uh-72a
11-72196 : Ohio ARNG AASF Akron-Canton Regional Airport, North Canton;Det.1 Co +

9530
uh-72a
2012
12-72239 : Co A, 1-376th AVN, NE ARNG

N531AE : Eurocopter Dec12

9532
uh-72a
12-72240 : 2019 Co D, 1-376th AVN, NE ARNG, test serial N532AE

9541
uh-72a
12-72250 : US Army; 2018 Det 1 Co 1-376th AVN IA ARNG

uh-72a
12-72263 : Jul14 Missouri Army National Guard;Co B(-) 1-376th AVN MO AR+

uh-72a
12-72266 : Missouri Army National Guard;Co B(-) 1-376th AVN jul14 +

uh-72a
13-72274 : Kentucky Army National Guard;Co C(-) 1-376th AVN nov14 +

uh-72a
13-72277 : Kentucky Army National Guard;Co C(-) 1-376th AVN jul14 +

uh-72a
13-72279 : Kentucky Army National Guard;Co C(-) 1-376th AVN mar14 +

uh-72a
13-72292 : 1-376 AVN Indiana;Det.1 Co 1-376th AVN may14 IN ARNG

uh-72a
13-72299 : Missouri Army National Guard;Co B(-) 1-376th AVN jul14 +

9557
uh-72a
2013
13-72300 : Missouri Army National Guard;Co B 1-376th AVN may14 MO A+
: Sep14 B/1-376th AVN

N569AE : Test serial by Aug 2013, for US Army. Reg cancelled Apr 2014.

9639
uh-72a
13-72304 : US Army; 2018 Det 1 1-376th AVN IL ARNG

40856
oh-58a
70-15305 : Nov13 Grand Island Nebraska for installation at 1-376th Aviation Battalion+

41726
oh-58a
71-20865 : Aug13 asg 1-376th AVN, West Virgina Army National Guard

N95ND : Stratford Police Dept from Feb15; Aug19 still