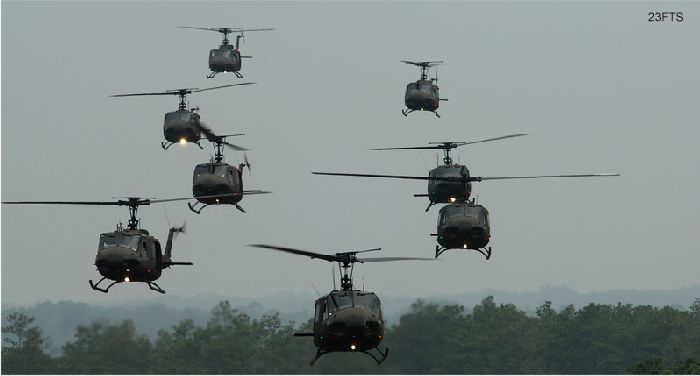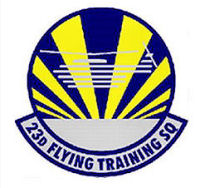 1956/58 as 23d Helicopter Squadron
1966/91 as 23d Tactical Air Support Squadron
15jan94 as 23d Flying Training Squadron, at Army base Fort Rucker, Alabama to train future helicopter pilots in the UH-1H Huey.
The 23d FTS is responsible for all undergraduate rotary-wing helicopter pilot training and is a geographically separated unit under the 58th SOW at Kirtland AFB, and is the sole entry point for careers in the UH-1N, HH-60G, and CV-22 communities.
As of 2019, 23rd Squadron produces anywhere from 74 to 85 pilots per year. With the introduction of the HH-60W and MH-139A into the fleet those numbers are needed to increase to more than 120 by the year 2023. As a response to this situation, 23rd is implementing the use of virtual reality for speed up training under
Project da Vinci
---
Helicopter Training at the 23 FTS
The basic program there goes like this. Contact, Instruments, Cross Country (the fun rides), Remotes, Remote-Form, Low-Level, Low-Level Form, NVGs, and finally culminates with some no-threat NVG-LL-Form rides. NVG flying is a big part of the last month or two of training.
The UH-1 is flown during contact phase (the first 1-2 months) then you transition to the TH-1 for the remainder of the program (Instruments, Day Tac and Night Tac).
The training itself is only for USAF helo-to-be pilots and we stand alone from the Army now. The 23 FTS still uses all the Army airfields and such but the training is all in house. And they moved to Cairns AAF from Lowe AHP. One thing to note is that the LSI guys actually fly with you there for the first 2-3 months. At Laughlin they just ran our sims and taught academics. The "blue" guys take over starting at the cross-country flights and train you through remotes, low-level, form, and NVGs. However, they might be moving away from this because they just starting FAIPing guys who may teach contact before their ready to instruct the other phases.
The choices at graduation are UH-1N, HH-60G, CV-22, and FAIP (First Assignment Instructor Pilot: a newly pilot will fly the same plane at the same place he or she just trained ). All students (except FAIPs) will follow-on to Kirtland AFB to the rotary-wing school house for another 4-6 months. The osprey guys go to MCAS New River to train with the Marines before they come back to the school house and move on to their unit(s). FAIPs are trained in-house at Fort Rucker.
Thanks to Jeff Budis, Rucker 07-09; Updated 30Aug10, by "THAT CLASS".

Hey some of y'alls stuff is dated. We no longer fly the UH1H sadly. All training is done in the TH1 with the exception of instrument training which is in simulators save for two flights in the local area. The course flows like this now: academics, contact, instruments, cross country, remotes (no formation), day tac single ship, day tac formation, night remotes, night single ship. They don't do the formation rides as part of the training, they do then after you graduate while you wait to go to SERE or follow on training. This is current as of october 2013

News of 23d Flying Training Squadron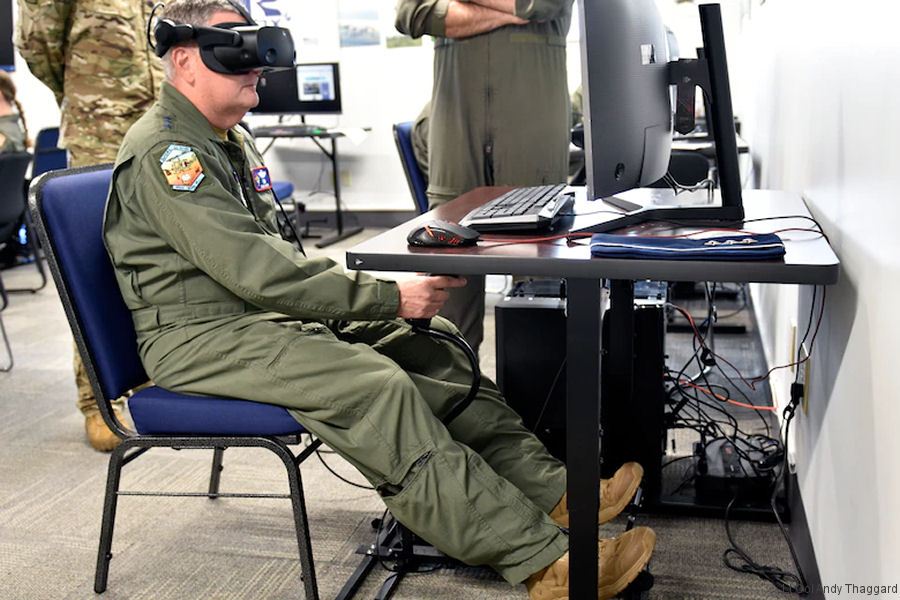 USAF First Helicopter-Only Trained Pilots, 28-Jun-21 : #HelicopterOnly U.S. Air Force graduates first pilots from helicopter-only training since 1993. The first "Helicopter Training Next" (HTN) class went directly to Fort Rucker for TH-1 course instead of having a six-month period on T-6 Texan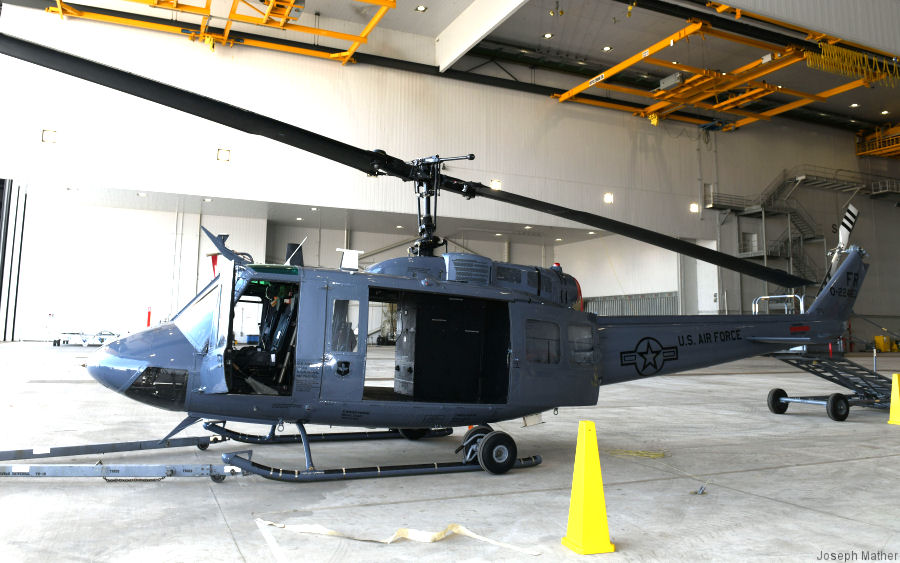 USAF TH-1H Overhaul at Robins AFB, 17-Oct-20 : Robins AFB 563rd Aircraft Maintenance Squadron completed a proof-of-concept overhaul of a Bell TH-1H Huey II trainer helicopter. The Warner Robins Air Logistics Complex (WR-ALC) provides Programmed Depot Maintenance to a variety of aircraft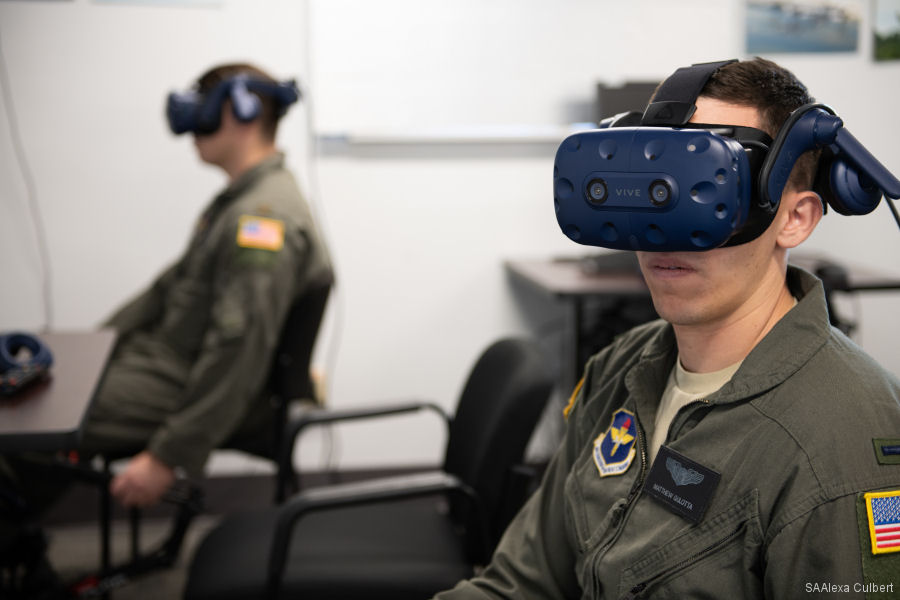 USAF Produces Helicopter Pilots Using Virtual Reality, 15-Dec-19 : USAF 23rd Flying Training Squadron revolutionizes the way pilots are trained under the "da Vinci" project by using virtual reality technology to up their numbers without having to sacrifice excellence. By reducing flight hours from 105 to 60, the new training system saves more than $5.7M per year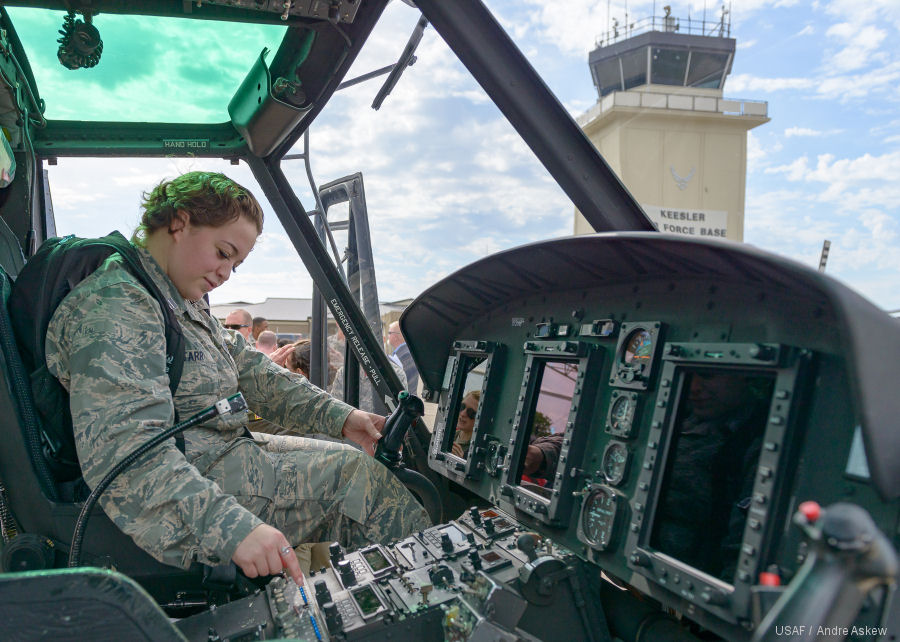 "Project da Vinci" Transforms USAF' Pilot Training, 15-Oct-19 : #PilotTraining USAF' 23rd Flying Training Squadron (23 FTS) implementing new rotary-wing helicopter pilot training under "Project da Vinci" (or "Rotary-Wing Next" ) in Fort Rucker Alabama in order to reduce time from 28 to 14 weeks needed for the formation of UH-1N, HH-60G and CV-22 students