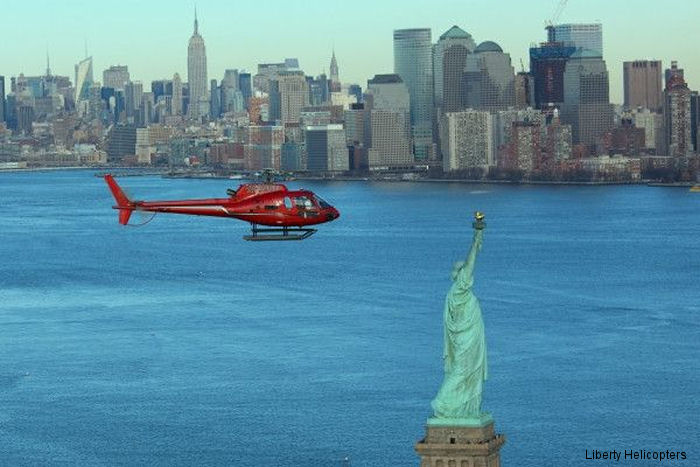 New York City tour and charter company. As of 2014 operates an all-Airbus Helicopters fleet that includes 10 AStars, three AS355 Twin Stars, an AS365 Dauphin and an EC135
News about this Rotary Wing Unit :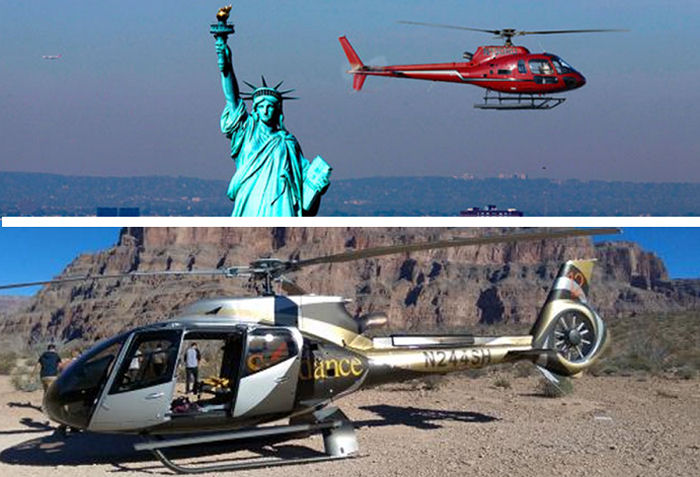 Ten Most Popular Tours in USA, 14-Jun-17 : Grand Canyon and New York helicopter tours named between ten America's most popular tour. TripAdvisor data based on bookings from March 2016 thru March 2017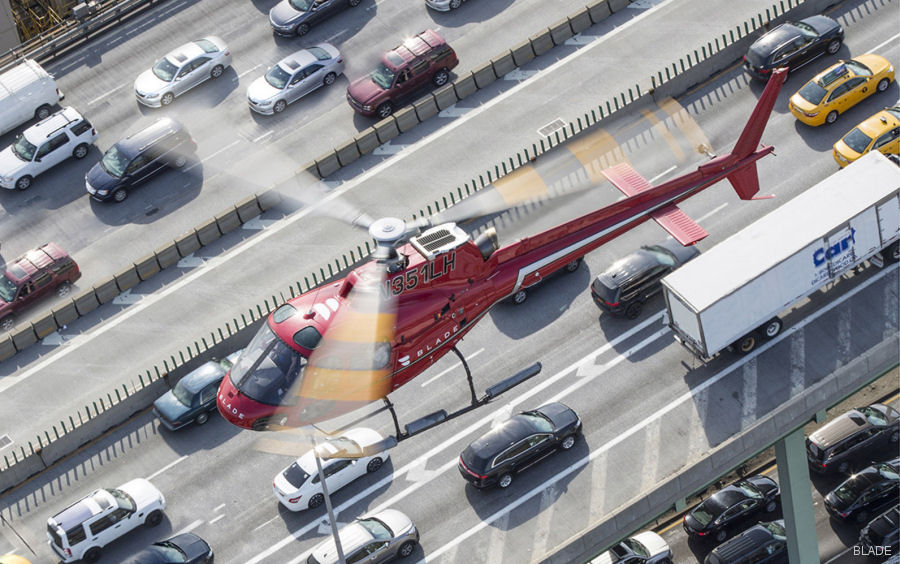 New Helicopter Service at New York's JFK Airport, 25-Apr-17 : Delta Air Lines partnership with BLADE, served by New York City's Liberty Helicopter, for an on-demand helicopter service between its Manhattan heliport lounges and the JFK Airport.
Construction Numbers for Liberty Helicopters
Help Us
C/N
Version
Built
In this Org
In other Org
1052
EC120B
1999
N120LH : Liberty Helicopters, NY, noted Jul02; noted Apr04

- N120LH : Air Pegasus Enterprises at Linden, NJ Feb00-Apr07
N120LH : Lloyd Helicopters May10-Apr11
RA-04116 : Gazpromavia, noted Aug13

4208
as350b2
2007
N130RU : Liberty Helicopters, NY

- N130RU : Meridian Consulting I Corp Inc at Kearny, NJ from Jul07

7654
as350b2
2013
N350LH : Liberty Helicopters, NY

N581AE : American Eurocopter Jul13
- N350LH : Meridian Consulting I Corp Inc at Kearny, NJ from Oct13

7684
as350b2
2013
N351LH : Liberty Helicopters, NY

- N351LH : Meridian Consulting I Corp Inc at Kearny, NJ from Dec13

2553
as350b2
1992
N444LH : Liberty Helicopters, noted 1999

- N444LD : to N352NT
- N352NT : Jan Leasing Llc at Las Vegas, NV, canc Jun07
- C-FPJJ : Heliproducts Industries Ltd at Pitt Meadows, BC Aug07-Mar08
: Prism Helicopters at Pitt Meadows, BC Mar11
C-FPJJ : Trans North Turbo Air Ltd at Whitehorse, YK Mar/Nov 2011
- C-FPJJ : Heliproducts Industries Ltd Nov11-Jan12
: 49 North Helicopters Ltd at Campbell, BC from Feb12

3487
ec130b4
2001
N453AE : Meridian Consulting Co Inc at Linden, NJ from Feb02, N453LH ntu; Liberty H+

N453AE : American Eurocopter

3492
ec130b4
2002
N456AE : Broadcast Helicopters Corps at Linden, NJ; Liberty Helicopters NYC noted 2+

- N456AE : TTF B4 Llc at Roseland, NJ Jun08-Jan11
: Mansfield Heliflight Feb/Apr 2011
: Eurotec Vertical Flight Solutions Llc at Eudora, KS from May11

6413
as365n2
1991
N886TW : Liberty Helicopters, NY

- N365JR : to N886TW
- N886TW : Red Line Air at Danbury, CT from Aug06
: Helifleet 2013-01 Llc at Wilmington, DE from Jan14
: Ju14 Blade titles

8 serials found for Liberty Helicopters