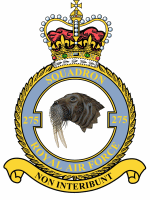 Formed 15 Oct 1941 at RAF Valley as an Air-Sea Rescue unit with Walrus and Lysander fixed wing aircraft, it was disbanded at Harrowbeer, north of
Plymouth
on 15 Feb 1945. It reformed on 1 Mar 1953 at RAF Linton-on-Ouse, to become the first RAF SAR squadron to use the helicopter, with the Sycamore HR.13 in Apr 1953. It was also one of the few RAF units to use the Hiller HTE-2 (between Feb 1954 and May 1955), most being in
Royal Navy
service. In Jul 1954 the Sycamore HR.14 was introduced and this served until the unit was finally disbanded.
Squadron strength had built to 15 Sycamore in 6 Flights by 1957, including F Flt, which formed at Aldergrove on 15 Jul 1957 with 3 Sycamore. Following a unit re-organisation, F Flt became B Flt in Jun 1958. B Flt left Aldergrove on 4 Apr 1959.
In Mar 1959, the Whirlwind HAR.4 arrived, followed by some Whirlwind HAR.2s in Aug 1959. On 1 Sep 1959, the unit disappeared, being renumbered as
228 Squadron
.

275 Squadron List of helicopters

Help Us
C/N
Version
Built
In this Org
In other Org
13066
Sycamore 3
1953
XD196 : w/o 13 Jan 1954 near RAF Linton-on-Ouse, while with 275 Sq

13067
Sycamore 3
1953
XD197 : w/o 17 Nov 1955 after it rolled over, following autorotation practice land+

13144
Sycamore 4
1952
XE306 : w/o 28 Jul 1954, Overturned after power loss in low hover, while with 275 +

XE306 : HR.14 Del Nov 1953 to A&AEE

13198
Sycamore 4
1952
XE317 : Feb 1955, 275 Sq B Flt detached to RAF North Coates
: present at 1958 Aldergrove Air Show
: 275 Sq B Flt by Apr 1959, when unit departed Aldergrove.

- G-AMWO : Reg G-AMWO ntu ? To RAF as XE317
- XE317 : pres Newark Air Museum in CFS c/s coded S-N - photo - www.airport-data.co+
: between May 1978 and Jul 1997, XE317 had been repainted from the RAF train+
: Pres at Firbeck, Yorkshire present jul97 photo www.airport-data.com/aircra+
: under restoration at South Yorkshire Aircraft Museum, Doncaster by
: pictured at Aeroventure, Doncaster in 275 Sq SAR markings

13225
Sycamore 4
1954
XF265 : w/o 10 Jul 1956 while operating with 275 Sq from RAF Leuchars, ditched and+

13246
Sycamore 4
1955
XG501 : HR.14 dd 9 Mar 1955. While operating with 275 Sq from RAF Leuchars, ditch+

13247
Sycamore 4
1955
XG502 : 275 Sq F Flt Jul 1957

XG502 : HR.14, Gate Guardian at AAC Middle Wallop until c May 1983
: to Museum of Army Flying, Middle Wallop by May 1983, still Mar 1990.

13267
Sycamore 4
1955
XG505 : 25 Jun 1956 ditched in sea off North Coates after engine failure, while wi+

13203
Sycamore 4
1955
XG506 : 275 Sq; 118 Sq; 225 Sq; 118 Sq; 72 Sq; Metropolitan Communications Sq; HD+

13239
Type 171 Sycamore
1955
XG508 : del RAF Jul 1955; to 275 Sq
: present at 1958 Aldergrove Air Show

13269
Sycamore 4
1955
XG509 : HR.14 built at Filton, del RAF Jul 1955; 275 Sq; 228 Sq from Sep 1959
: 275 Sq B Flt by Apr 1959, when unit departed Aldergrove.

13368
Sycamore 4
1955
XG514 : Jan 1956 transferred from 275 Sq A Flt to B Flt at RAF North Coates, to as+
: 275 Sq F Flt by Feb 1958

13384
Sycamore 4
1956
XG544 : Built at Filton, dd 14 Dec 1956; 275 Sq Feb 1957; 72 Sq Oct 1961

- XG544 : Flew into Barton Pines on 11 Aug 1972 as one of founding exhibits at the T+
: to Tremar by , still 1994. Sold c Nov 2000.
: If you think you saw this flying in the 1990s, it will very likely have be+

13385
Sycamore 4
1956
XG545 : w/o 16 Jul 1957, ditched into the North Sea 0.5nm off Happisburgh followin+

XG545 : 1st HR.14 built at Weston-Super-Mare. ff at Weston on 14 Mar 1956. Del RAF+

13240
Sycamore 4
1955
XJ363 : w/o 20 May 1957 after forced landing following engine malfunction, while w+

13242
Sycamore 4
1956
XJ380 : dd RAF as HR.14 on 22 Oct 1956;275 Sq; 228 Sq; CFS / S-M; Administratively+

XJ380 : private owner in Drighlington, S. Yorks by until 1991
: to Boscombe Down Aviation Collection Jun 2007. Restoration began Jan 2008.
: Joined the SAR helicopter collection at Morayvia Sci-Tech Centre at Kinlos+

wa 46
har.4
1955
XJ430 : 275 Sq A Flt by Sep 1959

13404
Sycamore 4
1956
XJ895 : 275 Sq; 284 Sq from Sep 1959; El Adem Stn Flt; 103 Sq; 1564 Flt; CFS / S-J

13409
Sycamore 4
1956
XJ915 : HR.14 built at Weston-super-Mare, del RAF Nov 1956; 275 Sq; CFS
: 275 Sq F Flt by Aug 1957

13410
Sycamore 4
1956
XJ916 : HR.14 built at Weston-super-Mare, del RAF Nov 1956; 275 Sq; Khormaksar SAR+

13412
Sycamore 4
1956
XJ917 : XJ917 participated in both the static and flying displays at the 'Battle +

XJ917 : To Cornwall Aero Park (at least to 1985). Left by road after auction on 3+
- XJ917 : Bristol Aero Collection (Banwell) arrived 30 Apr 1993; Kemble 2000 to May +
: on display at NELSAM, Sunderland. In CFS colours, coded S-H

13413
Sycamore 4
1956
XJ918 : 275 Sq; A&AEE

13414
Sycamore 4
1957
XJ919 : 275 Sq F Flt by Aug 1957
: 275 Sq; 225 Sq; A&AEE

13441
Sycamore 4
1957
XL823 : 275 Sq B Flt by Apr 1959, when unit departed Aldergrove.

13460
Sycamore 4
1957
XL826 : 275 Sq by Jan 1959, CFS(H)/A-S Ternhill by 1963. w/o 28 Feb 1966 Ternhill,+