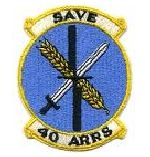 40 ARRS was active from September 1967 to January 1976 serving during the Vietnam War.

Det.3 : Homestead AFB : 1974-1977 UH-1N
Det.4 : Hill AFB : 1981 UH-1N
Det.6 : Holloman AFB : 1978-1981 UH-1N
Det.10 : Aviano AFB : ??-1974 HH-1H
Det.18 : Plattsburgh AFB : 1980-1984
Det.22 : Mountain Home AFB : ??-1988
Det.24 : Fairchild AFB : ??-1988

---
Kaman HH-43F Huskie forward operating bases:
Det.1
RAF Alconbury
, UK
Det.2
RAF Upper Heyford
, UK
Det.3
RAF Lakenheath
, UK
Det.4
Ramstein AB
, West Germany
Det.5
Hahn AB
, West Germany
Det.6
Incirlik AB
, Turkey
Det.7
Torrejon AB
, Spain
Det.8
Bitburg AB
, West Germany
Det.9
RAF Wethersfield
, UK
Det.10
Aviano AB
, Italy
Det.12
RAF Woodbridge
, UK
Det.13
Spangdahlem AB
, West Germany
Det.15
Zaragoza AB
, Spain

Hill AFB
Det 4 40th ARRS / 39 ARRW I flew the UH-1N from Feb81/May82

Holloman AFB
Det 6 40th ARRS flew the UH-1N 1985-1987. We received some TDY (Temporary Duty Assignment) to the Bahamas

Plattsburgh AFB
Det 18 40th ARRS, I was in this squadron from 1980 - 1983

1980-1984 Det 18, 40 ARRS Plattsburgh, NY

Mountain Home AFB
Det 22 40th ARRS, until 1988 we had 3 UH-1N helicopters tail numbers 68-10776, 69-6602 and 69-6615

1982, Arrived Mt. Home early summer 1982. Numerous Military Assistance to Safety and Traffic (MAST) missions with a few that still stand out: Fire Watch gentleman fell into rocks below tower on Trinity Peak, girls softball team struck by drunk driver on a Saturday morning as they headed for state championship, firewood gathering went badly on Smith's Prairie, motorcycle versus pickup tailgate... list goes on and on. Best people, best location, best assignment of my 22 year career. "Rock" -

Fairchild AFB
Det 24 40th ARRS (Save) was active till Jan 1988 then was reassigned to the
37 ARRS
(Beaver) AC at location on Jan 1988 all UH-1N 69-6646 -6641, -6640, -6648, -6666.

I was assigned to
37 ARRS
, Det.10, FE Warren AFB, then to 40th ARRS first Det.22, Mt Home AFB, then Det.4, Hill AFB, then to the Headquarters at Hill. First RDF deployment for the 40th took place at Mt Home under the maintenance supervision of MSgt Richard Henderson.