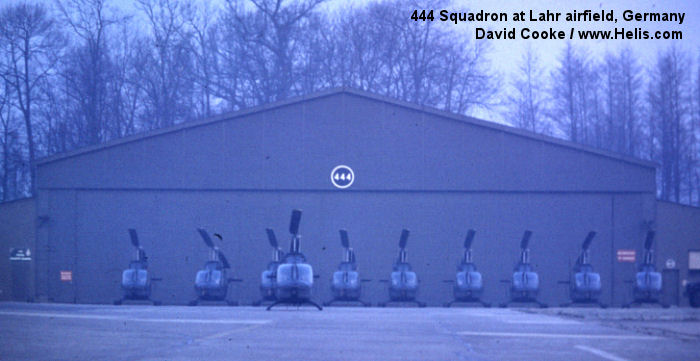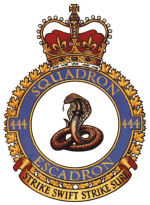 The squadron was established on March 1953 as 444 Fighter Squadron at airbase St. Hubert. In the same year it moved to airbase Baden in Germany. In April 1967 the squadron was disbanded.
On 1 October 1972 the squadron reformed on airbase Lahr Germany as 444 Tactical Helicopter Squadron until 1991 when squadron is disbanded again.
In 1993 the squadron is recativated as
444 Combat Support Squadron
at Goose Bay airbase.

---
by David Cooke
: I served with "Triple 4" Jul 1973-Jul 1976 as Lieutenant, then Capt in B Flt "Recce Flight" under Maj Bruce Meulaner. Maj Lewis was CO 1973 on arrival but LCol Marsh Wright was CO most of that period. I flew a lot with Sgt Gill and Sgt Spence. Sgt Bregani and MCpl Abar Sgt Gislason, Sgt Rymarchuck and others. Hit 1000hrs KIOWA in May 75. We opened up Navs and Recce s to England (Stonehenge), France, Denmark and Norway. Fellow pilots of that time were, Capt Bill Hetrick, Capt Ron Phillips, Capt Mike Macdonald, Capt Ron Johnson, Capt Ron Harder,Lt Brian Lapeer. Capt Dave Rooke .. . Dave Rooke and I flew section tactics as "The OOKE Brothers". I flew AH-1 Cobras with friends in US Army at Ansbach and well as close to the Czech border near the ranges in Graffenvier Germany. . . and participated in the Italian earthquake relief in May 1976 when our OpsO was killed 16 May in a wire-strike crash near Udine Italy.

By Gerry Dollmont:
I was one of the original personnel assigned to 444 Squadron when it formed in Lahr with the Kiowas. There were six maintenence types and Capt. Hetrick all from CFB Shearwater, HS 50 Squadron. I was IC of heavy maintenence and Bruce Walker had the day to day flying portion of Maintenence. When I was there Major Lewis was the CO and LT. Col Wright took over in 1973. It was certainly a rewarding experience to be part of the team that started the Army version of 444 Squadron. Great memories. Now retired and living in Clearwater, Florida

My brother in law...Master Corpral Robert Howell( Chip) served in Lahr with the 444 in 1972...He died on the oil rig Ocean Ranger

In 1978 I was attached to The 444 Sqn from 331 txt coy Halifax N.S. As this was my first call out. I had a wonderful time there in the field on NATO Ex .Even was sworn in as a member .Was up in an helicopter on night flight ,what a rush. Kevin Greeno "AOD" Halifax .N.S.

One error I would suggest be rectified is the initial date of the sqn. It originally for in 1947 August flying the Auster aircraft. It only saw service for one year before being stood down. It remained dormant until 1953 when it was reactivated lying the CF-86. This one year was critical in the calculation of the years of active service with the sqn Colours being presented in May 1982. From Aug 1976 til Jul 1979 I had the wonderful experience of being SAME 444. A great time in my life with so many super people.