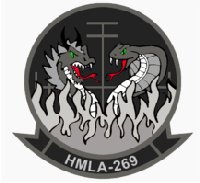 The Gunrunners, tail code HF, were activated February 22, 1971 as HMA-269 equipped with AH-1J SeaCobras. They transition to the AH-1T in 1977. In 1986 is redesignated HMLA-269 with the reception of the UH-1N Twin Huey and the AH-1W variant of the Super Cobra.
News about this Rotary Wing Unit :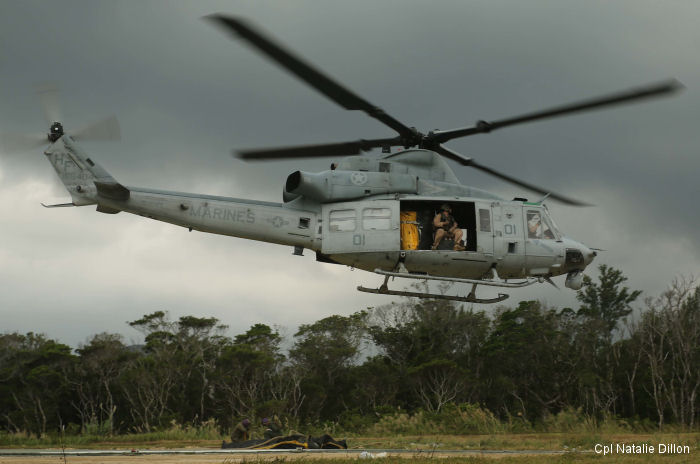 Feeding the beast: FARP, 31-Oct-15 : A Marine Expeditionary Force rely on the Forward Armament and Refueling Point, or FARP, to project combat power and seize the initiative from the enemy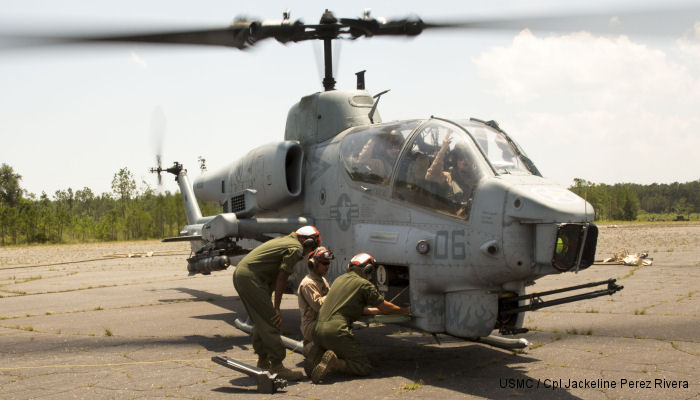 HMLA-269 training with FARP, 31-Jul-14 : MARINE CORPS OUTLYING FIELD CAMP DAVIS, NC by Cpl Jackeline Perez Rivera - A Forward Arming and Refueling Point was established at Marine Corps Outlying Field Camp Davis, near Holly Ridge, N.C., to support aircraft and provide real-world training experience to Marines from Marine Corps Air Station New River from July 8 through 10.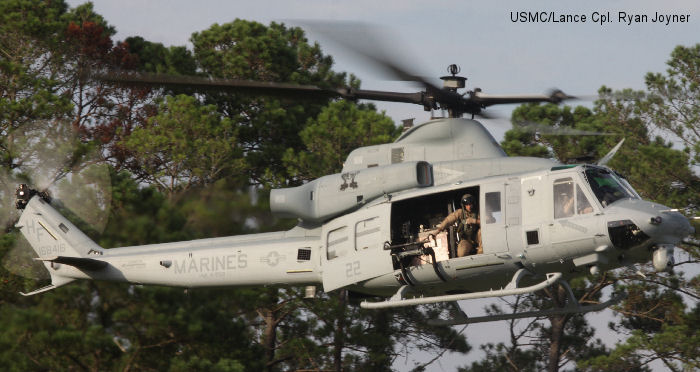 HMLA-269 transition to the UH-1Y, 22-Aug-12 : MARINE CORPS AIR STATION NEW RIVER, N.C. - By Pfc. Cameron Payne - Marines from Marine Light Attack Helicopter Squadron 269 gained proficiency in the new UH-1Y "Venom" Hueys by practicing flying and landing in confined areas aboard Marine Corps Base Camp Lejeune, Aug. 9.
Construction Numbers for HMLA-269 / HMA-269
Help Us
C/N
Version
Built
In this Org
In other Org
31606
UH-1N
158265 : Jan.2012 as /HF-30 HMLA-269, MCAS New River

31657
UH-1N
158781 : HMLA-167 TV-09. HMLA-269 HF-09

31670
UH-1N
159194 : USMC in 1994 /HF-33 HMLA-269. 2000s HMLA-369 SM-02

N194WB : State Dept 19aug11; ex 159194

31671
UH-1N
159195 : 2009 HMLA-269 /HF

31672
UH-1N
159196 : Jun13 arrived 309th AMARG ex HMLA-269./HF-03

26056
ah-1j
159216 : USMC; preserved as HMLA-269 /HF-00 at Carolinas Aviation museum, Charlott+

26078
ah-1j
160113 : USMC; conv AH-1W c/n 26903; 2000 HMLA-269 /HF-18

31720
UH-1N
160170 : USMC; 2000 HMLA-269 /HF-33

N7255N : CBP d/d Feb15, overhauled
: 19Mar16 CBP McAllen, Texas

31731
UH-1N
160439 : USMC in 1994 /YM-34 HMM-365 ; 2000 /HF-38 HMLA-269

31732
UH-1N
160440 : HMLA-269

31736
UH-1N
160444 : 1984 My first Huey as a Crew Chief at HMLA-269. Had her until I went on +

31737
UH-1N
160445 : USMC in 1994 /HF-37 HMLA-269 ; 2000 /HF-37 HMLA-269

31739
UH-1N
160447 : USMC; HMLA-269 w/o 04oct87

31740
UH-1N
160448 : USMC in 1996 deployed aboard USS Nassau LHA-4. /YM-32 HMLA-269 detachment +

31749
UH-1N
160457 : USMC; HMLA-269; wfu 12dec03

31752
UH-1N
160460 : USMC in 1996 USS Nassau LHA-4. /YM-30 HMLA-269 detachment to HMM-365

26914
ah-1t
160743 : USMC (c/n 29139 unk); 1996 embarked aboard USS Nassau LHA-4. HMLA-269./Y+

26932
ah-1t
160744 : USMC; 2000 AH-1W type HMLA-269 /HF-14

26911
ah-1t
160747 : USMC; conv AH-1W c/n 29156; 06apr94 pictured as /YM-22 HMM-365 at RNAS Le+

26086
ah-1t
1978
160748 : Class A damage, on recovery crew and CDI for HMLA-269 deployed to HMM-261.+

26912
ah-1t
160803 : USMC; conv AH-1W c/n 29158 unk; 1996 deployed aboard USS Nassau (LHA 4) +

26928
ah-1t
160805 : USMC; conv AH-1W c/n 29123; 2000 HMLA-167./TV-33; apr12 HMLA-269./HF-02

26930
ah-1t
160810 : 2000 HMLA-269 /HF-15

26910
ah-1t
160813 : USMC; conv AH-1W; HMLA-269 w/o 07sep93

26923
ah-1t
160815 : USMC; conv AH-1W c/n 29129; 1996 deployed aboard USS Nassau (LHA 4) as YM-+

26922
ah-1t
160817 : USMC in 2000 type:AH-1W /HF-07 HMLA-269

ah-1t
160823 : USMC; HMA-269 w/o 24aug79

26115
ah-1t
160825 : USMC; conv AH-1W; 2000 HF-10/HMLA-269

26915
ah-1t
160826 : USMC; conv AH-1W; HF-11/HMLA-269 w/o 07sep93

26909
ah-1t
161016 : conv AH-1W c/n 29126; 1996 as HMLA-269 /YM-23 deployed aboard USS Nassau (+

26121
ah-1t
161019 : Mar13 HMLA-269 /HF-11

N894AS : Bell/Sparks TAH-1 type Brylyn Corporation at Joshua, TX Oct94

26251
ah-1w
163926 : May 2009 HF-23/HMLA-269 ; 14Jul09 stricken from US Navy list

26252
ah-1w
163927 : USMC; conv c/n 29136; HMLA-269 w/o 01mar96

26304
ah-1w
165042 : USMC in 2000 /HF-08 HMLA-269

26313
ah-1w
165053 : 2000 HMLA-269 /HF-02

26316
ah-1w
165056 : USMC; conv c/n 29162; 2000 HMLA-269 /HF-21; 05apr05 pictured (top) as HMM-+
: 18apr13 pictured (bot) as HMLA-269 /HF-01 at MCAS Yuma, AZ

26332
ah-1w
165284 : apr12 HMLA-269./HF-03

26344
ah-1w
165320 : USMC in 2000 type:AH-1W /HF-20 HMLA-269
: /HF-25 HMLA-269 w/o 28sep11 shot down in Helmand Province, Afghanistan

26362
ah-1w
165362 : Feb15 as HMLA-269 /HF-08

26373
ah-1w
165395 : USMC; 2008 HF-29/HMLA-269; 2010 HF-24/HMLA-269

UH-1Y
167805 : 15apr14 pictured as HMLA-269 /HF-48 at MCAS Yuma, AZ

UH-1Y
168317 : USMC, HMLA-269 /HF-25 2013

UH-1Y
168404 : 31oct15 as HMLA-269 /HF-01 during Blue Chromite exercise at Camp Hansen, J+

UH-1Y
168414 : 2013 HMLA-269 /HF-26
: 21jul15 pictured as HMLA-269 /HF-06 during Air Assault Support Exercise 20+

UH-1Y
168416 : USMC; 09aug12 pictured as HMLA-269 /HF-22 at MCAS New River

UH-1Y
168426 : USMC; 19apr13 pictured as HMLA-269 /HF during exercise at Kiwanis Park, +

UH-1Y
168427 : USMC; 2014 HMLA-269 /HF-44

UH-1Y
168502 : USMC; 2014 HMLA-269 /HF-40

UH-1Y
168508 : USMC; May14 HMLA-269 /HF-42

UH-1Y
168784 : USMC; May14 as HMLA-269 /HF-45 at MCAS Cherry Point

50 serials found for HMLA-269 / HMA-269