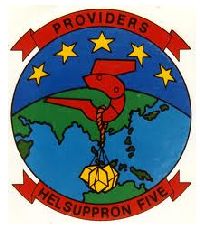 Providers
, tail code
RB
, was first established on September 1st, 1967 when splitted from
HC-1
. In March 1972 was renamed
HSL-31
(Helicopter Anti-Submarine Squadron Three One).
On February 1984, HC-5 is reactivated flying the H-46 Sea Knight for vertical replenishment in resupplying ships at sea until 2005 when is redesignated
HSC-25
(Helicopter Sea Combat Squadron Two Five) after transitioning to the MH-60S Seahawk
---
I was in HC-1 when the announcement came out that a new training squadron was to be formed, HC-5. I volunteered, and was on the roll of those first to transfer. This was in August/September, 1967

When HC-5 was formed (1967) it also had a Minesweeping mission. The squadron had three (3)
RH-3A
s, a converted Sikorsky SH-3A, configured for Minesweeping. Believe the Navy had nine (9) of the RH-3s, the other six (6) were located in Norfolk, VA and Panama City Beach, Florida. We short cruised, out of Long Beach, on the USS Catskill (MCS-1) (Mine Countermeasures Ship). I left the Squadron in 1968 and went to HC-2; the RH-3s were still there when I left.

In January 1969 The Minesweepers were transferred to
HC-7
as Det-113 we rode the USS Catskill to Japan with stops in Hawaii and we had a beer or two at Wake Is. I left the Det when we got to Atsugi and it made only a short Det to Taiwan before transferring back to the states HC-5 again I think.

Master Chief told me the RH-3As that had been in HC-7 ended up as SAR helos at Whidbey Island Wash. As an AMS2 I was on HC-7 Det 113 and took the birds to HC-7 via the USS Catskill via Wake Is.

I got to Imperial Beach just after HC-5 was formed and just before the official name change from NAAS Ream Field to NAS Imperial Beach. I trained on the H-2s and RH-3As and was assigned to the Catskill detachment. Before I was involved in too much training on the "mine sweeping" from the air, the big reserve cut back hit. Honestly, not too disappointed in not going. It was pretty damn dangerous just training off Long Beach! Those cable spools would come back in sometimes with major "over runs" or as we fishermen call them, big back lashes!

Construction Numbers for HC-5
Help Us
C/N
Version
Built
In this Org
In other Org
58-822
hss-1
1958
145667 : Sikorsky HSS-1, cn 58-822, ff:?; del USN as HSS-1, 145667, 24Mar58; to HSS+

61-003
hss-2
1959
147139 : 09jan69 deployed aboard USS Catskill (MCS-1) to HC-7 Det 113, Atsugi Japan+

61-008
hss-2
1959
147144 : 09jan69 deployed aboard USS Catskill (MCS-1) to HC-7 Det 113, Atsugi Japan+

61-018
hss-2
148040 : 09jan69 deployed aboard USS Catskill (MCS-1) to HC-7 Det 113, Atsugi Japan+

58
UH-2A
149756 : Kaman K-20 Seasprite, c/n 58, ff?; del USN as UH2K-1, 149756 unk; redesig +

82
UH-2A
149780 : Kaman K-20 Seasprite, c/n 82, ff?; del USN as UH2K-1, 149780 unk; redesig +

96
UH-2B
150146 : Kaman K-20 Seasprite c/n 96, ff?; del USN as UH-2B 150146 unk; redesig UH-+

119
UH-2B
1961
150169 : Kaman K-20 Seasprite, c/n 119, ff?; del USN as HU2K-1U 150169 1961; redesi+

2008
CH-46A
1963
150271 : 1990/92 as HH-46D asg HC-5 /04 onboard NAS Agana in Guam during my tour 90+

150271 : BV-107M, ff 1963; del USMC 24Jul63 as CH-46A 150271; asgd Boeing RDT&E Mor+
: HH-46A 150271 was transferred to NAS Cubi Point during 1977 after having g+
: I flew this aircraft at NAS Adak in 1977-78 as HH-46A model. In 1978, we t+

2021
CH-46A
1964
150938 : xfer USN HC-7 09Jan70; xfer HC-3 24Sep70; stor MASDC DMAFB as 1J0002 05Aug+

150938 : BV-107M, c/n 2021, ff?; del USMC as CH-46A 150938, asgd Boeing FR Morton, +

2036
CH-46A
1964
150951 : 30apr02 pictured (bot) during maintenance by HC-5 at Yigo, Guam

150951 : BV-107M, c/n 2036; ff?, del to USMC 30Sep64 as CH-46A 150951; asgd Beoinf +
: 1979 pictured (top) as HH-46 type with MCAS Iwakuni SAR
: I think it was a HH-46D type at 9SOM search and rescue MCAS Iwakuni Japan+

2048
CH-46A
1965
150962 : 1991 asg HC-5 /RB-10

150962 : BV-107M, c/n 2048, ff?; del USMC 31Jan65 as CH-46A 150962; asgd Boeing FR +

2052
UH-46A
1965
151902 : BV-107M, c/n 2052, ff?; del USN 30Jan65 as UH-46A 151902; xfer NAS Memphis+

2067
UH-46A
1965
151905 : BV-107M, c/n 2067, ff?; del USN 07Apr65 as UH-46A 151905; unit xfers unk; +

2061
CH-46A
1965
151913 : I have the safety report for this accident. It was a navy helicopter, fro+

151913 : BV-107M, c/n 2061, ff?; del USMC 27Feb65 as CH-46A 151913; asgd Boeing FR +

2071
CH-46A
1965
151921 : 1999 HC-5 /RB-14, HH-46D type

151921 : BV-107M, c/n 2071, ff?; del USMC as CH-46A, 151921, 28Apr65; asgd Boeing F+
- : Columbia Helicopters from 2004; spares?
- - : Scroggins Aviation from 09nov17 for it movie mockup company

2118
UH-46A
1966
152491 : 1999 HC-5, UH-46D type

- : Columbia Helicopters from 2004; spares?
- - : Scroggins Aviation from 09nov17 for its movie mockup company

2139
CH-46A
1966
152518 : asg HC-5 /RB-12, unk; w/o 22oct87 video ditched in North Arabian Gulf off +

152518 : BV-107M, c/n 2139, ff?; del USMC 14Mar66 as CH-46A 152518; asgd Boeing FR +
: Jul68 HMM-265 /EP-2 pictured (pic1) on USS Tripoli (LPH-10). During take o+

2152
CH-46A
1966
152530 : 07Nov01 HC-5

152530 : BV-107M, c/n 2152, ff?; accepted BuWepsRep, Fleet Readiness, Morton PA 11M+
: xfer xfer NADEP North Island, 19Dec88; redesig HH-46D 25Mar89; xfer MCAS I+
: preserved on display at MCAS Beaufort; Aug13 rededicated to Hospitalman 1+
: preserved on display at MCAS Beaufort, SC

65-526
mh-53e
162514 : US Navy; 2001 HM-14 /BJ-541; 2003 HC-4 /HC-50

US Marine Corps
2032
CH-46A
1964
150947 : Last unit HC-5, NAS Agana Guam. Side number 07
: BV-107M, c/n 2032; ff?, del to USMC 28Aug64 as CH-46A 150947; asgd Boeing +

2059
CH-46A
1965
151911 : BV-107M, c/n 2059, ff?; del USMC 19Mar65 as CH-46A 151911; asgd Boeing FR +

2061
CH-46A
1965
151913 : BV-107M, c/n 2061, ff?; del USMC 27Feb65 as CH-46A 151913; asgd Boeing FR +

2076
CH-46A
1965
151926 : BV-107M; c/n 2076; ff?; del USMC 14Jun65 as CH-46A 151926; asgd Boeing FR +

2116
CH-46A
1966
152499 : BV-107M, c/n 2116, ff?; del USMC 07Jan66 as CH-46A 152499; asgd Boeing FR +

2121
CH-46A
1966
152503 : BV-107M, c/n 2121, ff?; del USMC 24Jan66 as CH-46A 152503; asgd Boeing FR +

2152
CH-46A
1966
152530 : xfer xfer NADEP North Island, 19Dec88; redesig HH-46D 25Mar89; xfer MCAS I+

2234
CH-46D
1966
153344 : BV-107M, c/n 2234, ff?; accepted BuWepsRep FR, Morton PA as CH-46D 153344 +

2430
CH-46D
1968
154823 : BV-107M, c/n 2430, ff?; accepted BuWepsRep, FR, Morton, PA as CH-46D 15482+

2433
CH-46D
1968
154826 : BV-107M, c/n 2433, ff?; accepted BuWepsRep, FR, Morton, PA as CH-46D 15482+

2443
CH-46D
1968
154836 : BV-107M, c/n 2443, ff?; accepted BuWepsRep, FR, Morton, PA as CH-46D 15483+

31 serials found for HC-5