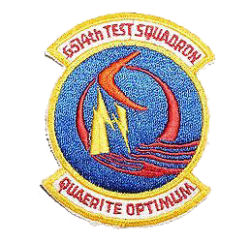 Activated in 1970 at Edwards AFB to support flight testing the Ryan AQM-34Q Firebee reconnaissance drone. Helicopters were fitted as MARS (Mid-Air Retrieval System) . Moved to Hill AFB in 1973. Redesignated 514th Flight Test Squadron in 1992
---
1973-1977 tested BQM-34 B,M,L drones also 34R, and 34F both air and ground launch, dco and rco training for same, also testing on avionics and recovery systems

1975-1979 at Hill AFB H-53 Helicopters performed drone recovery missions over test range using
MARS system
.

There was a C-130 A model for air deployment of the drones

1980-1992, we were involved with testing support for several different projects: Emitter Homing Technology utilizing the XBQM-106 airframe and a phased array seeker head designed by MIT's Lincoln Labs. Tacit Rainbow 750 - a launch and loiter munition similar to a cruise missile. We also flew AQM-34 drones against several new radar systems to simulate Russian Cruise missiles for testing and evaluating those new radar systems: New early warning radar systems including OTHB (Over The Horizon Backscatter), and the Navy's AEGIS cruisers. The AQM-34 drones were launched from the wing pylons of C-130 aircraft fitted with tracking and control systems for the drones. We also once flew a drone equipped with high resolution cameras and scanners as part of a Red Flag exercise to demonstrate real time battlefield assessment.

Jan 1991, spent 4 years with the 6514TS and 514TS. We had several C-130's. I believe 4. Two were set up to do the AQM-34/BQM-34 launches. Two were just trash haulers. tail numbers were 979, 526, 857, and last one I do not remember. 526 was an A model that went to the Hill AFB museum. We also had a couple H-53's configured for MARS. And two H-1's that were really old for use on the UTTR to recover the drones. After returning from a TDY in Turkey in 1994, we received an AWACS C-130 from the Coast Guard. It ended up going to Edwards. I got shipped off to Spangdahlem AB Germany a couple months later. Then they shut it down. Had the civilians working on the H-1's and one of the C-130's that carried the drones. We maintained the H-53's and 3 of the C-130's. Have many of the patches shown still stiched to my uniforms.

6514 TS List of helicopters
C/N
Version
Built
In this Org
In other Org
61-506
ch-3c
1963
62-12581 : del USAF as CH-3C 62-12581 22Nov63; xfer 1550th ATTW, Hill AFB, UT 73 74;+

61-565
ch-3c
1966
65-12790 : USAF d/d 17dic66; 100th SRW SAC; 1968 Da Nang, Vietnam; 1972 Nakhon Phanom+

61-544
ch-3c
1965
65-5693 : Sikorsky S-61R, c/n 61-544, ff?; del USAF as CH-3C 65-5693, 10Dec65; conv +
: 1972-1979, MARS Helicopter asg 6514 TEST SQ, Hill AFB

65-142

w/o 2003

hh-53c
67-14993 : -1979, mars helicopter at 6514th Test Sq at Hill AFB. Had TM gear for flig+

65-184

w/o 1986

hh-53c
68-10354 : USAF; 6514th TS w/o 30oct86

17104
hh-1h
70-2460 : USAF; Was MAC (TBD); later flew at Det 4 37th ARRS MAC USAF LRAFB, AR; tra+

17114
hh-1h
70-2470 : USAF d/d 23mar73 to 1550th ATTW (Aircrew Training and Test Wing) Hill AFB;+

17128
hh-1h
70-2484 : Was MAC (TBD); later flew at Det 4 37th ARRS USAF MAC LRAFB, AR; believe w+

17129
hh-1h
70-2485 : USAF; MAC (Location TBD); later flew with Det 4 37th ARRS (MAC, USAF, LRAF+