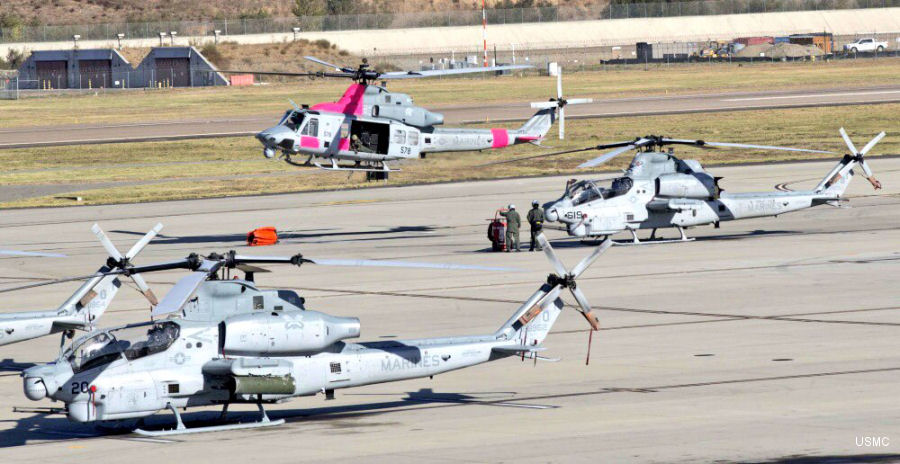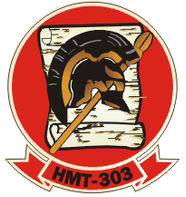 Atlas, tail code QT, based at Camp Pendleton California trains aircrew for the UH-1 Huey and AH-1 Cobra helicopters.

1982 : established as HMT-303
2005 : renamed HMLAT-303

News about this Rotary Wing Unit :
HMLAT-303 corporals honored in ceremony, 21-Jan-14 : MARINE CORPS AIR STATION CAMP PENDLETON, Calif Cpl. Michelle Piehl - Eleven corporals with Marine Light Attack Helicopter Training Squadron 303 (HMLAT-303) symbolically received the noncommissioned officer blood stripe during a ceremony aboard Marine Corps Air Station Camp Pendleton, Calif., Jan. 17.
Construction Numbers for HMLAT-303 / HMT-303
Help Us
C/N
Version
Built
In this Org
In other Org
31402
UH-1N
158231 : USMC; Oct95 HH-1N type HMT-303./QT-420
: USMC, conv to HH-1N; HMLAT-303 /QT-420; 29feb96 to AMARC-7H0245

31417
UH-1N
158246 : USMC, conv to HH-1N; HMLAT-303 /QT-411; soc 10sep05

31419
UH-1N
158248 : USMC, conv to HH-1N; HMLAT-303 /QT-411; soc 16jul09

31421
UH-1N
158250 : Oct95 as HMT-303 /QT-421 at MCAS Camp Pendleton

158250 : US Navy; 1977-1982 was NAS Corpus Christi SAR bird

31429
UH-1N
158258 : USMC; Oct95 UH-1N type HMT-303./QT-405

31430
UH-1N
158259 : conv to HH-1N; HMT-303 /QT-425; soc 20may09

158259 : Aircraft retired from service, timed out. Scrapped hull given to Santa Ba+

31606
UH-1N
158265 : USMC; HMT-303

31610
UH-1N
158269 : USMC; 30jun77 to MASDC-7H055; HMT-303; Mar09 HMLA-773 /MP-12

31611
UH-1N
158270 : USMC; 25jul77 to MASDC-7H061; 1997 HMT-303 /QT-402

31612
UH-1N
158271 : Oct95 UH-1N type HMT-303./QT-406

31619
UH-1N
158278 : to HMT-303?; 2004 Yuma H&HS /5Y at MCAS Yuma, AZ

158278 : Feb80, detached from NAS Guantanamo and was flown aboard USS Guadalcanal (+
: USN, date unk pictured as HC-16 /BF-103 at NAS Pensacola

31622
UH-1N
158281 : USMC; Oct95 UH-1N type HMT-303./QT-407
: HMT-303 QT-407

31625
UH-1N
158284 : USMC; last seen as HMT-303 /QT-400; 30jun10 stricken from the US Navy lis+

158284 : USN, conv to HH-1N; VXE-6 at NAS China Lake, CA

31627
UH-1N
158286 : USMC; 1997 /03 at MCAS El Toro, CA; 2002 HMT-303 /QT-424 ; 2009 AMARC

N911HN : As 28aug09, now owned and operated by the Santa Barbara County Sheriff De+
: Police Santa Barbaba, CA; ex 158286

31629
UH-1N
158288 : HMT-303 QT-420

31637
VH-1N
158552 : conv to HH-1N; to HMT-303 as /QT-412; 2009 was at AMARG

31435
UH-1N
158766 : USMC; HMT-303 /QT-405

158766 : Nov75 to Sep78 at NAS Brunswick SAR; 2009 NATTC i/a Pensacola, FL

31680
UH-1N
159204 : HMT-303 QT-404

31685
UH-1N
159209 : USMC; 2009 HMT-303 /QT

159209 : Sep11 HX-21
: Nov13 at NAS Patuxent River as a testbed aircraft assigned to NACRA!

31703
UH-1N
159693 : USMC; Oct95 UH-1N type HMT-303./QT-413

31711
UH-1N
159701 : HMT-303 QT-401. c/n not confirmed

31714
UH-1N
159777 : USMC; Oct95 UH-1N type HMT-303./QT-403

26073
ah-1j
160108 : Oct95 AH-1W type HMT-303 /QT-460

31716
UH-1N
160166 : USMC; QT-401/HMT-303

26917
ah-1t
160799 : Oct95 AH-1W type HMT-303./QT-461

31447
UH-1N
160829 : 2007 noted as HMT-303/QT-423; 06Mar09 Stricken

26120
ah-1t
161018 : Oct95 AH-1W type HMT-303./QT-452

26205
ah-1w
162536 : USMC; Oct95 AH-1W type HMT-303./QT-430

26206
ah-1w
162537 : Oct95 AH-1W type HMT-303./QT-435

26208
ah-1w
162539 : Oct95 AH-1W type HMT-303./QT-434

26210
ah-1w
162541 : USMC; 1997 HMT-303./QT-457

26213
ah-1w
162544 : Oct95 AH-1W type HMT-303./QT-440

26227
ah-1w
162558 : USMC; 11mar11 pictured as QT-437/HMT-303 at NAF El Centro

26231
ah-1w
162562 : USMC HMT-303, 19jan08 dam at MCAS Yuma, AZ

26239
ah-1w
162570 : Oct95 AH-1W type HMT-303./QT-446

26242
ah-1w
162573 : Oct95 AH-1W type HMT-303 /QT-437

26317
ah-1w
165049 : Oct95 AH-1W type HMT-303./QT-454

26320
ah-1w
165272 : Oct95 AH-1W type HMT-303./QT-462

26354
ah-1w
165330 : 2010 HMLAT-303 /QT-461; 2011 still

26363
ah-1w
165363 : USMC; 16apr15 pictured as HMLAT-303 /QT-425 during WTI 2-15 at MCAS Yuma,+

UH-1Y
166753 : USMC; 2011 HMLAT-303 /QT-503

UH-1Y
166757 : 2011 HMLAT-303 /QT-507

UH-1Y
166770 : USMC; HMLAT-303 /QT-504; pictured with AH-1Z 166774 /QT-601

UH-1Y
166771 : USMC; 03nov08 pictured as HMM-163 /YP-38 on USS Boxer (LHD-4) in the Pacif+

ah-1z
166773 : USMC HMLAT-303 /QT-608

ah-1z
166774 : USMC;Apr09 pictured as HMLAT-303 /QT-601 at Travis Air Force Base; picture+

55101
UH-1Y
167793 : USMC; 28aug08 as HMLAT-303 /QT-507 pictured (pic1) at Camp Pendleton

UH-1Y
167803 : USMC; HMLAT-303

UH-1Y
167994 : USMC; 2011 HMLAT-303 /QT-534

ah-1z
168000 : USMC; Feb 2011 QT-612/HMLAT-303

ah-1z
168001 : USMC 2011 QT-613/HMLAT-303

ah-1z
168003 : USMC; 26jun11 pictured as HMLAT-303./QT-615 on static display at 49th Salo+

ah-1z
168052 : USMC; 2012 HMLAT-303 /QT-619

UH-1Y
168320 : USMC, HMLAT-303 /QT-572 2013

UH-1Y
168405 : USMC; Oct12 HMLAT-303 /QT-554

ah-1z
168420 : USMC; 2012 HMLAT-303 /QT-627

ah-1z
168422 : USMC; 2013 HMLAT-303 /QT-629

ah-1z
168800 : USMC; Mar14 HMLAT-303 /QT-640, red livery

58 serials found for HMLAT-303 / HMT-303