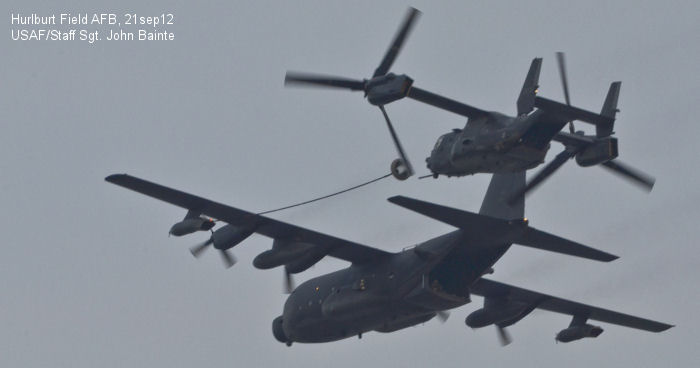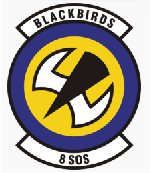 Blackbirds is part of the 1st Special Operations Wing at Hurlburt Field, Florida. The 8th was an attack/Bombardment squadron from 1917 to 1969 when was converted in a special ops unit. From 1999 stood in reserved status flying MC-130 Hercules until 2007 when they received their CV-22 Osprey conducting their first tilt-rotor deployment to Iraq in 2009.
News of 8th Special Operations Squadron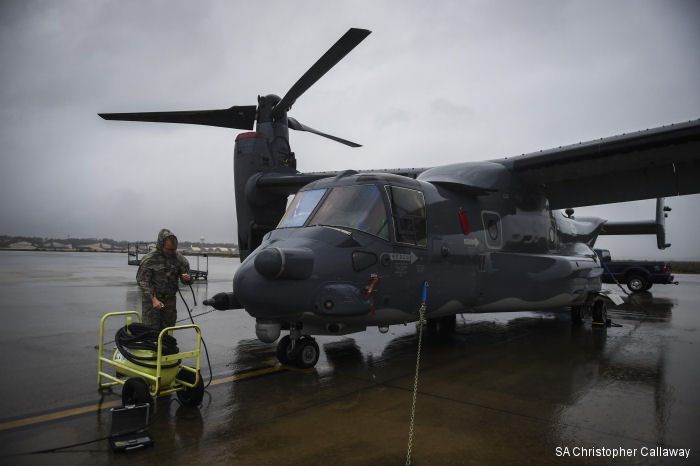 USAF 801st SOAMX is 2015 Maintenance Winner, 11-Dec-15 : Department of Defense named USAF 801st Special Operations Aircraft Maintenance Squadron (SOAMXS) the 2015 winner of the Phoenix Award for Maintenance Excellence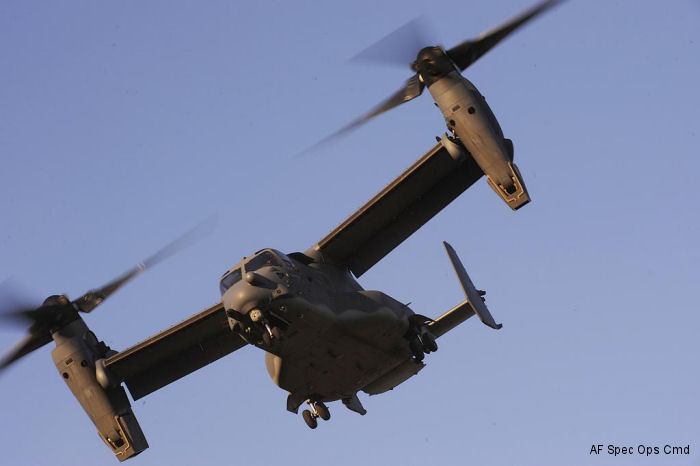 Ospreys 8th SOS awarded the 2013 Mackay Trophy, 30-Jul-14 : HURLBURT FIELD, FL by Staff Sgt. Tyler Placie - In the early morning hours of Dec. 21, 2013, 8th Special Operations Squadron crews departed in three CV-22 Ospreys to evacuate American citizens from the remote city of Bor, South Sudan.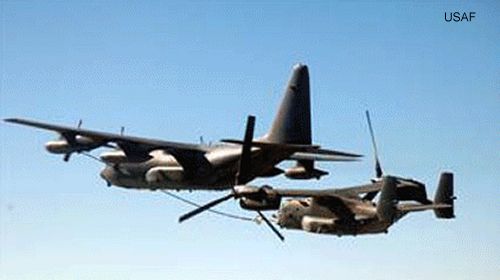 CV-22s Deploy to Africa for First Time, 02-Dec-08 : HURLBURT FIELD, Fla by 1st Lt. Lauren Johnson, 1 SOW Public Affairs - The final two CV-22s broke across the Florida horizon just in time for Thanksgiving dinner. And after a 5,300 nautical mile flight across the Atlantic ocean, they had surely worked up an appetite.
8th SOS CV-22 on USS Bataan, 04-Sep-07 : HURLBURT FIELD, Fla. by Jamie Haig, 1st SOW Public Affairs - The CV-22 Osprey, pilots and flight engineers from the 8th Special Operations Squadron executed the first landing and take-offs from the USS Bataan (LHD 5) Aug. 13-14.
8th SOS List of helicopters

Help Us
C/N
Version
Built
In this Org
In other Org
D1006
cv-22b
02-0025 : Bell-Boeing CV-22B; made precautionary landing in Arizona on delivery flig+

D1008
cv-22b
04-0027 : USAF CV-22B; 8th SOS, Hulbert Field, FL

D1009
cv-22b
05-0028 : USAF CV-22B; 8th SOS, Hulbert Field, FL
: asg 8th SOS training with Navy SEAL at Lake Jackson in Florala, Alabama
: 8th SOS visit Lajes

D1010
cv-22b
05-0029 : USAF CV-22B; 8th SOS, Hulbert Field, FL

D1011
cv-22b
05-0030 : Bell-Boeing CV-22B, c/n D1011, ff?; del USAF as CV-22B, 05-0030, unk; xfer+
: USAF; 8th SOS visit Lajes

D1012
cv-22b
2007
06-0031 : Bell-Boeing CV-22B, c/n D1012, ff?; del USAF as CV-22B, 06-0031, unk; 15J+
: 8th SOS visit Lajes

D1013
cv-22b
2006
06-0032 : Bell-Boeing CV-22B, c/n D1013, ff?; del USAF as CV-22B, 06-0032, unk; xfer+
: 8th SOS visit Lajes
: w/o 13jun12. 8th SOS crash on the Eglin Range, north of Navarre, Florida d+

D1014
cv-22b
2007
07-0033 : Oct12 8th SOS

D1015
cv-22b
2008
07-0034 : USAF CV-22B 2008; 8th SOS, 1st SOW
: 01feb11 pictured with 8th SOS at Hurlburt Field, FL

D1016
cv-22b
08-0035 : 26jan11 USAF CV-22B 0035 pictured with 8th SOS at Hurlburt Field, Florida

D1018
cv-22b
2008
08-0037 : Bell-Boeing CV-22B, c/n D1018, ff?; ordered as 07-0037, but due to product+

D1019
cv-22b
08-0038 : Bell-Boeing CV-22B, c/n D1019, ff?; del USAF as CV-22B, 08-0038, 2009; xfe+

D1020
cv-22b
08-0039 : Bell-Boeing CV-22B, c/n D1020, ff?; del USAF as CV-22B, 08-0039, 2009; xfe+

D1021
cv-22b
2010
08-0040 : USAF CV-22B 0040; 26jan11 pictured with 8th SOS at Hurlburt Field, Florida

D1033
cv-22b
08-0047 : USAF; 2012 8th SOS; 2015 still

D1042
cv-22b
2012
08-0051 : USAF, 2014 8th SOS

D1022
cv-22b
2010
09-0041 : USAF; 2011 8th SOS; 2014 still

D1023
cv-22b
2011
09-0042 : USAF; 23May11 8th SOS static display at the Andrews 2011 Open House; 2013 +

D1024
cv-22b
2011
09-0043 : USAF; 2013 8th SOS; 2014 still

D1026
cv-22b
09-0045 : USAF; 2012 8th SOS

D1029
cv-22b
2012
10-0053 : USAF; 2013 8th SOS

D1030
cv-22b
2012
10-0054 : USAF; 2012 8th SOS

D1031
cv-22b
2012
10-0055 : USAF; 2012 8th SOS; 2014 still

D1041
cv-22b
11-0061 : USAF; Jan14 8th SOS

D1046
cv-22b
12-0065 : USAF; 2017 8th SOS; Nov17 7th SOS

D1049
cv-22b
13-0068 : USAF 8th SOS from Apr15

D1050
cv-22b
13-0069 : USAF 8th SOS from Apr16

D1053
cv-22b
14-0072 : USAF

cv-22b
16-0076 : USAF, 400th Osprey