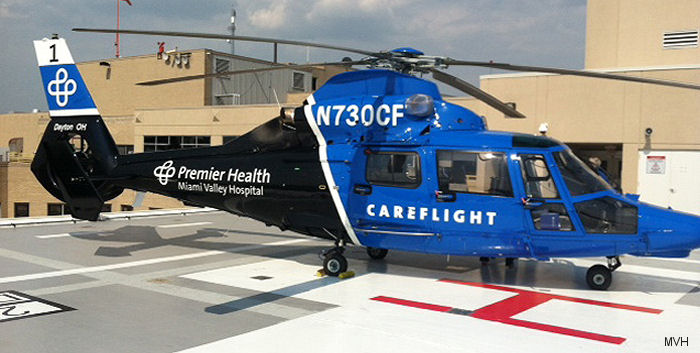 Premier Health
Miami Valley CareFlight Air and Mobile Services / Miami Valley Hospital (MVH) based at Dayton, Ohio.
Region first air ambulance was put into service in October 1983. Operated by
Air Methods
and accredited by
CAMTS
.
CareFlight helicopters serves more than 450 agencies in 17 counties and are stationed at Miami Valley Hospital, Darke County Airport, Warren County Airport, and Grimes Field in Urbana
---
As of Aug13, N625CF N520CF and N164CF are the primary aircraft. N63CF is the backup. When their new AS365N3+ is delivered, it is expected N63CF will be sold and N164CF will be the backup.

News about Miami Valley Hospital
Models
Years
Models
Aerospatiale SA365N Dauphin 2
Eurocopter AS365N2 Dauphin 2
Eurocopter AS365N3 Dauphin 2
Eurocopter AS365N3+ Dauphin 2


Miami Valley Hospital List of helicopters
C/N
Version
Built
In this Org
In other Org
6442
as365n2
1991
N164CF : Miami Valley Hospital (MVH) at Dayton, OH from Dec99, pictured

- XB-GNE
- XA-ROF

6537
as365n3
1998
N520CF : Miami Valley Hospital (MVH) Careflight from Jan04, pictured
: Premier Health CareFlight; hit power lines and crashed onto US 127 near M+

G-BXSS
- JA60TH

6596
as365n3
2001
N625CF : Miami Valley Hospital (MVH) from Dec07, also reg N659MP; CareFlight, pic+

- JA6850
- PP-MSM

6068
sa365n
1983
N63CF : Miami Valley Hospital (MVH) by 2012, pictured; CareFlight

- HB-XOG
N365UC
N63CF

6967
as365n3+
2013
N730CF : Miami Valley Hospital (MVH) from Aug14, pictured (pic2)

N730CF
N730CF