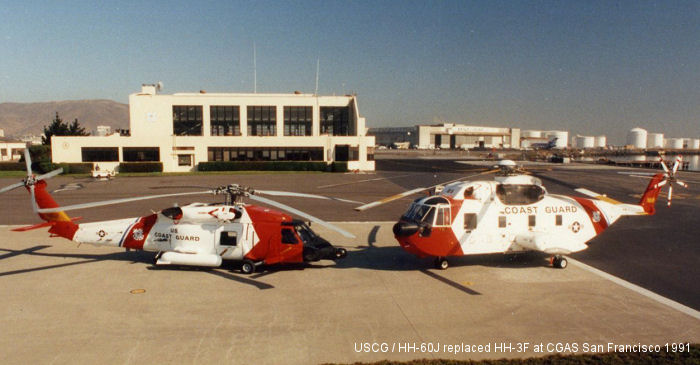 Established February 1941, started operating helicopters, the Sikorsky R-5 (
HO3S-1 Dragonfly
) in 1947.
---
1985-1988, I was Stationed at USCG AirSta SF (Aviation Electronics Tech) Aircraft attached at that time, Pelicans HH-3Fs (4) 1480, 1484, 1470 and I don't remember the 4th airframe. -

News about Coast Guard Air Station San Francisco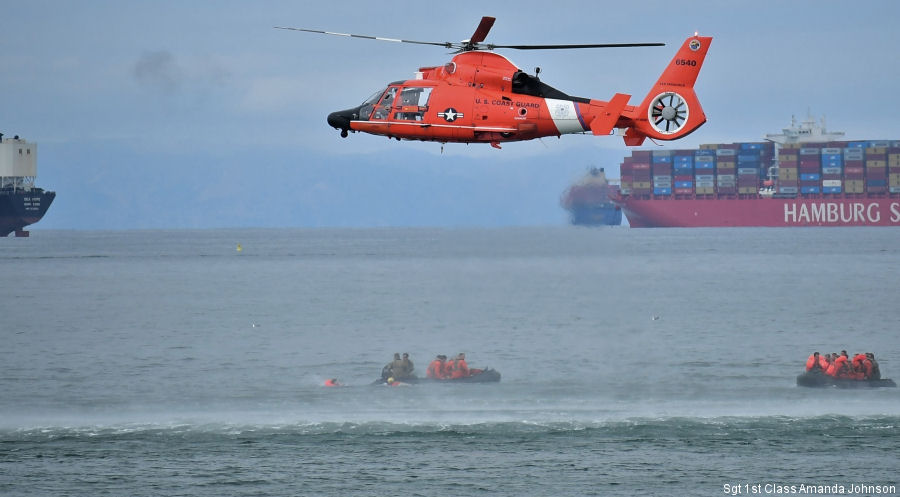 10-Jul-21 -

Black Hawk crews from 1st Assault Helicopter Battalion, 140th Aviation Regiment (1-140th) California Army National Guard trained in water rescue operations with a US Coast Guard MH-65 Dolphin helicopter

#WaterRescue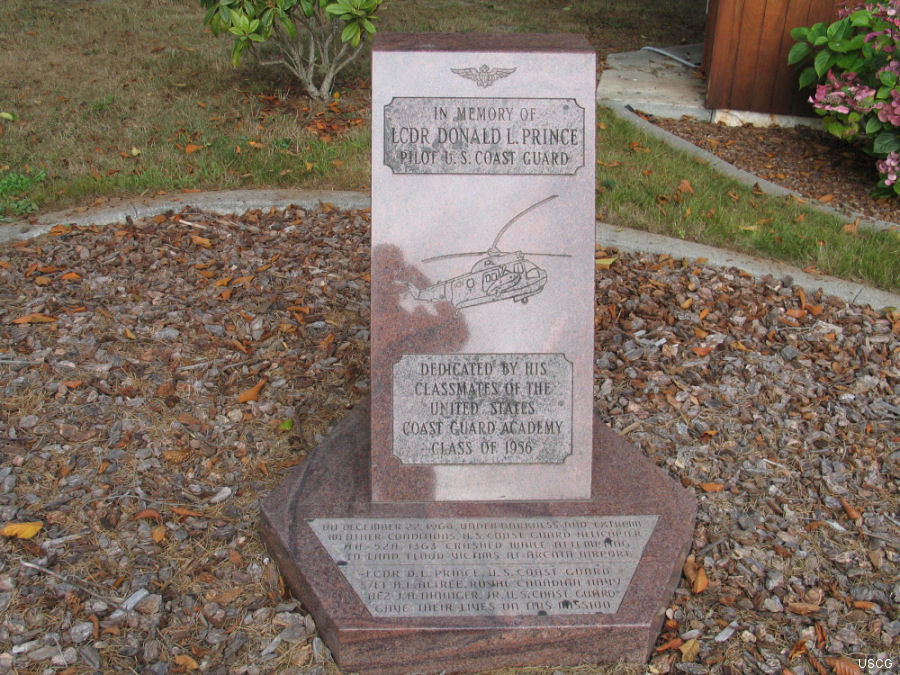 22-Dec-20 -

U.S. Coast Guard to honor the crew and passengers of HH-52 Seaguard CG-1363 helicopter crashed December 22, 1964 during a storm in Humboldt Bay, California

#memorial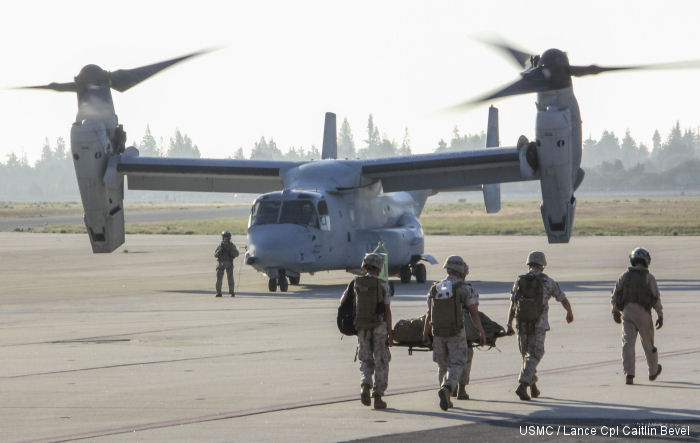 07-Oct-14 -

US COAST GUARD AIR STATION SAN FRANCISCO, Calif. by Lance Cpl Caitlin Bevel – Combat Logistics Battalion 13, 1st Marine Logistics Group, kicked off San Francisco Fleet Week 2014 with a simulated casualty evacuation by members of the Shock Trauma Platoon along the San Francisco Bay, Oct. 6.
Models
Coast Guard Air Station San Francisco List of helicopters
C/N
Version
Built
In this Org
In other Org
62-040

w/o 1964

hh-52a
1963
1363 : USCG HH-52A Seaguard 1363; Brooklyn, NY 04Jun63; San Francisco, CA 12No+

62-044
hh-52a
1366 : 21aug86-dec95 AMARC-46013 /CGAS San Francisco

62-061
hh-52a
1964
1382 : 1973 asg CGAS San Francisco pictured at Pescadero Beach in California duri+

62-067

w/o 1984

hh-52a
1964
1386 : Entered service CGAS Miami 10apr64; xfer CGAS San Diego 01may65; CGAS San+

62-076
hh-52a
1395 : 1973 asg CGAS San Francisco with 1382
: preserved at Warbird Museum, Paso Robles, California, airport. It has no e+

62-083
hh-52a
1398 : 1975 I was her Plane Captain at CGAS San Francisco. AD2 Greer

62-087
hh-52a
1402 : 1973 asg CGAS San Francisco with 1382
: 1975 I got my Winged "S" in her at CGAS San Francisco

61-600
hh-3f
1968
1435 : 20 Apr 1972 collected a casualty with a head injury from the USCGC Klamath+

61-661
hh-3f
1484 : 24sep91 sustained severe damage while preforming a water landing off Berkl+

61-662
hh-3f
1485 : 03oct91 asg USCG San Francisco pictured

70-1581
hh-60j
6013 : late 1991/early 1992, this helo was first deployed at Air Station San Fran+

6055
hh-65
6502 : 2008 MH-65C type at CGAS San Francisco

6038

w/o 2008

hh-65
6505 : 2004 type:HH-65B CGAS San Francisco

6121
hh-65
6511 : 13oct19 at CGAS San Francisco for Fleet week activities

6129

w/o 2015

hh-65
6515 : MH-65D CGAS San Francisco
: w/o 29jun15 asg CGAS San Francisco, Involved in crash during maintenance t+

6032
hh-65
6516 : 2008 MH-65C type, pictured (pic1) 2011 still

6132
hh-65
6517 : type:HH-65B CGAS San Francisco; 2006 still

6160
hh-65
6520 : 2008 type:MH-65C CGAS San Francisco
: 2010 CGAS San Francisco

6044
hh-65
6526 : as HH-65A in; CGAS Kodiak; CGAS San Francisco; CGAS Los Angeles
: 2013 MH-65C type at CGAS San Francisco; 2015 still

6171
hh-65
2003
6527 : 07feb15 at CGAS San Francisco

6177
hh-65
6531 : 2013 MH-65C type at CGAS San Francisco; 2015 still

6182
hh-65
6533 : 2004 type:HH-65B CGAS San Francisco

6183
hh-65
6534 : 2008 HH-65C type at CGAS San Francisco

6189
hh-65
6540 : asg CGAS San Francisco pictured refueling aboard USS Blue Ridge (LCC-19) +
:
: water rescue training with 1-140th crews

6025
hh-65
6543 :

6197
hh-65
6544 : HH-65C type at CGAS San Francisco

6198
hh-65
6545 : asg CGAS San Francisco, over Channel Islands Harbor, Santa Barbara, CA
:

6221
hh-65
6547 : 2014 MH-65D type at CGAS San Francisco

6230
hh-65
6552 : 2008 HH-65C type at CGAS San Francisco

6249
hh-65
6563 : 22feb18 emergency landing at San Francisco's Golden Gate Park, CA after+

6267
hh-65
6572 : 2008 HH-65C type CGAS San Francisco

6284
hh-65
6585 : 2004 type:HH-65B CGAS San Francisco

6285
hh-65
6586 : 2004 HH-65B type at CGAS San Francisco

6292
hh-65
6591 : HH-65B type, CGAS San Francisco

6794
as365n3
6604 :

6804
as365
6607 : pictured (pic2) over Pier 39, San Francisco

F-WWOR