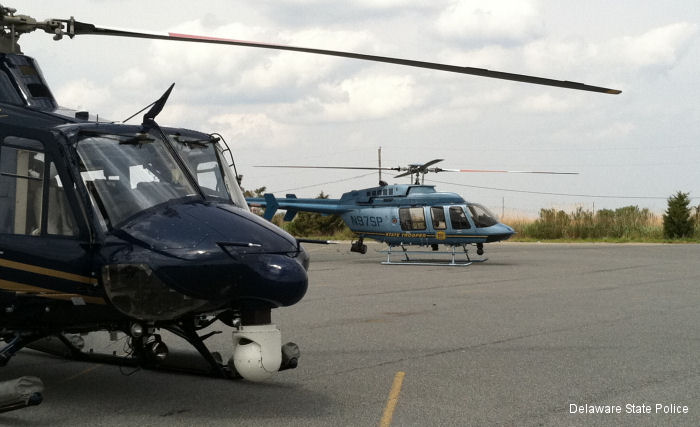 News of Delaware State Police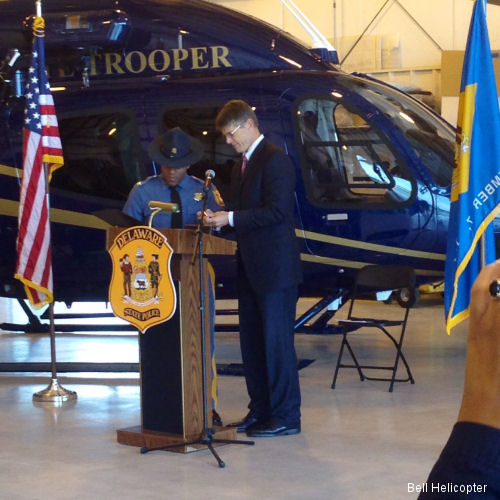 First SAR/HEMS/Police Bell 429 Goes to Delaware, 05-Nov-14 : Delaware State Police Takes Delivery of World First Two Bell 429 Configured for Helicopter Emergency Services (HEMS), Search and Rescue (SAR) and Airborne Law Enforcement (ALE).
Two Bell 429s for Delaware State Police, 10-Apr-13 : Fort Worth, TX - Bell Helicopter, a Textron Inc. company, announced today that it has secured an agreement with the Delaware State Police for the supply of two Bell 429 aircraft. The multi-mission configured Bell 429s will be utilized for both airborne law enforcement operations and helicopter emergency medical services.
Delaware State Police List of helicopters

Help Us
C/N
Version
Built
In this Org
In other Org
53458
407
2000
N165SP : Delaware State Police DSP from Mar01, Bell serial N9127K Nov00

57184
429
2013
N1SP : Delaware State Police DSP State Trooper, Nov14

C-GAEP
N72SP

36425
412ep
2006
N2SP : Delaware State Police DSP, State Trooper Jun06-2014 Test serial N388AL; pi+

N412AD
- N412AD

57185
429
2013
N2SP : Delaware State Police DSP State Trooper, Nov14; 05nov14 pictured on deliv+

C-GAJH
N73SP

53011
407
1996
N407SP : Delaware State Police DSP from May96, also as N10017

N407CH
N407CH

36425
412ep
2006
N412AD : Delaware State Police DSP Aug/Dec 2014

N412AD
- N412AD

57366
429
2019
N6SP : State of Delaware at Dover, DE from Jan20

N6SP

612
206a
1971
N71SP : Delaware State Police DSP, to C-GJBW

C-GJBW
- C-GJBW
- C-GBFE
C-GSKY
- C-GSKY

53580
407
2003
N75SP : Delaware State Police DSP from Jan04, test serial N269SP

53297
407
1999
N97SP : Delaware State Police DSP from Apr99; w/o at Georgetown, DE; canc Jan00

53407
407
2000
N97SP : Delaware State Police DSP May00-Jan15, test serial C-GFVL

- N407AJ
N390SF