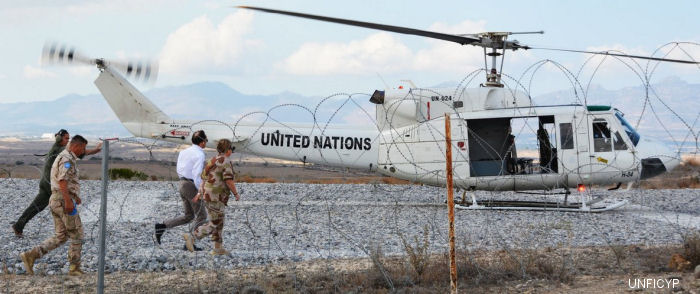 Established to contribute to the United Nations
UNFICYP
mission to Cyprus in Sep 1994. Although composed of Argentinean troops and equipment, the Flight is tasked by UNFICYP HQ in Nicosia (Lefkosia).
Took over UNFICYP flying duties from the UK
contingent
on 30 Sep with its 2x MD500 airframes, after they were air freighted in by FAA C-130 to
Larnaca
on 15 Sep 1994.
By Oct 2011 the team from
VII Brigada Aerea
had achieved over 20,000 flying hours for UNFICYP.

C/N
Version
Built
In this Org
In other Org
30838
212
1978
H-86 : FAA d/d 1978; 1999 pictured (top) with VIP camo at Moron; 2004 in camoufla+

32201
UH-1N
H-90 : FAA from 2000, to UNFICYP

? : IAF; 2000 to Argentine Air Force
H-90 : UN ARGAIR UNFICYP 2000

110-0886D
369d
PGH-01 : built by RACA; INAC; UNFICYP

110-0933D
369d
PGH-03 : built by RACA; used by INAC; UNFICYP ; May08 pictured (pic1) at Moron, Bue+