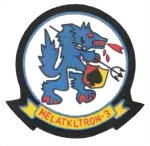 In 1965 increasing american operations in Vietnam resulted in
Operation Game Warden
the creation of Task Force 116 ( a so called
brown water navy
) in order to deny Viet Cong access to the resources in the Mekong Delta .
Among the air units withiin TF116 were Heavy Attack Squadron 21 ( VAH-21 Roadrunners ) flying gunships AP-2H Neptunes, Light Attack Squadron Four ( VAL-4 Black Ponies ) flying 18 OV-10A Broncos borrowed from the USMC and Helicopter Attack (Light) Squadron Three (
HAL-3 Seawolves
).
In March 1966 when operations begun and the promised helicopter squadron wasnt created yet, TF116 used men and UH-1B Hueys from US Army 145th Combat Aviation Battalion (197th Aviation Co)
In June 1966, navy pilots from Helicopter Combat Support Squadron One (
HC-1
at the time flying
UH-2 Seasprites
for the pacific fleet aircraft carriers ) joined TF116 and began the transition to the Huey taking over the missions from the Army by September.
HAL-3 was formally created April 1st, 1967 at Vung Tau and up to nine detachments will be created until the squadron is finally disestablished on March 16th, 1972.
From the beginning their helicopters not only operated from land bases but also from support ships: USS Belle Grove (LSD-2), USS Comstock (LSD-19), USS Tortuga (LSD-26), USS Floyd County (LST-762), and USS Jennings County (LST-846).
From 1970 , USS Garrett County (LST-786), USS Harnett County (LST-821) and USS Hunterdon County (LST-838), were reassigned to the AGP role (patrol craft / boat tender) .
Among the helicopters used by HAL-3 were Army UH-1B/C/M Huey variants,
Marines UH-1E
and Navy
HH-1K
and
UH-1L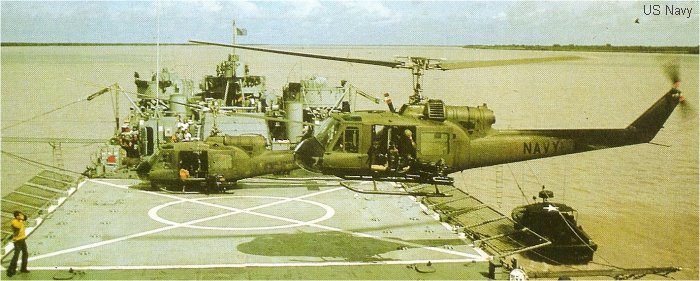 You can see the reason why they were called the "Brown Water Navy" here. A HAL-3 UH-1B Huey is landing on USS Harnett County, the one on background is still with Army Markings. There was not enough room on the ship for both Hueys running at the same time, note the shadows of the aircraft on the ship's deck showing how close they actually were. And they did this at night too.
All Seawolf Hueys had the sand/air separators visible behind the rotor mast.
They also have rotor brakes: When landing on a ship it's important to stop the rotors as quickly as possible so the other Huey can land. If only one has a rotor brake he lands first. The Army didn't care how long it takes for their rotors to stop.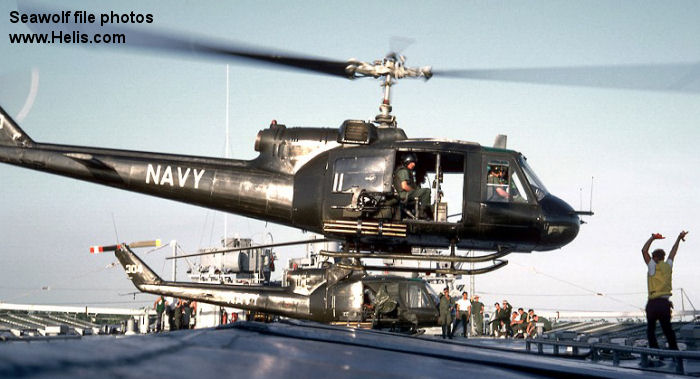 Probably taken in 1968 or 1969 for two reasons. The B-Model in the foreground has twin M-60 machine guns on the hard mounts and the crews have short sleeved shirts. By 1970 they had miniguns and one piece Nomex fire resistant flight suits.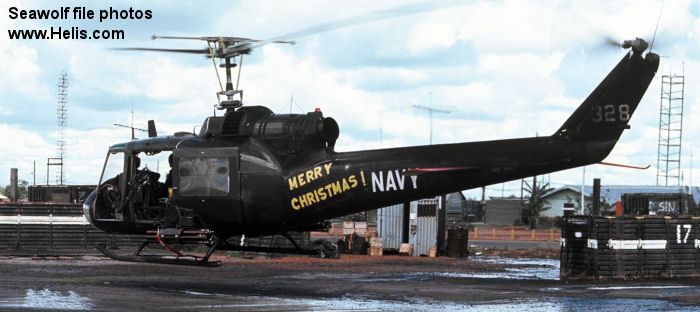 A Det.6 Huey just being moved from one revetment on the ground to another.
The red safety strap would not be on the aircraft if it was going on a mission or a ferry flight.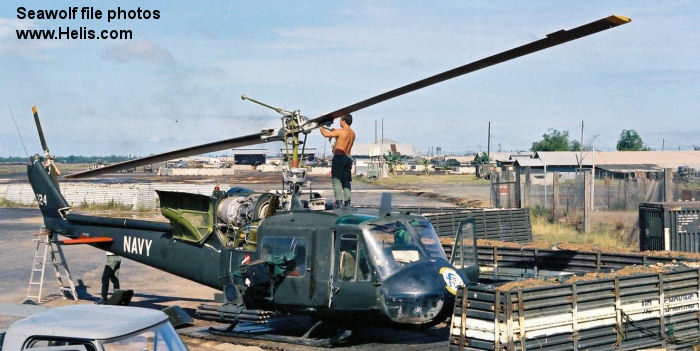 UH-1B in maintenance on the line at Binh Thuy. Note the Browning .50 cal machine gun in the right door.
It is commonly called "Ma Deuce". Note the Seawolf insignia on the radio compartment door on the nose.
---
128th AHC 3rd platoon Gunslingers also served TDY with HAL-3 detachments in 1969 and 1970. I believe we flew out of Vung Tau but I cant say. The 128th was housed at Phu Loi north of Saigon. We liked it because they fed us steaks. Something we never saw as enlisted men in country.

Christopher J Cooney was the first Navy pilot to fly a UH-1B gunship in combat july 17 1966 on the border of 3 and 4 Corps as the youngest pilot in HC-1 Det 29

I had been at Vinh Long, Det 3, and returned to Vung Tau to establish a C&C (command and control) unit with Bravo Company of the Riverine Assault Force (CTF 117), designated HA(L) 3 Det ALPHA, with Lts. Pat Bridges and Daryl Spelbring. We were assigned two Army H-23s and underwent transition training at BearCat. Pat staged at Dong Tam with 9th Aviation Battalion; Daryl and I lived aboard USS Westchester County (LST 1167), affectionately known as Wesco. On October 10th, about a month after unpacking bags and establishing a rotating flying schedule, I landed at Dong Tam for scheduled maintenance. An Army Chief Warrant approached and said, "Sir, you ll have to find another way back to your unit; we re cocooning your aircraft for shipment to Korea. "He further explained that this was normal rotation and not an emergency or a breakout of
war
there! There had been no advance notification and it was immaterial to the Army that we had operations the next day. Although our tour with Det A was short-lived, I wanted you to know that there were three SeaWolves who contributed in a very different way for a short period of time. LCDR Stephen Tobey, USN (Ret)

Models
Helicopter Attack (Light) Squadron 3 Operations