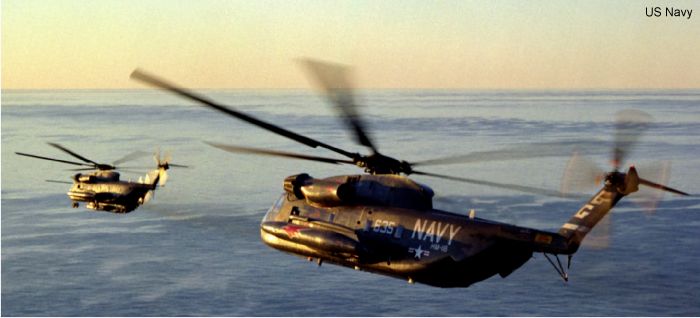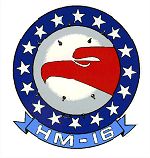 Formed towards the end of Oct 1978 by amalgamating HM-12 Detachment 2 and MCM Unit B into the new squadron, at Chambers Field (Norfolk, VA) operating the powerful RH-53D. The unit disbanded in Jan 1987.

---
1978, I was a plank owner with HM-16 made a Westpac with Det one. Remember many guys good memories. AMH 3 John Burrow

I was attached to MCM Unit Bravo and on October 27, 1978 we merged with HM-12 Detachment 2 to form HM-16. The Squadron deployed to NAS Key West Boca Ratton in January 1979 for approximately 1 month. I transferred on June 21, 1979 to my new duty station NROTC University of Michigan. I am an original Plank Owner.

1979 January, Deployed to Key West, FL for operational training

C/N
Version
Built
In this Org
In other Org
65-355
RH-53D
1972
158682 : Sikorsky S-65C-4, cn65-355, ff:?; del USN as RH-53D 158682, NPRO Rep, 31Oc+

65-356
RH-53D
1972
158683 : Sikorsky S-65C-4, cn65-356, ff:?; del USN as RH-53D 158683, NPRO Rep, 31Oc+

65-358
RH-53D
1972
158685 : Sikorsky S-65C-4, cn65-358, ff:?; del USN as RH-53D 158685, NPRO Rep, 30No+

65-359
RH-53D
1972
158686 : Sikorsky S-65C-4, c/n 65-359, ff:?; del USN as RH-53D, 158686, NPRO Rep, 2+
: USN HM-16; w/o 24apr80 during rescue attempt Operation Eagle Claw

65-360
RH-53D
158687 : pictured (pic1) as HM-16 /GC-631 onboard USS Inchon. Written-off 9 years l+

65-366
RH-53D
1973
158693 : Sikorsky S-65C, c/n 65-366, ff:?; acc NPRO Rep Stratford as RH-53D, 158693+

65-367
RH-53D
158744 : USN HM-16; w/o 24apr80 during rescue attempt Operation Eagle Claw

65-373
RH-53D
158750 : USN; HM-16 w/o 24apr80 during rescue attempt Operation Eagle Claw

65-376
RH-53D
158753 : USN; HM-16 w/o 24apr80 during rescue attempt Operation Eagle Claw

65-381
RH-53D
158758 : USN HM-16; w/o 24apr80 during rescue attempt Operation Eagle Claw

65-384
RH-53D
158761 : USN; HM-16 w/o 24apr80 during rescue attempt Operation Eagle Claw