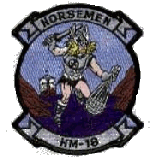 Reserve squadron HM-18 was established October 14, 1986 and was deactivated on March 1995 when was merged with
HM-14
---
I was the first planecaptian, Captian Walter Skinner signed into HM-18 and also flew with him as air crew knew LCDR Greg Bingium and a couple others on the fateful flight.

June 19, 1992: My uncle was a Crew member in that squadron when he and 6 others died aboard /NW-601. His name was CPO David Romesburg. I have a scrap book about the incident. Ironically my stepfather was at that time stationed at MDSU at Littlecreek Amphibious Base, who was on the wreckage recovery mission for 601.

I was with HM18 for a year as a reservist. I got out about a month before the crash. As I remember the squadron, it was disorganized, and my shop was poorly run, and offered no training. I don't remember Chief Romesburg, and I am sorry you lost your friend. I was saddened, but unsurprised when I heard of the wreck. Hearing they'd been folded into HM14 made me feel better about the safety of my shipmates.

1990-1992, I was part of HM-18. I remember CWO Romesburg particularly well. As a young E-3, I was going through a separation with my then wife who moved back to Chicago area, and I was forced to move back to base and I had no one to help me move my stuff out of our apartment. Chief came over on his off day and helped me get that done. He was a true leader!! I think about him and his family often feeling sorry for them that he, along with all the others on that flight, who were taken too early from their loved ones.

C/N
Version
Built
In this Org
In other Org
65-370
RH-53D
158747 : w/o 12apr91 HM-18 /NW-605