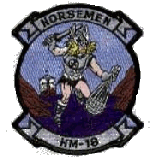 Reserve squadron HM-18 was established October 14, 1986 and was deactivated on March 1995 when was merged with
HM-14
---
I was the first planecaptian, Captian Walter Skinner signed into HM-18 and also flew with him as air crew knew LCDR Greg Bingium and a couple others on the fateful flight.

June 19, 1992: My uncle was a Crew member in that squadron when he and 6 others died aboard /NW-601. His name was CPO David Romesburg. I have a scrap book about the incident. Ironically my stepfather was at that time stationed at MDSU at Littlecreek Amphibious Base, who was on the wreckage recovery mission for 601.

I was with HM18 for a year as a reservist. I got out about a month before the crash. As I remember the squadron, it was disorganized, and my shop was poorly run, and offered no training. I don't remember Chief Romesburg, and I am sorry you lost your friend. I was saddened, but unsurprised when I heard of the wreck. Hearing they'd been folded into HM14 made me feel better about the safety of my shipmates.

1990-1992, I was part of HM-18. I remember CWO Romesburg particularly well. As a young E-3, I was going through a separation with my then wife who moved back to Chicago area, and I was forced to move back to base and I had no one to help me move my stuff out of our apartment. Chief came over on his off day and helped me get that done. He was a true leader!! I think about him and his family often feeling sorry for them that he, along with all the others on that flight, who were taken too early from their loved ones.

1990-1993, This was my first squadron. I got there as an ATAA and left as AT3. I was also aircrew, logged approx. 500 hours. This was a great squadron, the comradery was second to none. I knew all seven crewmembers of NW601, both pilots LCDR Bingeman and LT Steen were two of the best pilots around, I was always excited to fly with them. Chief Romesburg was my Chief when I was assigned to the line-shack; he was one of the best Chiefs, if not the best, I have ever worked for. Cheif Vandiver was the Ops Chief; he was also one of the best Chiefs that I have ever known and worked for. PO Mills and Redland were both sel-res, I didn't know them as well as the other crew, but from what I remember, they were both hard working and "stand-up" guys. Airman Hopkins, "Hoppy" as we called him was an all around great guy and friend. I remember hanging out at his house playing video games and partying. They all have been missed over the years. I am honored to have served with all of the men of HM-18 and to have been a part of such a great squadron.

1991-1993, as an aviation electrician in HM-18, more so in the line shack and 1st Lt, I got in a bit of trouble so I got out early. I arrived about a month after the accident, but there were some good people in this squadron. According to the investigation, the fault was a hairline fracture in one of the main rotor blades. There was no fault assigned and I personally believe that was a good decision , it is after all, a dangerous career path. Members of this squadron waded through chest high Water to recover the remains of the bird.

C/N
Version
Built
In this Org
In other Org
65-370
RH-53D
158747 : w/o 12apr91 HM-18 /NW-605