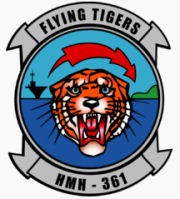 Flying Tigers established February 25, 1952

1952 - Marine Transport Squadron 361 (HMR-361)
1956 - Marine Transport Squadron Light 361 (HMRL-361)
1962 - Marine Medium Helicopter Squadron 361 (HMM-361)
1968 - Marine Heavy Helicopter Squadron 361 (HMH-361)

1968 - CH-53A Sea Stallion
1977 - CH-53D Sea Stallion
1990 - CH-53E Super Stallion

---
May60 to Sep64 I Flew the H-34 with HMM-361. We were stationed at MCAF Santa Ana until Sep63 when we deployed to Da Nang RVN. We were in country until Feb64. I also flew the H-34 while I was with
HMX-1
in Quantico VA from Sep64 to about May65. I flew the H-34 with the USMCR at Los Alamitos CA in 1967 and 1968. Tom Coughlin, Major USMCR Retired

* 1967/68 UH-34D/UH-34J Marble Mtn. Air Facility Da Nang, Vietnam- Utilized TarBush as call sign (ie TarBush18)
* Jul67 relocated to Dong Ha Combat Base near DMZ relieving
HMM-363
, that had considerable combat damage. HMM-361 preformed combat missions all over northern I Corps TAOR including LeatherNeck Square, rockpile Ka Sanh, Hills 881-881s, 861, Charlie 2, cam lo and all other lzs where Marine tread.
* 3 Sept.67 Dong Ha combat base were the helio area and ammo dump were struck w/arty (152mm) 120mm rockets and God and the NVA only knew, destroying several helos enlisted quarters and mess hall. Unit was rendered combat unqualified and personnel air lifted by CH-53s to MMAF DaNang. There reorganized and refitted to continue combat operations supporting Marine ground units in DMZ TAOR.
* Dec67 deployed to
USS Iwo Jima
(LPH-2) for operations w/ Marine Combat Team 2/4. As a SGT. combat crew chief YN-18 serving 1/67 thru 1/68. R.J. COPE. H-34s were very reliable and reasonably to maintain considering the harsh environment of south east asia.

News of Marine Heavy Helicopter Squadron 361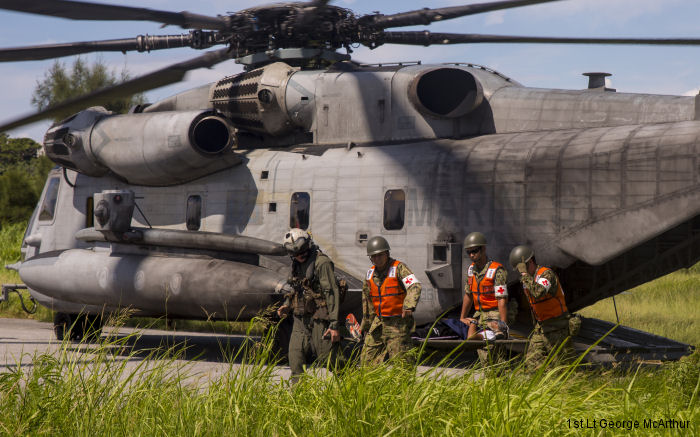 Exercise Chura-Shima Rescue 2016, 21-Jul-16 : US Marines HMH-361 CH-53E Super Stallions participated with the Japan Ground Self-Defense Force (JMSDF) and Okinawa emergency services in Exercise Chura-Shima Rescue 2016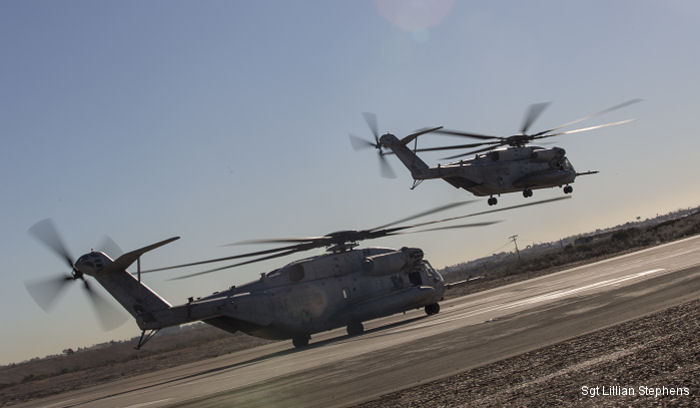 HMH-361 Prepare for Land and Sea Operations, 04-Dec-15 : US Marines with Marine Heavy Helicopter Squadron HMH-361 "Flying Tigers" conducted section Confined Area Landings (section CALs) and Field Carrier Landing Practice (FCLPs) drills


List of Aircraft for HMH-361 / HMM-361 / HMR-361
C/N
Version
Built
In this Org
In other Org
58-784
hus-1
1958
145735 : Sikorsky HUS-1, cn 58-784, ff:?; del USMC as HUS-1, 145735, 05Feb58; w/o H+

58-786
hus-1
1958
145737 : Sikorsky HUS-1, cn 58-786, ff:?; del USMC as HUS-1, 145737, 10Feb58; xfer +

58-1048
hus-1
1959
145810 : Sikorsky HUS-1, cn 58-1048, ff:?; del USMC as HUS-1, 145810, 09Mar59; xfer+

145810 : xfer VNAF as UH-34D, 145810, 17Jun64; to 211 Squadron; to KA33/LDKT, 24Aug+
145810 : wfu & xfer MASDC as HD031, 13Oct69; soc 18May77.
- HD031 : xfer Allied Aircraft Sales as HD031, unk; xfer Bobs Airpark, Dec97; xfer D+
- 145810 : Sep13 at Keenesburg, Colorado. We are a organization of Marines who are in+

65-021
ch-53a
152394 : w/o 01nov69 HMH-361 /YN crashed into South China Sea. 4 fatalities

65-026
ch-53a
1966
152399 : Sikorsky S-65A c/n 65-026 ff?; accepted USMC as CH-53A 152399 Jun66; xfer +

NASA-543 : NASA, to USN
N39 : FAA Jun78-Oct83
152399 : USN preserved

65-051
ch-53a
153282 : w/o 01sep69 HMH-361 /YN crashed in Thua Thien Province, South Vietnam. 5 f+

65-057
ch-53a
153288 : w/o 10mar77 HMH-361 /YN-21 unk

65-084
ch-53a
153313 : w/o 26jul76 HMH-361

65-101
ch-53a
153715 : HMH-464 to Marble Mountain Air Facility, Da Nang Vietnam ; H&MS-56 and HM+

65-122
ch-53a
153736 : w/o 28dec77 HMH-361 /YN to be confirmed

65-217
ch-53d
156970 : w/o 12jul85 HMH-361 /YN-651 crashed into mountain on Okinawa. Four fatali+

65-221
ch-53d
157130 : late 1980s flew as HMH-361 /YN-667

65-225
ch-53d
157132 : w/o 24mar84 in South Korea, HMH-361 /YN-666, 29 US and South Korean Marine+

65-245
ch-53d
157145 : 1985 HMH-361 /YN-654

65-426
ch-53e
161254 : Apr09 HMH-361 /55

65-435
ch-53e
161263 : USMC; 1993 HMH-361 /YN-50; 2000 HMT-302 /UT-27

65-474
ch-53e
161997 : 2010 HMH-361 /YN-54

65-479
ch-53e
162002 : 24oct13 pictured as HMH-361 /YN-02 at NAF El Centro

65-481
ch-53e
162004 : 2011 HMH-361 /YN-61

65-512
ch-53e
162500 : 2011 HMH-361 /YN-64

65-561
ch-53e
163074 : 2006 HMH-361 /YN-63; 2012 still

65-576
ch-53e
163082 : w/o 20jan02 HMH-361 /YN crash 60km S of Bagram, Northern Afghanistan. 2 fa+

65-581
ch-53e
163087 : 2004 HMH-361 /YN

65-582
ch-53e
164358 : w/o 05apr17 13:00hs asg HMH-361 MAWTS-1, hard landing and rolled at Yuma+

65-597
ch-53e
164536 : USMC; w/o 26jan05 HMH-361 /YN-50 in sandstorm near Ar Rutbahh, Al Anbar Pr+

65-627
ch-53e
164784 : 2010 HMH-361 /YN-10

65-634
ch-53e
164791 : 2011 HMH-361 /YN-73