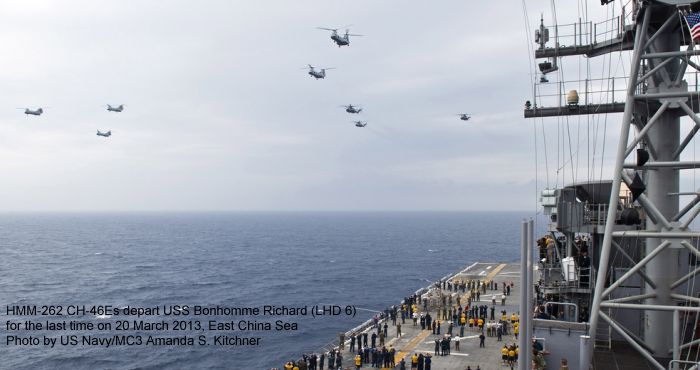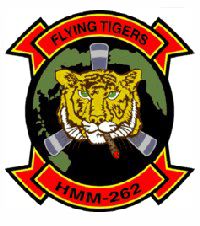 Flying Tigers
, tail code
ET
:
1951 - Marine Helicopter Transport Squadron 262 (HMR-262)
1962 - Marine Medium Helicopter Squadron 262 (HMM-262)
In May 2012 HMM-262 (Reinforced) first received
UH-1Y Venom
s during MEU-31 deployment
On July 30, 2013 they
received
12 MV-22B Osprey and redesignated
VMM-262
---
1957 Sep5/Nov28, as HMR(L)-262, they were aboard the USS Lake Champlain (CV-39) with
HMR(L)-261
as part of NATO maneuvers, Operation Deepwater. At that time their patch was a little different.

Aug62-Dec63, I was stationed with HMM-262 at New River,NC. I was a crew chief of UH-34D
149329
/ET-47. Participated in a solant Amity Cruise which took us to the east and west coast of Africa. ( I do have a book about this cruise) Came back and got very involved with Project Mercury and the astronaut recovery program. Enjoyed myself tremendously, had good leaders from top on down. Had the priviledge of flying with some of the best helicopter pilots throughout my career. The Hus-1 (H-34) was a great aircraft to crew and fly in. Very stable and dependable.

1962-1965, I was stationed with HMM 262 in Jacksonville, NC MCAS New River. During that period, and prior, we had the Sikorsky UH-34D helicopter. In mid 1965 the Sikorsky was phased out for the newer Boeing Sea Knight. HMM-262 went to Viet Nam in 1966 and remained there until the mid 70s.

Feb/Dec 1966 I was assigned to HMM-262 thru deployment to Viet Nam. Ky Ha Viet Nam (Chu Lai) thru aprox 4-1967. HMM262 moved north to Marble Mountain. Started float phase 8-1967 thru aprox September, 1967 on LPH10 USS Tripoli. LPH10 to Okinawa with 65 Ch46's to modify CH46 airframes with engineering upgrades by the Boeing Company thru December 1967 when I departed for the U.S.

16may71 we departed
Marble Mountain, Vietnam
to MCAS Kaneohe, Hawaii. MSgt. Rod Poissant(ret) USMC 1961- 1981

1978-1982 I was in HMM-262. That mural was in Hangar 101 not 102

News of Marine Medium Helicopter Squadron 262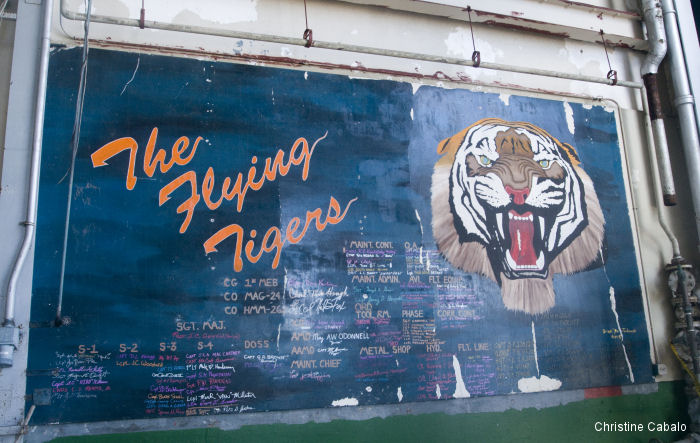 Flying Tigers Mural Found Hidden in Hawaii, 01-May-15 : A piece of aviation history was discovered after uncovering a mural from HMM-262 "The Flying Tigers" inside Hangar 102 at Marine Corps Air Station Kaneohe Bay, Hawaii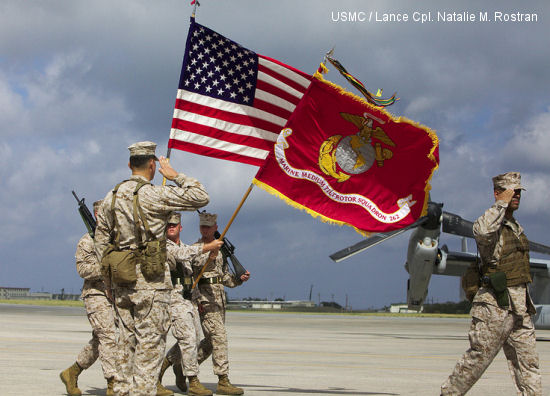 HMM-262 redesignated as VMM-262, 30-Aug-13 : MARINE CORPS BASE CAMP S. D. BUTLER, Okinawa by Cpl Matthew Manning - Marine Medium Helicopter Squadron 262 (HMM-262) was redesignated as Marine Medium Tiltrotor Squadron 262 (VMM-262) during a ceremony today at Marine Corps Air Station Futenma.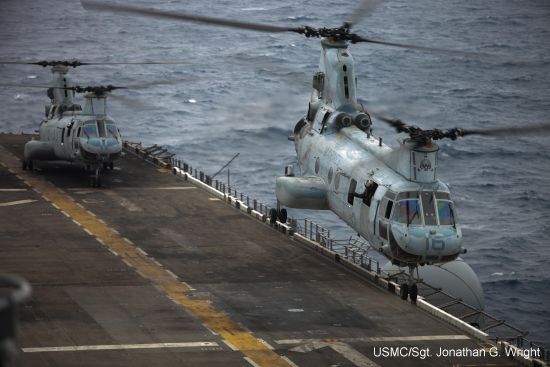 Sea Knights final days in the Asia-Pacific, 06-May-13 : OKINAWA, Japan By Sgt Jonathan G. Wright, 31st Marine Expeditionary Unit - Hundreds of Marines and Sailors of the 31st Marine Expeditionary Unit stood on the deck of the USS Bonhomme Richard (LHD-6), March 20, looking skyward to watch a little piece of history. Through the clouds approached eight CH-46E Sea Knight and three CH-53E Super Stallion helicopters in formation, calling the attention of all eyes and cameras. The group thundered past the ship and turned landward, marking the final Asia-Pacific deployment of the CH-46E, better known as the "Phrog."