Bell 212 VH-1N - US president Hueys 1970-1992

Contribution: Gregory Gough for Helis.com

The pictures below are from the helicopters buro numbers 158551 to 158557, that there were used during the 1970/80s by the US Marines HMX-1 presidential unit at Quantico, Virginia.
President Reagan pulled these helicopters out of dust balls from the bone yard in Arizona due President Carter apparently disposed of them while in office. They were VH-1N 's which were refurbished at Bell for Presidential use. When the Sikorsky VH-60N Whitehawk came along in the 1990s, they were took them back to the bone yard.
Some of these Hueys' use to be green tops. The others were called white tops.
The dog house on top is that of a Bell 214ST that has been modified to fit over top of the bleed air, air conditioning system. The cargo door was modified later on to make the cabin a four door. This was done by cutting the cargo door in half and hard mounting the wing door in between the two halves. These aircraft were fitted with a Sperry Ram System. This system allowed you to set in your destination coordinates and fly there hands free.
They were fitted with both AFCS and a stab bar. The interior had wall to wall carpeting, buckets seats and a wet bar. Quite literally the limo of Hueys. Some stories said that the DEA or CIA bought them for covert missions.


158551: SAR at NAS Fallon, retired 2009

158556: SAR at NAS FAllon, w/o 2001

158557: SAR at MCAS Yuma as of 2010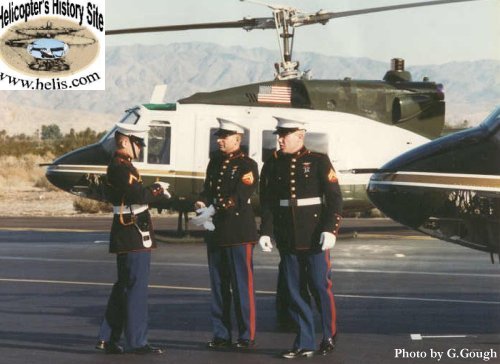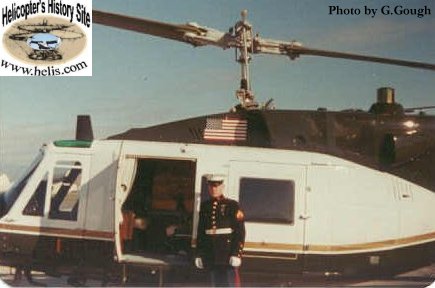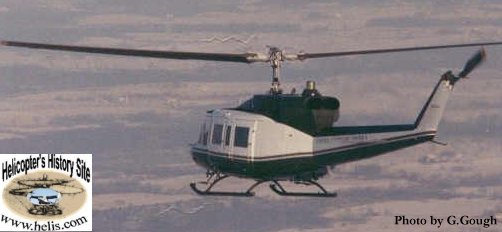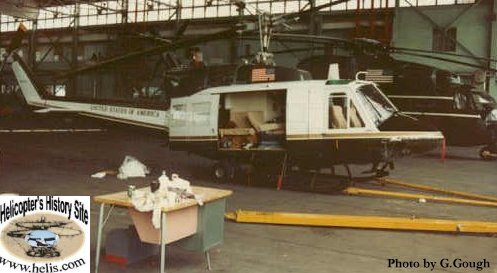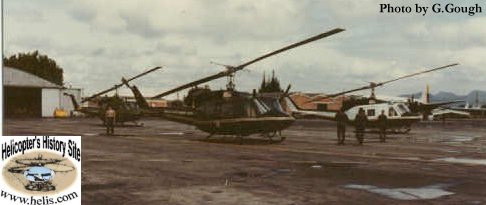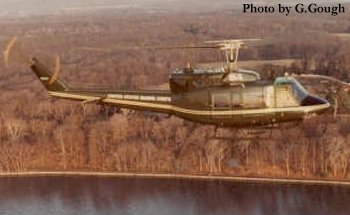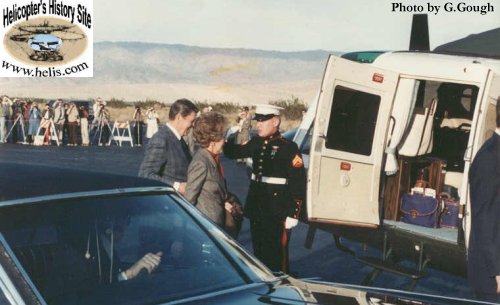 David Stewart ( Falmouth, VA )
Just a little more history on the VH-1N\'s. The following buro\'s were reconfigured to HH-1N\'s sometime in the 90\'s, after HMX-1 retired them to the Davis Monthan Bone Yard. They have since been serving has Search and Recuce Aircraft and no longer resemble the way they looked during thier Presidential Support Life. It would be great if someone were to try and get on of them and make a musem piece out it. 158551, 158552 (Currently at Camp Pendelton, Ca. as of July, 2004), 158553 (Aircraft was destroyed in a crash in Yuma area), 158554, 158556 (Aircraft suffered a hard landing and was stricken) and 158557.


Dan Currie ( N. Richalnd Hills, Texas )
With regards to the VH-1Ns, I had the privledge to work on all 6 ships during the SPAR program, at Bell Helicopter. 158554 was the first to receive the Sperry autopilot, and we flew it a lot to qualify it for HMX-1. I have pictures of the crashed aircraft and it was sad to learn of its demise. One of our best test pilots and I worked the program thru every flight on all ships. It will always be one of the highlights in my career to be chosen to work on the VIP ships.


Dean S. Leavitt ( Easton, Massachusetts )
VH-1Ns were part of the joint Army/Marine Corps presidential helicopter fleet as far back as the early 1970s. I was assigned to the U.S. Army Executive Flight Detachment from 1974-1977. The EFD, founded during the Eisenhower Administration, was housed @ Davison U.S. Army Airfield, Ft. Belvoir, Va., until its deactivation, under the Ford Administration in an Executive Branch cost-cutting measure. The Marines HMX-1 became part of the operation after the inception of the Army EFD. Either the Army or Marines were to consolidate operations and inventory under one unit. The decision was made, under Pres. Ford, (U.S. Navy veteran), to keep the Corps and bid adieu to the Army. The EFDs inventory included Sikorsky VH-3Ds, Boeing Vertol VH-47s and Bell VH-1Ns painted in the same livery shown in the above photos. Im sorry to hear of their apparently undignified end. Ive numerous photos of the mentioned aircraft and would be glad to share them.


Jim Ansboury ( St. Petersburg, Florida )
I worked and flew on them for five years from 1971 to 1976. My helicopter, BU#158556, flew President Nixon on his last flight from El Toro, California to San Clemente, California in 1974. The first actual presidential UH-1N\'s were BU#158277 and 158278. We VIP\'ed out these cargo frames over an Easter week-end and President Nixon met the French President in Martinique in, I believe, 1972. They had the tail boom painted


Phil Pash ( Orefield, PA )
I flew 158551 and 158552 at NAS Lemoore CA from 1990-1993. They were beautiful, great flying aircraft. We used them for SAR and they were marvelous.


Brett Maurits ( Oceanside, CA)
BU# 158276 was destroyed in a 4 fatality training mission accident in 8/07 while assigned to MCAS Yuma SAR.


Robert M. Johnson ( NAS Pensacola, FL )
I started at HMX-1 in 1974 and worked on the VH-1Ns until they were decomissioned, flown to Davis Mothan, in 1977 by then President Carter. I spent one year in Okinawa and returned to HMX-1. When President Reagan came into office the VH-1N was brought out of moth balls. I was assigned to bring them out of decomission and back into service in 1979. I left the unit in 1983 and went to the fleet. I also have numerous pictures and memories of working at the squadron. I was also around when the Army side was decomissioned. I was trained by Ansbury.


David Les ( Fort Lauderdale, Florida )
I was assigned to the VH-1Ns in the cage at HMX-1 (Quantico,VA) as a crewchief from Sep 1984 to Feb 1987. Great birds! Im sorry to hear that some are wrecked.
I worked with Greg Gough, the photographer of most of the above pix. Unfortunately, Greg passed away a couple years ago from Leukemia. He was a good friend and good to work with as well.


Bradley C ( Yuma, Arizona )
Need to correct a previous note. 158553 did not crash in Yuma. I do not know if it was destroyed in a different crash but the mishap in question (MCAS Yuma SAR 2007 - 4 fatal) involved 158276. 158554 and 158557 are still in use by Yuma SAR and will continue to be flown until the squadron transitions to the UH-1Y in 4Q 2014 (tentative). They are both outstanding aircraft that will be missed.


Michael Fabert ( Munster, Indiana )
I flew 158554 as the copilot on the last Presidential mission that the VH1s were used. The Hague, Netherlands.


Nicholas Klette ( 2482 Evergreen Dr. )
Gregory Gough the photo provider was my maternal uncle, the last of 12 children right after my mom, Victoria Marie Gough Klette. It is a shame I didnt know him well before he passed from combined cancer and fungal problems. But it gives me pride to know that he served as best he could. Requiescat in Pace, uncle. Anyway a beautiful Helo she is.


Steve Uhrig ( Los Angeles, California )
I was assigned to HMX-1 from 1978-1982. I am currently writing a book that includes the transition period of 1976 from Army to Marines. I am interested to locate a VH-1N that we used under President Reagan in Barbados, April 1982 and where it may be today. I am including some information as to what happens when aircraft is retired out of the unit, and the process involved. I would also like some information if there were any combined Army/Marine pilot flights of any Presidents. Please email me, I would love to correspond with all of you.


Johnny Tracy ( St. Louis, MO )
I served along with Jim Ansberry at HMX1 at Quantico VA 1972-1975 Nixon, Ford, Carter.


Robert Johnson ( Pensacola, FL )
I was the go between the old and the new mechanics to work on the VH-1N's. Ansboury and Tracy were my teachers and I passed on that information to others, Gough was one of the new ones that I trained on the VH-1Ns. I am sadden to hear that he passed at such a young age. He seemed to always make me smile. To my knowledge there were no joint missions between the Army and Marines. Depending on which unit had the mission they would borrow an extra huey if needed and return it at the end of the mission. Most times we would always get it back dirty.


Gregory Floyd ( Germantown, Maryland )
I was assigned to HMX-1 from Dec 1983 to Jul 1987. I was a Crew Chief on the CH-46, UH-1N, VH-3D and VH-1N. Greg Gough and I were good friends. Greg was a great Crew Chief and Huey mechanic. He taught me the VH-1 lift procedures. May God you up there in Heaven. You are most likely crewing a VH-1N carrying out lifts for Angles.


Jimmy McFall ( Colorado Springs, CO )
I was assigned to HMX-1 from Nov 1984 to Jul 1988. I was a Crew Chief on UH-1N and VH-1N helicopters. SGT Floyd was my primary trainer on the Green Side and taught me evrything I know about the UH-1N. When I was accepted to the White Side "Cage" Greg Gough was my NCOIC and a great friend. I remember hanging out with him and his love for the TransAm. Greg was a great Crew Chief and Huey mechanic. The NCOs at HMX that taught me the ropes was SGT Floyd, SGT Cough and SGT Les


Gary Brennan ( unk )
Landing in the middle of downtown Bogota with white top huey was one to remember


Norm Rechel ( Cincinnati, OH )
1987-1992 I served with Greg Gough. He trained me on the VH-1N model. I believe I was the last to earn my wings in the VH-1N, Oct 1988, Greg was my evaluator. We were close friends, many kids us about being brothers, since we looked much alike. Greg was from Covington Kentucky directly across from Cincinnati. After leaving the Corps it was Greg that got me on with then Serv-Air, where we both worked.... I was present for VH1N's last flights in California and their last trip, used in the Netherlands, and was present the day we unloaded them in Arizona.


Shep Brown ( Pensacola,FL )
Was a very lucky CH-53 pilot to get into the U/VH-1 program @ HMX-1. Some of the names above were instrumental in maintaining the "zero defect" mantra of the squadron.......got to see Bob Johnson recently......a real 1N guru !!!!!


Tim Wilson ( Punta Gorda, FL )
My father worked for Naval Air Systems Command and I believe he was the project manager for the VH-1N his name was Dean Wilson


Bernie Deschamp ( Denham Springs, LA )
I was stationed at HMX-1 from March 1980 to June 1983. There was some of the best Huey Mech instructor's in the Corps at Quantico; Dave Hudson, Wes Hartle, John Buck, "Buster" Hooper (QA) and Bob Johnson (NCOIC). Our Bell Helicopter Tech Rep was Tom Daley. I was fortunate to travel to the Bell Helicopter Plant in Arlington, TX along with Bob Johnson and Buster Hooper to monitor the retrofit process. We were also treated to a sneak preview during that time to see the birth of the V-22 Osprey prototype at the Amarillo Plant. It was my distinct honor to be on the crew to ferry 158554 (Green Top) from Ft. Worth to Quantico. My primary assigned aircraft eventually became 158552 (White Top). Once the VH-1Ns became reestablished on the White Side at HMX-1 it was a whirlwind of trips abroad to Barbados, Berlin, Brasilia, Honduras, Ramstein AFB, Rome (Vatican) as well as numerous domestic trips (last trip was with President Reagan in Phoenix) before I transferred to the FMF-PAC. -