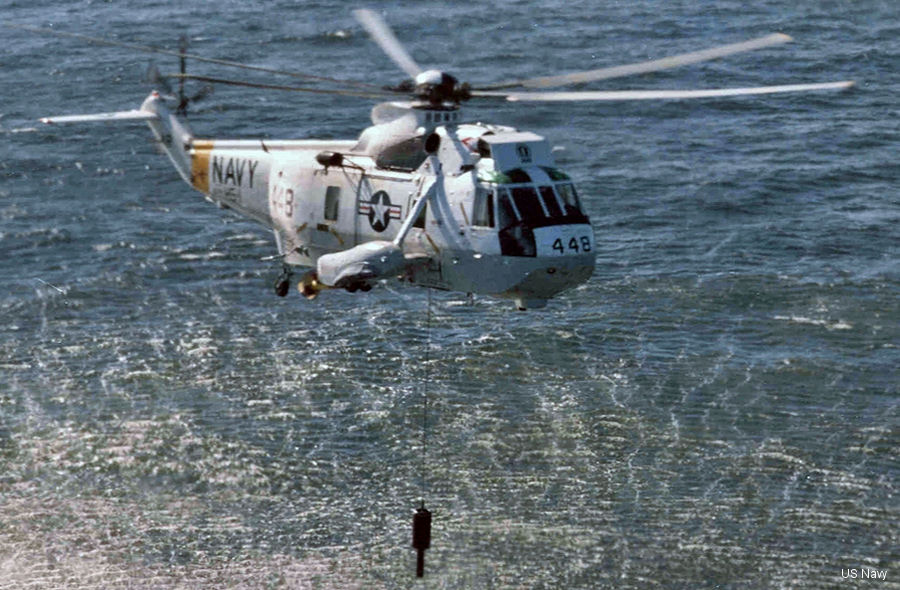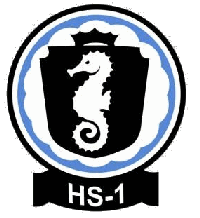 Tail Code AR, HELANTISUBRON ONE was the Navy's helicopter fleet replacement squadron until closure in 1997. HS-1 trained maintenance personnel, replacement pilots, and provided the fleet with updated combat and rescue techniques.
---
By Larry Arneson AMS-2
: I went from structural mechanic school at Millington Tenn. to the HS-1 squadron Key West Florida spring of 1955. At that time HS-1 shared the hanger with a squadron of sea planes. The plane in use when I got there was the HORS3 Sikorsky S-55. Later new S-58 arrived. HS-1 trained in the Key West area and went on various detachments. In 1956 HS-1 went on a med cruise to France ,Holland, Greece and Italy. Assigned to carrier Antietam (CVS-36) along with a submarine and two destroyers. About that time the Suez war broke out and the task group went to the Mediterranean to observe. Later the squadron sent part of the HS-1 crew to a new squadron put together in the hanger and known as
HS-5
that eventually went to Jacksonville, Fl. As I understood it new squadrons were to be formed known as HS-5,
HS-7
and
HS-9
all on the east coast. At this time LCDR Ward was the c/o. Chief James Knowles was in charge of the airframe shop at the time and helped staff the HS-5. HS-1 was a great anti-submarine squadron doing valuable work for the fleet. I was discharged in July 1957. Looks like the original helicopter squadrons went on to many interesting assignments in later years. I presume antisubmarine helicopters are still being used.

1951, I was a storekeeper in the initial commissioning of HS-1. I spent 37 months with HS-1 in Key West and was discharged in Aug53 having attained the rank of AK1 (Aviation Storekeeper First Class). Billy Yarbrough

1953,
My father Ralph J. Adams
was a pilot attached to HS-1. At that time, they flew Piasecki HRP-1. About the Helo: The first production HRP-1 flew in September 1947 and was delivered later that year. The last of the total order of 20 was delivered in 1949. These were initially used by the Marine Corps to develop tactics for vertical assault and by the Coast Guard for its ongoing helicopter search and rescue development. The use at HS-1: The surviving HRPs were then used by the Navy for the development of dipping sonar and airborne minesweeping. The fabric was stripped off to reduce weight (testing was done off Key West, Florida) and flotation bags were added so the helicopter could be recovered if its engine quit over the water. Michael A. Adams, MCSE Reno, NV

~1955-1958,
My Dad Greg Schoenhoff
was a member of HS-1 in the late 50s in Key West. He was an ASM. If you remember him, please contact me at
[email protected]
Dad is 78 now and we've been sharing sea stories from my time onboard the USS Tarawa (LHA-1), 1979 - 1983, and his time with HS-1, including time onboard the orignal USS Tarawa (CV-40)

1956-1958, I was member HS1 Sea Plane Base, Key West Florida. Detachments USS Wasp, Valleyford, Leyte, Tarawa, Antediem, Lake Champlion during that time.

1957-1960, I was in HS-1, we were at the Sea Plane Base, Key West, FL. I was TAD with the Squadron on the Lake Champlain, Leyte, and Tarawa all CVSs. The chopper of the era was Sikorsky S58. Have been looking for my Squadron Album because I wanted to locate a couple of guys I served with. Corky Pickerell, Bobbie McLeod both from Texas. If anyone remembers them let me know. Just finished up thirty years of flying and selling business aircraft.

1961-1962, Right out of Boot camp I was a SA working in the personnel office. Lt Rose was the division Officer

1963-1964, I was SA stationed worked in special services, life guard at officers pool. Did the entire base close?

I was ordered to HS-1 in Sept to Dec 1965, Sea Plane Base Key West Fl. By 1965, It was called Key West Heliport, for training on the SH-3A. The mission at that time was as a training Squadron for maintenance and crew training. Good time and I learned a lot about Helicopters and Jet Engines. I was an ADR3 at time just coming out of a EC 121 Super Constellation outfit, VW-11, and knew nothing about Jets. That training allowed me to work for Pratt and Whitney

By ADJ-2 Harold Fritz:
After Adj school in Memphis I got orders for Hs-1 Key West, Florida. I checked into Hs-1 as a E3 fresh from school late summer 1969. The hanger was at the old sea plane base and the barracks were world war one wood non a/c. I got lucky I didn't get kp I got duty driver for 90 days..Since the squadron was over loaded with adj's they put me in supply. I was the skinny kid who ordered your parts for the aircraft. They decided to close the annex in 1970 and shipped us to Quonset Point Rhode Island. A little over a year in the Navy and two bases with the same squadron. They still had me in supply for another year until I made my crow. Now I finally got to work on helicopters. In 1972 Hurricane Agnes hit the Pennsylvania area hard flooding Wilkes Barre and Scranton area. Hs-1 sent two helicopters down to aid in sar and to deliver supplies to hard to reach areas. If you ever get to see the book for that area there are pictures of HS-1 helicopters loading supplies at the airport. I made E-5 and had to extend one year to sew it on. Now they decide to close the base in 1974 and send the squadron to NAS Jacksonville, Fla. I re=enlist and they extend me in HS-1 again for the move. When I finally transferred I had six years in HS-1. Not bad one squadron, three different bases.

J. Elkins:
March 1970, I was station with HS-1 in Key West, by July the squadron was moved to Rhode Island. I finished my tour of duty there. Great times and lot of good friends

By AX2 Fred Orlowske
Oct70-Dec73 I was assigned to HS-1 at Quonset Point, RI. It was a SUPERB squadron. Great people! Many pleasant memories

By George Czech:
I was assigned to HS-1 in Quonset Point, RI February 1973. I was to attend SAR school, then train as onboard mechanic. After training I was to be stationed in Sigonilla, Sicily. During the time I was at Quonset Point, it was announced that the squadron would be moved to Jacksonville in 1974. On April 25, 1973, I took an early discharge ... an moved back to Missouri.

By Ed De Cort
: I was in the Navy from 1983 – 1987; during that time HC-2 Fleet Angels were no longer an outfit or known by that designation. I'm not sure when, but I think in the late 70's their mission was moved from Norfolk, VA. To the responsibility of NAS JAX HS-1 SEAHORSES, and was known as their oversea Detachments: HS-1 SEA DET.
SEA DET had two permanent detachments; One in the Persian Gulf which was Det – 1 (The Desert Duck's) the second was Det-2 was in the Mediterranean home ported in Gaeta, Italy (The Gray Ghost). Both Det's were attached to Command Flagships and served the Commanding Admirals. In the Persian Gulf the Command Flagship was the USS. LaSalle, although we were not ship personnel we were attached to the ship, though at times we also would be stationed at Bahrain and work from their airport and stay at ASU. Our main function was to support the two star Admiral whose name escapes now. His actual title was Commander of the mid east force. Basically the same was true for Det-2, though the Admiral in that case was a three star Admiral who was commander of the 6th fleet and also NATO forces.
The mission of the Detachments varied from each other. The Helicopters were both SH-3, but that's all they had in common. The "Duck" was totally utilitarian and we did a number of various duties: From transferring passengers from Bahrain International to the ships in the Gulf and vice versa, we also did vert-reps, mail delivery's, and landing on the ships with me hanging out the cargo door calling the landing, boarding Marines and flying to ships in distress of Piracy to prevent that action from taken place, and to keep shipping lanes open. It was in every sense of the word a working helo. On ships we couldn't land on we would pick up and drop off people with the hoist (including the Admiral) on occasion. Search and rescue was also our mission.
The "Gray Ghost" as it was called then was a completely different helicopter with a completely different mission; it was painted gray green with a customized window in the cargo door so you couldn't even open it. (The Desert Duck was white), the mission of the Gray Ghost was to transport the Admiral and whatever other high ranking personal rated it. The helicopter was sound proofed custom setting and carpet. It reminded me of the Presidential Helicopter which it resembled and happened to be the same make and model. Though the "gray Ghost" was a much more glamorous version than the "Duck" the mission wasn't, though it was probably just as important.

   Re: HC-2; in contrast to the input by Ed De Cort, HC-2 was still a unit from which I retired in 1998. The Detatchments mentioned above were, in fact, "dets" supported from NAS Norfolk. The squadron had acquired the VIP helicopters and flew codes to and from the Pentagon at least twice per week. We got to be known as the BUPERS shuttle by sailors in need of visiting their detailers and flew "space available" and manifested. In addition to having the sea dets and VIP, we flew SAR backup to Oceana SAR, torpedo recovery and any additional logistic flights assigned. That was my last tour before retiring as AT1(NAC/AW) Restituyo

By W.R. O'Camb ADC(MTS/AWS)
, I was in the Navy from 1975-1997, After commenting training at HS-1 Framp, at NAS Jacksonville FL (1976), I was assigned to the HC-2, Fleet Angels, made a few deployments, CVN68 USS Nimitz and CV16 USS Lexington. I was with HC-2 when it was decommissioned and formed HS-1 Sea Det. The Sea Det's where a carry over from HC-2, a long with most of the personal transferred to support the Sea Det's. I also deployed aboard AGF-3 USS LA Salle, The Great White Ghost of the Arabian Coast, I believe Admiral Wheatley was commander of the Gulf at that time. Being part of a flagship staff was interesting to say the least, along with having a few perks now and then, it help battle the 120 degree in the shade Gulf heat. NAS JAX Helo community was a tight group of people. When I got to NAS JAX these squadron's where present, HS-1, HC-2, HS-3, HS-5, HS-7, HS-9. All the Hangers were lined up along the sea wall and the St John's River. Some squadrons even shared a Hanger, depending on who was on deployment at that time. All squadrons had the SH-3 Helo's. After I left HS-1 Det I went to NAS JAX AIMD, and then on to HS-7 and later back to HS-1 Framp as an Instructor. Helo community is where life begin's, lol for some of us anyways! NAS JAX has gone through alot of changes, if anyone has the chance, stop by and drive around.

By Jim Parrish ATR2
, I was attached to
HS-5
at Quonset Point from June 1969 until September 1971. We made several short cruises to the Caribbean, N Atlantic and the Mediterranean Sea aboard the USS Wasp and USS Intrepid. In September 1971 I transferred to HS-1 at NAS Quonset Point. I was night shift supervisor for a year in the Avionics shop then discharged in August 1972. I was able to pick up my private pilots license at the Quonset Aero Club during this time. I often look for some of the guys in the squadrons but have only been able to keep up with a couple. I'm always looking for old photos of HS-5 and HS-1. I was able to revisit Quonset State Airport in the 90s. It's hard to get up that way as I have lived in Texas almost all the time since I have been out. It sure has changed.

By Hugh Isbell
, I was assigned to HS-1 from June 1955 until January 1958. I wet on detachments aboard USS Seboney, USS Tarawa ,USS Antetem and USS Valley Forge. For a young Sailor 17-19 years old it was a great experience.

By Bryan Griffin
. I was serving in the British Navy as a CPO and was posted to Quonset Point in 1972 to join HS1 as Avionics Chief. New country, new Navy, new friends. Enjoyed every minute of my 2 years with the US Navy

I got to HS-1 From A school in Millington Tenn. First job as an airman was in that little coffee mess shack in the hanger. All you guys remember the coffee mess! Took over for that little guy Ensminger. After my 1st Lt duty I was transferred to maintenance control under Chief Jump. Memories anyone? All of you in the early seventies era at HS-1 heard my voice over the intercom calling for trouble shooters fo incoming flights. I remember you Harold Fritz! You worked under Pappy Roe! Along with Ken Andrews! You gave me a ride to Pa once with a stop over at your mom's house! Wasn't HS-1 beautiful?

By AMH2 David Bishop
I served with HS-1 from June 1968 to the end of my enlistment, August 1971. After training at NAS Millington, TN. my orders came in on computer punch cards. The first words were a warning that had me a little shaken. Then the rest of the words warned of a housing shortage in Key West. Good news, good place to start my first station. I ended my time as night airframes supervisor, in the frozen north of Rhode Island, s big shock from the sunny south. Beautiful !

By ADJAN Gene Clement
I served with HS-1 from March 73 to 30 March 73. Studied with HS one with the Framp school and also became a plain captain on the sea king SH – 3-D/H helicopter. Study corrosion control school 30 April 73 until four May 73. Then I was reassigned to HC-2 in Jacksonville Florida. After which I was reassigned to HS five in Jacksonville Florida and got out of the Navy September 9, 1978. What's in the best shape of my life back then competing in different athletic events which I always won first place for the squadron. These events included weightlifting, pull ups in boxing. In 1984 I was hired at NASA because of my military background I have the Navy to thank for that.

By John Rice
1961-1962. SA working in the personnel office right out of boot camp. Lt Rose was my division officer. I visited Key West in December, 2020 and the hangar is still there. -

News of Helicopter Anti-Submarine Squadron ONE