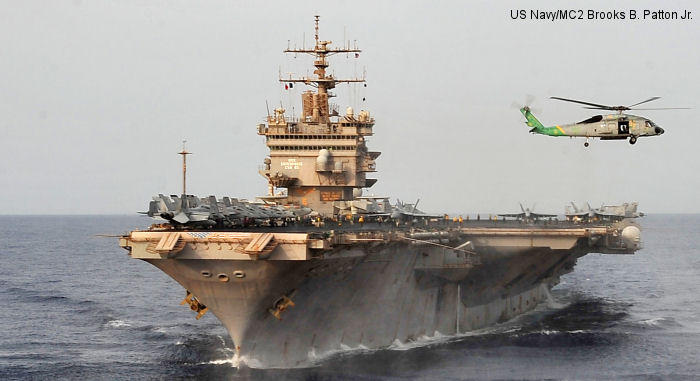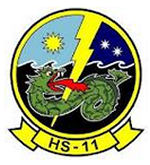 Dragonslayers
, HS-11 was the last deploying HS squadron. Redesignated
HSC-11
in 2016
---
Two early C.O.s of HS-11 passed away on 2011: Glenn Dumas (the 2nd skipper 1958-59) and Bryce Clack (1960-61)

1957, Joined HS-11 when CDR Vincent Collins was skipper. Deployed mostly on USS Wasp North Atlantic and Med cruises. Flight/Navigation Officer with Guy Crowe,Dan Sekellic (designer of above patch), Hank Cardoza. Discharged 1959 and entered medical school University of Oregon. Served with reserve squadron Sand Point,WA (Seattle). Practiced in Portland,OR until 1996. Last rank LT USNR,plank owner ANA squadron Bend,Oregon.FAA medical examiner for past twelve years Would love to hear from contemporaries..

1957-1959, Blurb above is from Jerry Bass,MD...Anyone heard from Bruce Herbert HS 11 circa 1958? My email is
[email protected]
Would like to hear from any contemporaries

early 1968-Apr69, I was in HS-11, we used the SH-3A. We were in the Mediterranean and North Atlantic on operation Silver Tower. 11 -

Jan62-Oct64, I was in HS-11. We flew the HSS-1 and then the SH-3A. When the Wasp was in for overhaul, we deployed on the Lake Champlain. Our COs during my time were Cdrs. Taylor, Pepper and Fisk. ADR3 Dennis Frazier

1963-1966, I write this as an eighty seven year old ex "Dragon Slayer" who was assigned to HS-11 from June 1963 to June1966. as an E-7 Chief. I had the pleasure of being C.O. Mclaughlin's and C.O. Williford's crewman. Skipper Mclaughlin (pilot), Lt Jack Farrow (co-pilot) and I did the GT-7 splash down recovery of Lovell and Borman on 18 Dec 1965. Our SH-3A was side number 56 Buno.149006, now on display at the Evergreen air and space museum outside Portland Oregon. The GT-7capsule also survives as part of the Air and Space Museum, Wa. DC. After leaving HS-11 at Quonset, I went on to serve in various fixed wing squadrons and ships as a Master Chief, CWO-4, retireing after nearly forty years active duty as a commander. It was fitting that, since some of my fondest memories are of my tour in HS-11, I would finish out my career with ship's company aboard America while HS-11 was part of the air group. -

Jul65-Aug68, LT Alex Daunis: Reported to HS-11 home-based at NAS Quonset Point RI. HS-11 was part of CVSG-52 based aboard the USS WASP and participated in a number of Task Group BRAVO exercises to develop and refine ASW Hunter/Killer Tactics combining Ships, Submarines and Sea-Based or Land-Based Aviation Units. For a couple of winters, WASP and Air Group CVSG-52 spent a couple of weeks training in Jan/Feb in the Guantanamo Bay, Cuba or Roosevelt Roads, Puerto Rico OP AREAS. Sure beat the blizzard weather back home! During my three-plus years in HS-11, I logged 1060 hours of flight time in the SH-3A "Sea King. Loved every minute! On December 16, 1965, WASP and our Air Group recovered the Gemini 6 (Schirra & Stafford) and Gemini 7 (Borman & Lovell) Astronauts. Gemini 9 Astronauts (Stafford & Cernan) were recovered on June 6, 1966. On November 15, 1966, Astronauts from Gemini 12 (Lovell and Aldrin) were recovered. When I arrived in July 1965, I think Cdr. Norm McLaughlin was CO, Cdr Jim Williford was XO, later CO. As I remember, other CO/XOs may include: Cdr. Howard Shartel, Cdr. Bud Brown and Cdr. Robert Combs. Some of the Junior Officer Pilots that I can recall were: Larry Henesy, Mike Louy, Doug Ballard, Jack O'Brien, Tom McFeely, Ned Davis, Russ Berry, Joel Heine, Jack Clifton, Warren Hudson, Kyle Lynn, Dave Raffetto, John Reid, Sandy Munro and, especially, Jerry Fennell. These young pilots were very high energy and found all sorts of ways to make our life interesting and jostle the "Row Monitors." In August 1968, WASP and our Air Group departed NAS Quonset Point for a three month North Atlantic Cruise. After a couple of weeks at sea, I was detached when we arrived at the Naval Base in Portsmouth, England, with orders to Naval Aviation Safety School in Monterey California before beginning my next assignment as the NAS Quonset Point Aviation Safety Officer and UH-34D pilot. After that tour, I transferred to the Naval Air Reserve in 1970, and served in various ASW Helo Units, at Nas South Weymouth or NAS Quonset Point, flying another 1,000 hours in the SH-3A/D "Sea King." Retired as a Commander in September 1985, after spending my final four years as a War Games Umpire at the Naval War College in Newport, RI. Cdr Alex Daunis USN (Ret)

May65, Ens Mike Louy: Reported aboard HS-11 at Quonset Pt. Only Ensign in squadron of 52 officers for first 6 mos. Served as asst. QC, 1st Lt, Drive Safe officer. Participated in Gemini 4, 7/6, 9, 11, and 12. Made HAC in '66. Flew 35 cross countries in two years, mostly with Ltjg Larry Hennesy. As the weekend duty HAC launched carrying marine biologists to look for white sperm whale off Cape Cod - no luck. On a returning cross country fuel stop at Andrews, carried a young boy, parents and doc to Central Park for chamber treatment. Bailed out of ASW for HA(L)-3 after 18 mos of trying. Flew over 1,000 in the SH-3A. Aboard USS WASP - sewage always leaked in assigned squadron crew heads. Aboard WASP in a hurricane that tore both catwalks back to amid ships, twisted the ship and wiped bearings on three of four shafts. Went to Puerto Rico for storm damage board assessment. Departed squadron May '67.

Oct69-Aug73, I served in the squadron. I was in charge of the Administrative Office from 71 to 73. Discharged in 73 just prior to squadron moving to FL. I published squadron newspaper, which included cartoons of all squadron members. Still have one copy of the paper

Feb71-Oct73, Reported to HS-11 after training in HS-1, Quonset Point detached to USS Intrepid. Served under skippers: Bartlett, Switzer and Johnston. Flew in SH3A and SH3D models. Our helos were outfitted with armor and an M60 machine gun in the after station destined for rescue missions in Viet Nam, but were already out on deployment when the call came for us, so our sister squadron,
HS-5
took our place. Cruises to the Med and North Atlantic, crossing the Arctic Circle to receive my Bluenose Award. Was named HS-11 Sailor of the Quarter twice. Base was moved to Florida in 1973 so got a three month early out. HS-11 was assigned to the
USS John F Kennedy
(CV-67).

1973-1976, my dad served hs-11 Jax NAS. Chief petty officer Robert George

May80 I reported to this squadron. Skipper was Ed Montinger. Served until June 1983 under skippers: Montinger, Dick Catone, and Gary Skaar. CDR Jim Curtis was XO, when I departed. We deployed with CAG One aboard USS John F Kennedy and USS America. We flew then the SH-3H with TACNAV.

News of Helicopter Anti-Submarine Squadron Eleven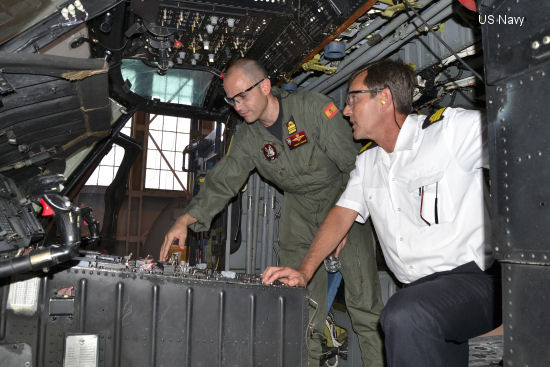 US Navy refurbishing 2 SH-60F for Spanish Navy, 29-May-14 : JACKSONVILLE, Fla. (NNS) -- Fleet Readiness Center Southeast (FRCSE) hosted representatives from Naval Air Systems Command (NAVAIR) Program Manager Air (PMA) 299 and members of the Spanish navy for the annual SH-60B and SH-60F helicopter program management review (PMR) at the military depot May 13-15.