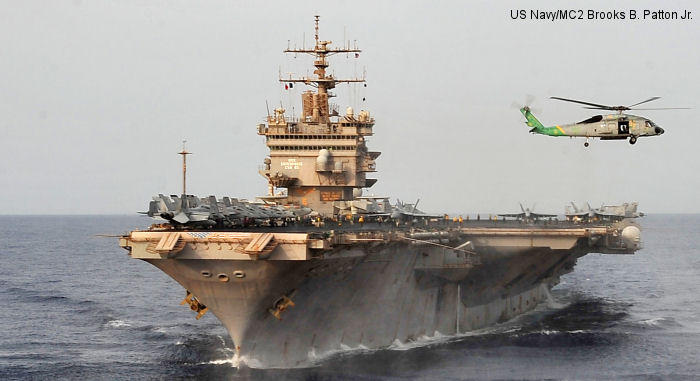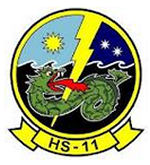 Dragonslayers
, HS-11 was the last deploying HS squadron. Redesignated
HSC-11
in 2016
---
Two early C.O.s of HS-11 passed away on 2011: Glenn Dumas (the 2nd skipper 1958-59) and Bryce Clack (1960-61)

1957, Joined HS-11 when CDR Vincent Collins was skipper. Deployed mostly on USS Wasp North Atlantic and Med cruises. Flight/Navigation Officer with Guy Crowe,Dan Sekellic (designer of above patch), Hank Cardoza. Discharged 1959 and entered medical school University of Oregon. Served with reserve squadron Sand Point,WA (Seattle). Practiced in Portland,OR until 1996. Last rank LT USNR,plank owner ANA squadron Bend,Oregon.FAA medical examiner for past twelve years Would love to hear from contemporaries..

1957-1959, Blurb above is from Jerry Bass,MD...Anyone heard from Bruce Herbert HS 11 circa 1958? My email is jbass@bendcable.com Would like to hear from any contemporaries

Jan62-Oct64, I was in HS-11. We flew the HSS-1 and then the SH-3A. When the Wasp was in for overhaul, we deployed on the Lake Champlain. Our COs during my time were Cdrs. Taylor, Pepper and Fisk. ADR3 Dennis Frazier

May65, Ens Mike Louy: Reported aboard HS-11 at Quonset Pt. Only Ensign in squadron of 52 officers for first 6 mos. Served as asst. QC, 1st Lt, Drive Safe officer. Participated in Gemini 4, 7/6, 9, 11, and 12. Made HAC in '66. Flew 35 cross countries in two years, mostly with Ltjg Larry Hennesy. As the weekend duty HAC launched carrying marine biologists to look for white sperm whale off Cape Cod - no luck. On a returning cross country fuel stop at Andrews, carried a young boy, parents and doc to Central Park for chamber treatment. Bailed out of ASW for HA(L)-3 after 18 mos of trying. Flew over 1,000 in the SH-3A. Aboard USS WASP - sewage always leaked in assigned squadron crew heads. Aboard WASP in a hurricane that tore both catwalks back to amid ships, twisted the ship and wiped bearings on three of four shafts. Went to Puerto Rico for storm damage board assessment. Departed squadron May '67.

May80 I reported to this squadron. Skipper was Ed Montinger. Served until June 1983 under skippers: Montinger, Dick Catone, and Gary Skaar. CDR Jim Curtis was XO, when I departed. We deployed with CAG One aboard USS John F Kennedy and USS America. We flew then the SH-3H with TACNAV.

News of Helicopter Anti-Submarine Squadron Eleven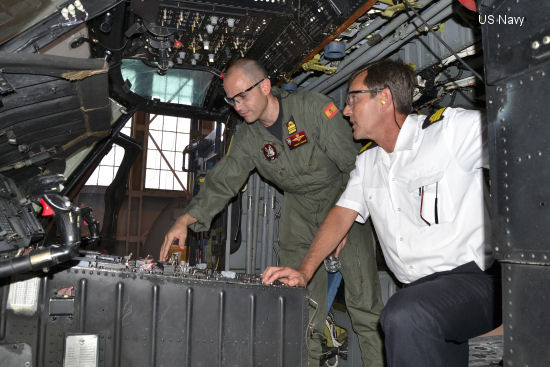 US Navy refurbishing 2 SH-60F for Spanish Navy, 29-May-14 : JACKSONVILLE, Fla. (NNS) -- Fleet Readiness Center Southeast (FRCSE) hosted representatives from Naval Air Systems Command (NAVAIR) Program Manager Air (PMA) 299 and members of the Spanish navy for the annual SH-60B and SH-60F helicopter program management review (PMR) at the military depot May 13-15.