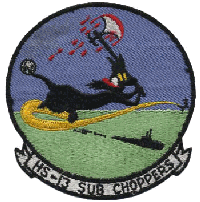 For as long as HS squadrons have been in existence, the US Navy has based the even numbered squadrons on the West Coast and the odd numbered squadrons on the East Coast. Thus HS-1, HS-3, HS-5, HS-7, HS-9, HS-11, HS-15 and HS-17 have always been East Coast squadrons. Many believe that there never was an HS-13, which had something to do with the unlucky connotations of the number 13. Despite the harbingers of doom associated with the number, there was an HS-13 in existence in the early 1960s, if only for a few days over one year. Helicopter Anti-Submarine Squadron THIRTEEN (HS-13) was established on 25 September 1961, as part of Anti-Submarine Carrier Air Group SIXTY-TWO (CVSG-62), which itself was stood up on the same day. Shore based at NAS Quonset Point, R.I., HS-13 was authorized a strength of up to 16
Sikorsky HSS-1N Seabats
. The N model Seabat was optimized for night and all weather operations. Also assigned to CVSG-62 was Anti-Submarine Squadrons TWENTY (VS-20) and FORTY-TWO (VS-42), both flying the Grumman S2F-1 Tracker. Although HS-13 was authorized up to 16 HSS-1Ns, the squadron rarely had that many on strength. In September 1961, only 2 airframes were listed on hand, with four more arriving the next month. At the close of 1961, HS-13 had 11 Seabats. Finally, in June 1962, the squadron had a full compliment of 16 Seabats. The exact date of the announcement that CVSG-62, and all its squadrons, would be disestablished is not certain. However, the end was certainly clear because in July 1962, HS-13 had only one airframe still on the books. Indeed, VS-42 was completely gone. By August 1962, the final HSS-1N was gone and HS-13 ceased to be listed as a viable squadron in September 1962. CVSG-62, along with HS-13, was officially disestablished on 1 October 1962. There is one reference that questions whether or not HS-13 even existed, positing that the squadron was simply formed on paper. However, the January 1962 issue of the Navy Naval Aeronautical Organization (OPNAV 05400) states that HS-13 was on board NAS Quonset Point, and had 49 officers and 262 enlisted personnel. Throughout its short existence, HS-13, nor CVSG-62 for that matter, never deployed to sea. HS-13 was nicknamed the
Sub Choppers
. The squadron patch showed a cartoon cat, equipped with a tail rotor and flying off an aircraft carrier. The cat is carrying a bloody axe and is poised to take a swing at a submarine. Some squadrons are disestablished on one day, only to be reestablished later in the future. This never happened to HS-13. Perhaps the number 13 was indeed, unlucky. Cheers. Dave Powers

---
When HS-13 was disbanded in 1962, some of us enlisted men were transferred to
HS-5
, where I ended up, or
HS-11
. Both those squadrons were also based at Quonset Point.

1961, HS-13 Quonset Point. Then to HS-5. Ed Dabbs, AKAN

I was a plank owner of HS-13 and was assigned to HS-5 after HS-13 was decommissioned. We were deployed on USS Lake Champlain, USS Randolph, USS Wasp. I am looking for the roster to find a few shipmates that may still be around.

I also was a plank owner of HS-13 based at NAS Quonset Point RI. From 1961 to 1962 and after the notice of decommissioning was transferred to NS Rota Spain. I still have my patch as seen in the above article. As I recall we were told by our Commanding Officer that we were commissioned because of the Berlin Crisis of 1961,to see if a sub squadron could be up and operational within a year. I talking to my son who was also in the Navy and stated that I looked in many different Military sites and could not find anything on HS-13 and he found this site. It the only site that I know that refers to HS-13. Hope we find more shipmates.

I was a plank owner in this squadron. Henry Allen ADR3. I was a Plane captain and air Crew. I also flew ASW training missions because we had no AWs yet. I left in about april 1962 for
B
school.

HS-13 was indeed a real squadron, with my father being assigned to it out of Quonset Point. He was assigned to the USS Essex (CVS-9) in the fall of 1961 and did not have HSS-1Ns, but had the HSS-2s assigned to their unit on the Essex. The squadron on the Essex was HS-13 until the fall of 1962 and then re-named
HS-9
. He has both patches, the Sub Chopper patch and also the Sea Griffin patch. He said that they were in the middle of the Cuban Crisis, with their mission being the tracking of Russian subs. He said that his HS-13 squadron located a Russian sub and with assistance of a destroyer, they forced the Russian sub to surface.

I was one of the original 12 enlisted plank owners that helped HS-13 get started. The only officer was the commanding officer. He went through our records and give us assignments. I was in charge of setting up communions dept. I was due to be discharged the end of Aug. 1962. I think when I left there was only about 5 people left in the squadron. Don Green AT3

I was a plank owner in HS-13. I was a AD3 and when it was decommissioned I was transferred to HS-9 that was attached to the Essex. HS-9 was never HS-13, there were three Helo squadrons stationed at Quonset Point RI. HS-5 aboard the USS Lake Champlain and HS-9 aboard the USS Essex, HS-13 was never assigned to any Air Craft Carrier. Ken

I was a plank owner in HS-13. I worked in supply and was taught by Jerry Franks. I was one of the last to go and went to HS -5. Larry walters

My name is Larry Walters and I had a HS-13 patch with
Plank owner
over the top. I remember Don Green as we went to Brown Spring Weekend one time. I went to HS-5 and eventually ended up at Nea Makri Greece. I was a Plank Owner in HS13 where I worked in Supply with Gerry Frank and a bunch of others. there was INDEED an HS-13. I think, but dont know for sure, if we were the first to have HS-34J

Does anyone remember the name of the corpsman of HS-13. He use to borrow my MGA and would fill it with gas for me. He came and saw me when he got his new orders to transfer. He wanted to go back to the Marines. He was so happy he got want he wanted. I have often wondered if he went to Vietnam. I think I have pictures of Larry Walters. I think you were one of the 4 non-rated in the ops office. There were only 5 enlisted men in ops with about 23 officers. Larry if you will email me I can email you the picture and see if I am correct about who you are. degreen60 AT hotmail.com

Commander Wiseman
obituary
the commanding officer of HS-13, the officer that assigned me the task of setting up the communications dept.

My father V.C Whitmire was a member of the squadron, he was a Lieutenant or Lt Commander. I believe the patch is on a plaque hanging on my mother's wall still. Our family was stationed at Quonset Point in 1961 (I recall the winter there, so that fits the timeline), but I think we were there for only six months before heading to Norfolk for 6 months, then Key West for 6 months. Tough time for my mom with 4 young kids. He has been gone for 5 years now, I wonder if anyone remembers him.

My Dad was in HS-13, don't have many details except tgat he lost an eye working on one of the choppers. George Dewey ADR3 was how he left the Navy.

C/N
Version
Built
In this Org
In other Org