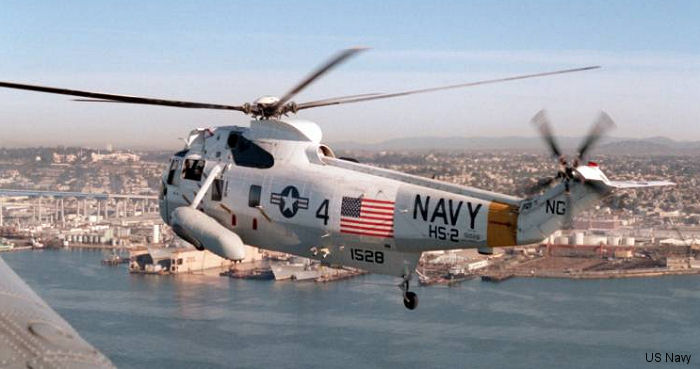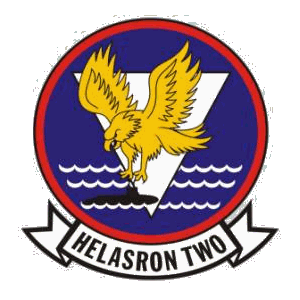 Created March 7 1952 as the first Anti-Submarine Warfare (ASW) helicopter squadron on the West Coast.
In early 2009, they transitioned to the MH-60S and re-designated as
HSC-12
---
07Mar52, I came aboard HS2 at Ream Field, San Ysidro CA. In Jul53 I was part of a group of 3 helicopters plus a support group that went aboard USS Sicily (CVE-118) as HS2 Detachment Able. Our first stop en route to Japan was at Pearl Harbor. Next stop was at Guam, then on to Oppama. We made a trip to Kobe/Osaka and another to Hong Kong. The Sicily remained in Japan after we left to return to the States in Dec53 aboard USS Point Cruz (CVE-119). I left the Navy in Sep54, one month after a detachment from HS2, including myself, went aboard the USS Princeton (CVS-37) for a three week cruise to Seattle for their Seafare week. Edmund C. Hill, former PN2, U.S. Navy.

09feb60-17jul63, this was my tour of duty with HS-2. I started out on the Line Division .. made ATNAN and was transferred to the AT shop.. Made 2 West Pac cruises 1960 and 1962 .. Was TAD to the USS Kitty Hawk when President Kennedy came on board .. In June of 1963 Got busted .. and in July of 1963 I was discharged .. Had 4 super friends ... Willie McNeil , Ed Koslow , Otto Newton , and Sherman Johnson .. Will always remember them.. Bob Decoteaux

Apr61, I was stationed for a short time at Ream Field. I was right out of boot camp, went mess cooking and compartment cleaning. with HS-2 My best friend was a guy named Joe Monte, he was from Boston area, shortly after Sept. I got orders to A school Lakehurst NJ of Aerographers school. After school I got orders to Fallon, Nevada. I remember the Seals coming into eat at 3 am when I was mess cooking. I also had a friend Bleacher. -

Early Nov61, I came aboard HS-2 at NALF Imperial Beach, CA. At that time we gad H-34's, but very shortly we had HSS-2's which later became SH-3A's. We went WestPac in 1962 with 22 HSS_2's and 2 34's. I was on three WESTPAC's with HS-2 1962-1966, with "B" school after the 1964 cruise. I got back just in time from "B" school for the first short cruise and them WestPac in 1965 and 1966. I went to shore duty and then in 1970 served with
HC-7
Jan70-Jan71 and then transferred to
HC-1
Det.6 in which I picked up Apollo 15 on the
USS Okinawa
(LPH-3) on 07Aug71. After that I left for WestPac from Oct71 on the USS Coral Sea (CVA-43) and returned Jul72. I then went to shore duty and right back to sea duty to pick up Skylab2 on the USS Ticonderoga (CVS-14) then back to shore duty with
HS-10
. I then transferred to
HS-4
in Apr76 and finished that WESTPAC. I did lots of short cruises and then transferred to
HC-3
for shore duty. I took over duties as Command Master Chief. In 1983 I transferred to HS-8 as Maintenance Chief and Command Master Chief. Upon our return on 29Feb84 I had put my papers in to retire on 31May84 after 24 and 1/2 years service. In HS-2 I helped develop the in flight refueling. OH what a career in Helicopters RL Pierce AFCM USN Retired

1963-1964, Would like to know if anyone could help me find out if the USS Hornet was off the coast of Vietnam in this time period. I was in squadron HS-2 , I was on a far east cruise at that time. Thank you, Joe Powers cabinjoe2222 at gmail.com

Dec63 I exited
HS-10
(training sqdn) and was ready for my assignment in HS2. For the next year Hornet was in dry dock repair facility at Alameda so we did not deploy (to Yankee Stn) until Sep65. Returned to Ream field in Mar66. During that cruise I was copilot on the first night extraction out of N Vietnam. The plane commander was LCDR Vern Frank.My NavCAd contract ended Apr67 and I went to United Airlines. LT Steve Koontz

Dec65-Sep69, I was attached to HS-2. Worked in Airframes, then later in Q/A. Still remember a lot of shipmates, from that time period. Am searching for info on the 2020 HS-2 / HS-12 Reunion.

1966-1969 Wondering if you were assigned to the Carrier USS Hornet (CVS-12). I am trying to find information about HS-2 assigned to my ship. Raymond L. Jolivette

1970, In the above picture the US flag was installed when HS2 was deployed on the Independence after a cross country trip from Imperial Beach to Norfolk in 1970. A 747 was hijacked on Sept 1970 In Jordan and HS2 was designated as one of the rescue options. The flag was painted on the side to insure that if rescue was attempted then friendly fire would be kept to a minimum. Although we never went in the flag remained on the side of each helicopter. As a crewmen and 23 I was very excited and wanted to go.

Dec80, I reported to HS-2, while they were embarked on the USS Ranger CV-61, while it was on it's 1980-1981 WesPac/Indian Ocean cruise, during the 52 American Hostage crisis in Iran. With CVW-2 and I did my TAD in the aft galley. March of 1981, is when the Rangerreturned back to North Island Naval Air Station, San Diego, CA.. April of 1982, embarked aboard the Ranger, with CVW-2 air wing WesPac/Indian Ocean cruise. While on station at Gonzo station in the Arabian Sea, some jerk aboard the U.S.S, Callaghan DD-994 jumped over board at 9:40 at night in rough seas and the seas where about 20 feet to 25 feet that night. He launched a helicopter to go save his butt, the helicopter was about 10 feet to 15 feet above the water and a huge wave came up and it grabbed the rear rotors and caused them to stop and then another huge wave came up and flipped the helicopter all the way over on it's top and the main rotors went into pieces every where, but loose. We launched another helicopter to rescue the down helicopter screw and left his butt in the water. Towards near the end of that WesPac/Indian Ocean cruise. We helped rescued 150 Vietnamese boat people from their sinking boat in the South China Sea, two days before we pulled into Subic Bay, Philippines. The day before we pulled in Subic Bay, a well pregnant Vietnamese woman gave birth aboard the Ranger and he was 151 member of the Vietnamese refugees. We pulled into San Diego Bay in October of 1982 to end that WesPac/Indian Ocean cruise. In December of 1983, HS-2 was switched to CVW-14, aboard the USS Kitty Hawk CV-63. Late January of 1984, aboard the Kitty Hawk, HS-2 was embarked for the 1984 WesPac/Indian Ocean cruise. During that WesPac/Indian Ocean cruise, while doing a Team 1984 Spirit exercise in the Sea of Japan, the Kitty Hawk ran over a Soviet Union fast attack submarine and I believe it was K-312 submarine that was hit. A HS-2 helicopter air crew found it the next day on the surface 109 miles off of Japan, doing repairs and it was dead in the water.

1980-1983, best Helicopter Squadron in the Navy. I as well serve aboard being medivaced off Kitty Hawk. M OConnell

Dec80-Apr84, I was assigned to HS-2. I served with Cdr. Walston when he was a young lieutenant. When Mr. Walston first reported to the squadron, he was a lieutenant junior grade. He was one of the top pilots in the squadron. He always encouraged us enlisted men and took the time to talk to us. The majority of the officers in HS-2 did the same thing. The squadron commanding officer lead by example, by getting to know the enlisted men in the squadron. HS-2 was used in these movies. Top Gun, The Final Count Down and a Budwieser commercial. It also was in the movie In The Hunt of Red October. It was the first anti-submarine squadron to find and track a Russian Typhoon class submarine in 1982. The squadron had to teach the rest of the anti-submarine squadrons on what hear and look for when searching for Typhoon class submarine. When I reported to HS-2 in December of 1980, I was an Airman Apprentice and worked up to a Third Class Petty Officer. In February of 1983 aboard the U.S.S. Kitty Hawk CV-63, as it getting ready to embark from the Navy ship yard in Bremerton, Washington, back to San Diego, California. I was hit on the head by a main rotor blade, which caused my attitude to change and I was busted down to Airman in February of 1984. Robert Boyes.

1993-1995, I was stationed with them at Nasni. Went to Persian gulf with them. now VA tells me I was not in the war at all. Golden Falcons Cdr Walston I believe. never give up.