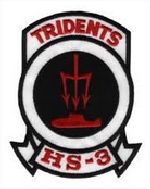 Tridents
, tail code
HW
then
HB
1954-1957 HO4S / H-19
1957-1962 HHS-1 / H-34
1962-1967 SH-3A
1967-1978 SH-3D
1978-1991 SH-3H
1991-2009 SH-60F / HH-60H
On 1 July 2009, was redesignated Helicopter Sea Combat Squadron NINE (
HSC-9
)
---
1959-1962, I served on HS-3. Soa2 Cruised on
USS Valley Forge
(CVS-45),
USS Lake Champain
(CVS-39) and the USS Intrepid. Love that time in my life

Feb60-Jul61, I was in Norfolk HS3, cruised on USS Valley Forge, and transferred to Quonset Point to help form HS13 during the Cuban Crisis.

1968-1969, We were based in NAS Norfolk, then we moved to Quonset Pt RI in 1970!

1968-1971, Was a rigger. Then went to pax river

1970-1973, Homeported at NAS Quonset Point with workups on WASP and INTREPID (1970) then transitioned to FORRESTAL (1971-). What a difference between CVS and CVA deployments.