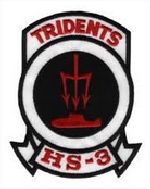 Tridents
, tail code
HW
then
HB
1954-1957 HO4S / H-19
1957-1962 HHS-1 / H-34
1962-1967 SH-3A
1967-1978 SH-3D
1978-1991 SH-3H
1991-2009 SH-60F / HH-60H
On 1 July 2009, was redesignated Helicopter Sea Combat Squadron NINE (
HSC-9
)
---
1959-1962, I served on HS-3. Soa2 Cruised on
USS Valley Forge
(CVS-45),
USS Lake Champain
(CVS-39) and the USS Intrepid. Love that time in my life

1959-1962 served in HS-3, home based at NAS Norfolk, Va, deployed on USS Valley Forge CVS-45 to the Med, North Atlantic, Caribbean, and Atlantic Ops Area.

Feb60-Jul61, I was in Norfolk HS3, cruised on USS Valley Forge, and transferred to Quonset Point to help form HS13 during the Cuban Crisis.

1960-1963 I was attached to HS-3 at NAS Norfolk. Cruised with the squadron aboard the USS Valley Forge CVS-45, the USS Intrepid CVS-11, and the USS Wasp CVS-18. Was sent to the Sikorsky HSS-2 Fleet Indoctrination Program in Key West. Was aboard the Intrepid when one of HS-3's HSS-2s picked up Astronaut Scot Carpenter. Participated in the Cuban Missile Crisis with HS-3 aboard the Wasp. -

1960-1963, I was in HS-3. We were out of NAS Norfolk & were on the Intrepid and Wasp during this period. We picked up Scott Carpenter & was active in the Cuban Crisis. I think we were the first Squadron on the East coast with the Sikorsky turbos. I received a rescue award in June of 1963

1965 stationed at NAS Norfolk, then aboard the USS Intrepid for a short mission to pick up Gus Grissom on the Gemini 3 space mission. Great experience. -

1968-1969, We were based in NAS Norfolk, then we moved to Quonset Pt RI in 1970!

1968-1971, Was a rigger. Then went to pax river

1970-1973, Homeported at NAS Quonset Point with workups on WASP and INTREPID (1970) then transitioned to FORRESTAL (1971-). What a difference between CVS and CVA deployments.

1977-1981 AF AMS 2 Tom kent

1985-89, USS Saratoga. Great time, tons of hard work

2000-2003, Homeported in at NAS Jacksonville FL deployed on cvn-65 when 9-11-2001 happened and that was the first ship to be weighting off the coast of Pakistan too bomb Afghanistan, and the next deployment was on cvn 73 and most of that time the carrier was all by it self NO friendly ships near off the coast of Lebanon