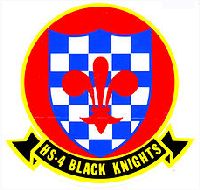 Helicopter Anti-Submarine Squadron FOUR (HS-4) was established on 30 June 1952.
HS-4 completed a deployment aboard the USS Ronald Reagan (CVN-76) 2 June 2010 to 8 August 2010, flying the Sikorsky SH-60F and the HH-60H. The area of operations was the Eastern Pacific. HS-4 was assigned to Carrier Air Wing 14 (CVW-14) - tailcoode NK. The USS Ronald Reagan was assigned to Carrier Strike Group 7 (CSG-7)

Black Knights
became
HSC-4
on March 29, 2012

---
1956, I was transferred to HS-4 from ADA School. I was working on their last HO4S aircraft ,then to the HSS-1. I was a ADAN ,Schooled on the maint of the HISS as we called it. We left NAAS Ream Fld with 16 Helos went aboard USS Boxer (CVS-21). With VS-23 and VC-35 (Stoofs and AD Guppies ) they called us the SunDown kids ,couldnt fly at night because of NO Doppler I Was the plane Capt of VO-7 ,Folding Blades was a Challenge ! Air Boss Kinda Mad ,fouling his deck ! Got it down to 3i/2 mins ,Pilot Shut down to, plane Capt Riding Brakes, Blades Folded Had a couple of Engine & Main Trans Changes ,Tracking Blades were a Blast ,with a Flag ,Hit by Whirling blades ,Marked with different colored Crayons , Got them under your Thumb, A GO!!! did a 6 month Cruise ,Brought them all back in one piece. Great Squadron I made AD 3 in HS-4 ,Capt .was CDR .C S Tanner Exc was CDR Payne. I transferred to HS-8 as a HSS-1 plane Capt. Went on to retire, as a Naval Reserve with Total of 41 Yrs, ADC

My Dad (then LT Louis DiGiusto)was a Naval Aviator in this squadron same deployment. My Dad was one of the original Navy test pilots with Sikorsky on the HSS-1 and ferried them from Sikorsky's Stratford, CT plant to NAS North Island, Coronado. He set the helicopter land speed cross country record with the HSS-1. He lost his life in the line of duty at NAS Jax flying an H-34 on a training mission in 1965- CDR L. DiGiusto. He really enjoyed his tours and deployments 7th Fleet with HS-4. I still have squadron coffee mugs from 1950s. His grandson followed in his footsteps and is a Naval Aviator.

News of Helicopter Anti-Submarine Squadron FOUR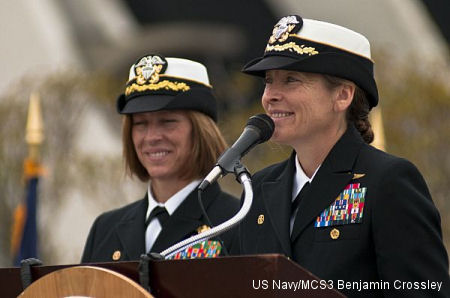 Historic HS-4 Transitions To HSC-4, 29-Mar-12 : SAN DIEGO (NNS) By Mass Communication Specialist 3rd Class Shawnte Bryan, Navy Public Affairs Support Element West -- The "Black Knights" of Helicopter Anti-Submarine Squadron (HS) 4 became Helicopter Sea Combat Squadron (HSC) 4, during a transition ceremony at Naval Base Coronado, March 29.