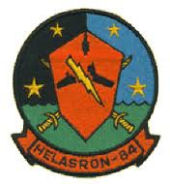 Thunderbolts
, tail code
NW
1970-1975 - SH-3A
1975-1984 - SH-3D
1984 Redesignated
HSL-84
---
1970-1974 stationed at Ream Field with HS-84. Dull but enjoyable duty in beautiful S.D. At EOOS I decided that the military didn't fit into my plans so I was discharged. Met some really great people there. Often reflected back and wondered if I had stayed and did two more years of college and then commissioned what would life had become as an officer? Guess the Viet Nam cloud over our heads did not sit will with many of us. Hated leaving beautiful S.D. but had a higher calling back in N.C. Saying hello to Flannery, McKay, Gary Braun, Lt. Olson, J.D. Korn, and all the others I have forgotten.

1971-1975, I was part of HS-84, let out early when NAM fell. I was TAD to Ground support due to my rate. I still remember Lt Commander Redden. I was in charge of his bird when we went aboard the Tico for carrier quals. and when they loaded us aboard to steam to NAM to extract personnel. Turned us around after I believe it was 3 days, all over. -

1973-1976 AT E3 at Ream and made the move to North Island when they shut down Ream Field. Loved IB, surf city. Fun times going to Hawaii on HMS Provider. Mike Wonder

Mid 70s, I was in HS-84 at Ream Field, Imperial Beach and later at NAS North Island. It was a Reserve squadron at the time. I was an ADJ in Power Plants.

1975-79s, I was in HS-84 at Ream Field, Imperial Beach and later at NAS North Island. I was an AMS 3 class Jim Yetman

1978-1982, assigned to the Thunderbolts as aircrew and rescue. Love hearing Randoon bringup 10speed,Willie. I remember them all. How about Conrad Brooks,Clint,Mark Clausen,Lester(fester)Ferrell, Rich Folsom:) RIP: Decker Miles,Clff Schoonmaker,Hector Flores and others who perished in Arizona:( Oma Akers

1979, Father (CDR Thomas Wagner) was flight crew on the 8 April 1979 crash in Dragoon Mountains near Tucson Arizona. RIP dad 4 others (some mentioned by Oma Akers above). Posted 28 Mar 2021 by Tom Wagner (son). -

1979 to 1982, I was a Thunderbolt at NAS NORIS from as AMH3 Randy (Randoon) Kendall. 10Speed, Willie, Leroy where are you?? I left in 1982 for cross training to ATC. Working on the SH-3Ds were the best days of my life. We did a Torp-Ex at
Whidbey
, Rim-Pac, Pacific Missle Test Range Kuai, HI. Flew over there in President Trumans C-118. What a blast. Did ASW for Her Majesties Canadian Ship (HMCS) Provider (
AOR-508
)

Wow good stuff. I was in HS-84 late 70's. I worked with and knew all these guys. I also taught at NARU on NI for 3 years before that. I taught with Louis Livatino, Cliff Schoonmaker, Terry Krouskoupf , Lester Farrell and Bob Unangst. Worked with Rich Folsom. Oma Akers came to Ontario and stayed at my folks house on some fun weekend leave. Other friends and brothers Hillel Silverman, Jeff Young, Rick Eckhart. Been on Det on The Provider off Vancouver Island. Lots of folks from HS 10 HS 2. And who could forget 10 speed and Willie. Last I heard years ago they went to the east coast and worked on a Deep Sea research vessel. Cliff and I flipped for the trip back to NARF when we lost the Bird. Thanks for the Memories Brothers. Tony Hanner AW2 Intructor and SARDAWG. T.

C/N
Version
Built
In this Org
In other Org
61-321
sh-3a
152127 : USN; HS-84 w/o 08apr79