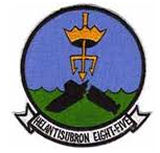 Golden Gattors
, tail code
NW
US Navy Reserve. Was re-designated
HC-85
in 1994
---
HS-85 was originally at NAS New Orleans from about 1967 to 1970. Aircraft were SH-3A side # 510 ,511,512,513 of which one went down on the way to Imperial Beach for a Det. I was on it when it went down. I was an a AT2. I also served with AE1 Floyd Brightman. A great many of the men were involved in Det Charlie 1969. The Squadron was still at New Orleans. AtCS R Cook Ret

I am the original plank holder of HS-85. I was a YN. I designed the original unit insignia with the trident and crown. We were stationed at NAS Alameda, CA. Leonard (Lee) Bendgen

1966, I was an Aircrewman attached to HS-872, first qualifying in the SH-34 w/ AQS-4 Sonar, then transitioning into the SH-3A w/ AQS-10 Sonar in 1968. The Squadron lost its designation in May of 1968 and re-designated HS-80G2. I believe this was to consolidate the HS, VS, and VP West Coast Squadrons into Air Group 80 which was based in North Island. A lot of Air Crew technical training was done at Imperial Beach and North Island from then on. When the Squadron was HS-872, the formal ASW training was done at RESASWTACWEST (
NAS Los Alamitos
) or RESASWTACEAST (
NAS Willow Grove
). I trained and qualified at both of these facilities in ASW Tactics. With the changes, the training at NAS Imperial Beach was like night and day. This changed to HS-85 in 1970. I also served in Aircrew Training until my discharge in 1974. By 1972, HS-85 was really a great unit. Although we were a Reserve unit, we were very experienced. Many of our pilots had been in HS-872 and HS-80G2, and we were starting to get some Veterans from the VN war. Many of our Pilots were commercial Pilots with 10-20k flight hours. We had one C.O. (Cmr. Keith Krandle) who had logged over 20K hours in S-61 (the civilian SH-3) helicopters! This Squadron had some of the best trained, fairest, and certainly the most intelligent group of Officers that I have ever worked with. During my tenure in HS-85 I advanced from AX-3 to AW-1. Roger England

1968-1969, correction of the side numbers for HS-85 was 310 thru 313

Dec71-Dec72, I was an AJJ3 with NARTU/HS-85 and worked on the flight line. The only thing that I can remember is that the A/C had the side numbers 500 through 508. My particular A/C was 500- the CO aircraft. I believe he was Capt. Raab. I would love to know the BUNO of those A/C to try to trace their history

Apr71-Apr77, I was attached to HS-85. I worked on the line, in the shack as a weekend warrior. Commander Larry Elson was our CO. He was an excellent CO, loved to fly and imbued in all personnel, down to us Airman on the line, that proper preparation and servicing of these aircraft was critical. I can't remember the names of all the great guys I met but I have fond memories, and am glad to have served even if in a rather pedestrian position. After all we kept the Communist of the beaches of Alameda and ultimately landed in Berkley. Hooorrraaahhh. Steve Block

Sep72-Jun76, AE1 Floyd H. Brightman, Work Center 220 & QA. Softball & volleyball teams. Utility Aircrew 1.5 yr. Transferred to
HAL-4
with Gary Hallock and Donnel Grant. Retired AEC Aug 1985. Great times aboard
HMCS Provider
(AOR 508) & cruises to NAS Imperial Beach.

1975-1977 AW2/3 Dreiling ,was here as an AW and was surrounded by a good group of friends. We live across the states and are still good friends.All the memories and flight hours.

1975-1978, I was attached to HS 85. I was an AE2. Worked with AE1 Sonny Brightman, AE1 Fidel Salas, Master Chief Jas A. Jackson. Had some real great guys there!!! I switched to the Coast Guard in 1979. Retired as an AEC

1977, I was attached to NAS Alameda. My roommate was TAR originally from Boston with HS-85. Unfortunately I forgot his name. Had an opportunity to fly with him one day. After that, I decided to go to AW A school . Eventually wound up at HS-1 then on to HS-5 NAS Jax. AW/SAR crewman.

1977-1980, AEC Curtis Lambert HS-85 200 Division Chief, Mainterance Control Chief, Quality Assurance Chief. Retired on April 30, 1980. If anyone has contact information on the CO Commander John Fraser, please let me know.

Jun78-Mar79, AK3 Bryan Driscol I swapped duty stations with a guy in Atlanta. That's why my tour was so short. But I go have some good memories of those days.

1983-1986, I was attached as an AT-3 assigned to the line shack and then night check supervisor I was responsible for all the Dailies on the Aircraft,training new plane captains and help rewrite the training for new plane captains. We have SH-3D numbered 500-506 and one was a perpetual hanger queen that was used for parts

1985-1988, PR2 James Ott was a TAR in HS-85. I did not realize it until some years later but I really had a great time there. Everyone there was good people. I would like to know if there are any planned reunions or if anyone has a list of folks that served during the time I spent there. If so please post to this site and I will get in touch.

Jul87-Jan91, AMH2 David Mayle, served in HS-85. We worked out of Hanger #23 at NAS Alameda, CA. We had a great bunch of men there. Did Dets on
USS Mars
(AFS-1), USS Nimitz, USS Enterprise, USS Carl Vinson.

my father Joseph Larsen was part of the, sadly i don't remember his rank but he worked on the helos. bringing memories back of his and our time in NAS Alameda with his recent passing

News of Helicopter Anti-Submarine Squadron Eight Five
C/N
Version
Built
In this Org
In other Org
61-049
hss-2
148977 : 08nov73 SH-3A type, asg HS-85 /NW-507, CVSGR-80

HM-494 : Naval, UH-3H type, ex 148977

61-211
hss-2
149934 : 1974? pictured (pic1) as HS-85 /NW-505 carrier wing CVSGR-80 asgn USS Tico+