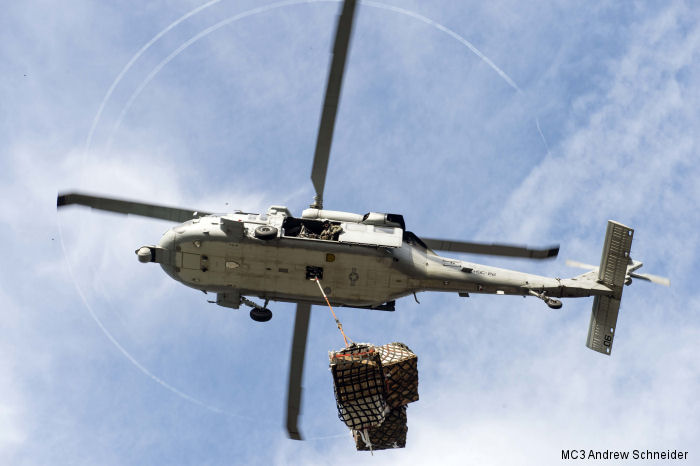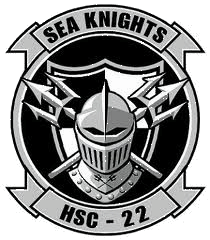 Sea Knights
, tail code
AM
motto "Praeses, Armis, Gero" (Protect, Fight, Support) was established September 29, 2006 and flew the Sikorsky MH-60S Seahawk.
HSC-22 was the first East Coast HSC squadron to pioneer integration of drones and helicopters.
Detachment 5
operated the MQ-8B Fire Scout UAV.
Provided a MH-60S Detachment for hospital ship USNS Comfort (T-AH 20,
Mercy class
) for the Continuing Promise campaign in the Caribbean along the
US Coast Guard
as part of Fourth Fleet, Task Force South.
Operating from the
USS Kearsarge
in the clear up following
Hurricane Maria
around the
US Virgin Islands
during Sep and Oct 2017.

HSC-22 was disestablished on February 15, 2023.
More News ...


Models
Dates
2021-dec

-14

2022-apr

-02

USS Milwaukee (LCS-5)
departed NS Mayport for counter-narcotics deployment in the Caribbean Sea, until return on 2 Apr. HSC-22, Det 5 embarked.
2019-oct

-31

2020-jul

-11

USS Detroit (LCS-7)
departed Mayport for Caribbean counter-narcotics operation (4th Fleet area), with HSC-22 Det 3 embarked. Finally returned to Mayport on 11 Jul 2020.


Helicopter Sea Combat Squadron Two Two Operations