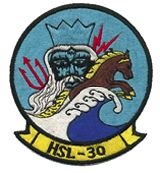 Neptune s Horsemen
, tail code
HT
1960 - HU-4
1965 -
HC-4
1972 - HSL-30
---
1971, after SERE school I arrived at Lakehurst with HC-4. Later to become HSL-30, moved to Norfolk, Va. Squadron split to HSL-32, I stayed with 30 in w/c 120 Airframes AMH 2 Tony (Cap) Capriglione.

I was with the original crew that developed the
LAMPS
program. After that we joined
HC-4
in Lakehurst. I was on the deployment to Viet Nam on the Joseph Hewes. I left the cruise in october 1972 due to emergency leave. Lamar E. Dezearn AW1.

1971, I was stationed at Lakehurst then Norfolk in HSL-30.Was a ADJ 3 mechanic in the check crew Division.

1972, I was in hsl-30 in Lakehurst, we moved to Norfolk where we split into hsl-30 and
hsl-32

1972, after Airframes and Power Plant School in Millington, TN was stationed at NAS Lakehurst, NJ as ADJ and Plane Captain. ADJ3 Thomas Z Craig.

1972, I was stationed at Lakehurst as member of HSL-30 and operated SH-2D Seasprites. I became a member of a Lamps detachment and our helo was sent to Viet Nam in the Spring of 1972 where we operated off the USS Biddle (DLG). We were deployed for 6 to 7 months if I remember correctly. We operated off N Viet Nam (Yankee Station) around Haiphong. We did ASW, Electronics Warfare and Air/SeaRescue. I believe our detachment was the only H-2 to make a night rescue of a downed pilot. I know we had the most flight ops, most operational hours and least down time than any detachment the squadron had deployed up to that time.

1972-1975, I was with HSL-30 in Lakehurst and then we transferred to Norfolk Virginia. I train David May as a Plane Captain

1973-1976, I was a Search and Rescue Crewman and AE-2 with HSL-30. I attended Both SAR and Quonset Point Sar Swim School. We had the first Female go through Swim School with us

1974-Feb78, after AMH School in Millington Tenn. was stationed at HSL -30. Worked in Troubleshooting Dept. Biff White

Feb74-Feb77, I was with HSL-30, Det A asg to USNS Harkness (TAGS-32) David Tyrone

1975-1978 I was an AX in the Avionics shop with HSL-30. Dean Rogers

1975 to Oct78, I was with HSL-30, Mike Chilson

1975-Aug78, I was with HSL-30, David May

1977-1980 I was an AT3 Assigned HSL-30 Det Alpha USNS Harkness. Made 2 cruises to Suez canal. I also believe the person who drew the logo Neptunes horseman was AE3 J Pensunault ( definitely not spelled right ) my name ATC(AW) Pierre DeSeve retired 1995. Paul Dellas was also a good friend of mine, sure do miss him. Dean Rogers was also a good friend. Look me up Dean

1977-1980, Hey shipmate I was AD3 Clyde Hyde back then,I was with our squadron .Yes I remember Paul Dallas and the tragic crash that took his and the other crewmembers lives.I remember also when he got married. What a tragedy. I would love to hear from you my friend and brother for life may God always continue to bless you and your family.I still live in Richmond Va. 804 269 6537 call me -

1977-1982, I was with Hassle 30 in the P/P Shop. AD2 Fred Schau , Lost my best friend in 79 , ADAN Paul J. Dellas , Took him home to Ca. and Buried him. Still Serving as Alameda Honor Guard 2016

1978 to 1981, I was with hsl30, would give anything to get my hands on squadron patch or hat lost my stuff in a flood if you can help email me at rdalaska @ yahoo com

1978-1981,I was with HSL-30 in the structures shop, (AMS2) Scott Nunneker

Feb84-Oct85, I was in HSL-30. I was AT shop supervisor AT2 murray. I would like to hear from any old shipmates.would also like to hear from LT hack.e mail me at mannpcm AT yahoo com carry on...

1985 - 1987 Hassel 30. I was an AD and worked nights. I worked under a great supervisor and he is absolutly correct about how some viewed him because he had come from a fixed wing community. All that aside i made some great friends while there just wish i would have stayed intouch. Jerry Harrget,petty office Shaw,chief Hall ,and my supervisor Gene. Petty office Ashcraft in fist lt office. and Lt fickner who saved my butt more than one time. Godspeed Joe Carr ADAN. June 1987

1985-1988, Unfortunately, 30 was the worst experience of my career and the reason i left the military. My dream was to be a career sailor but during this time, 30 was a nightmare. Dishonest COs, master chiefs more concerned with their career than help the sailors under them, and guys getting demoted for unfounded sexual harassment charges. At one point i had to call my congressman in to help me with some stuff. I still love and respect my time served and those that came before and after, but ai said, unfortunate as it was, my career ended here.

1985-1990 HSL-30 Began as a new platform for me as an AD having come from P-3 and E-2C. I arrived as a junior first class knowing nothing other than what the HSL-30 Framp taught me. I spent some time working as strictly a mech along side the younger more junior mechs learning from them and another first was still there to run the NX shift i was on. In time i assumed the position of NX supervisor and had a handle on things. There were some long nights but we made the best of it. I eventually replaced the supervisor on days which was fired and continued to do well. At the time we had a shop CPO and when he transferred i was to replace him in his position. The shop continued to do well and passed all audits and major inspections. There were a few new outsiders worried that we weren't taking one major outside inspection seriously because we were smoking and coking too much. And when the inspection came and went we had a perfect inspection. This obviously pissed someone off because the began making remarks about me not turning wrenches. These were people new to the command that hadn't seen my performance from day one of arriving over 3 years ago and weren't aware that i had filled the shop CPO position and had a First class running days, Nights and mids. Even my Division officer who was new to the command and a female warrant turned on me with the outside influence she was getting.. By 1990 i was ready and happy to leave not the command but the people that make assumptions without knowing the facts.

Models