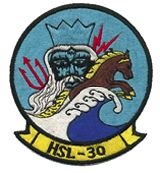 Neptune s Horsemen
, tail code
HT
1960 - HU-4
1965 -
HC-4
1972 - HSL-30
---
1971, after SERE school I arrived at Lakehurst with HC-4. Later to become HSL-30, moved to Norfolk, Va. Squadron split to HSL-32, I stayed with 30 in w/c 120 Airframes AMH 2 Tony (Cap) Capriglione.

I was with the original crew that developed the
LAMPS
program. After that we joined
HC-4
in Lakehurst. I was on the deployment to Viet Nam on the Joseph Hewes. I left the cruise in october 1972 due to emergency leave. Lamar E. Dezearn AW1.

1972, I was in hsl-30 in Lakehurst, we moved to Norfolk where we split into hsl-30 and
hsl-32

1972, after Airframes and Power Plant School in Millington, TN was stationed at NAS Lakehurst, NJ as ADJ and Plane Captain. ADJ3 Thomas Z Craig.

1972, I was stationed at Lakehurst as member of HSL-30 and operated SH-2D Seasprites. I became a member of a Lamps detachment and our helo was sent to Viet Nam in the Spring of 1972 where we operated off the USS Biddle (DLG). We were deployed for 6 to 7 months if I remember correctly. We operated off N Viet Nam (Yankee Station) around Haiphong. We did ASW, Electronics Warfare and Air/SeaRescue. I believe our detachment was the only H-2 to make a night rescue of a downed pilot. I know we had the most flight ops, most operational hours and least down time than any detachment the squadron had deployed up to that time.

1972-1975, I was with HSL-30 in Lakehurst and then we transferred to Norfolk Virginia. I train David May as a Plane Captain

1973-1976, I was a Search and Rescue Crewman and AE-2 with HSL-30. I attended Both SAR and Quonset Point Sar Swim School. We had the first Female go through Swim School with us

1974-Feb78, after AMH School in Millington Tenn. was stationed at HSL -30. Worked in Troubleshooting Dept. Biff White

Feb74-Feb77, I was with HSL-30, Det A asg to USNS Harkness (TAGS-32) David Tyrone

1975-1978 I was an AX in the Avionics shop with HSL-30. Dean Rogers

1975 to Oct78, I was with HSL-30, Mike Chilson

1975-Aug78, I was with HSL-30, David May

1977-1982, I was with Hassle 30 in the P/P Shop. AD2 Fred Schau , Lost my best friend in 79 , ADAN Paul J. Dellas , Took him home to Ca. and Buried him. Still Serving as Alameda Honor Guard 2016

1978 to 1981, I was with hsl30, would give anything to get my hands on squadron patch or hat lost my stuff in a flood if you can help email me at rdalaska @ yahoo com

1978-1981,I was with HSL-30 in the structures shop, (AMS2) Scott Nunneker

Feb84-Oct85, I was in HSL-30. I was AT shop supervisor AT2 murray. I would like to hear from any old shipmates.would also like to hear from LT hack.e mail me at mannpcm AT yahoo com carry on...

1985-1988, Unfortunately, 30 was the worst experience of my career and the reason i left the military. My dream was to be a career sailor but during this time, 30 was a nightmare. Dishonest COs, master chiefs more concerned with their career than help the sailors under them, and guys getting demoted for unfounded sexual harassment charges. At one point i had to call my congressman in to help me with some stuff. I still love and respect my time served and those that came before and after, but ai said, unfortunate as it was, my career ended here.