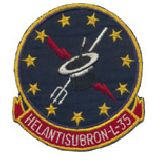 Tail code
TG
, they flew the SH-2F Seasprite.
Reactivated as
HSM-35
on 2012
---
1972-1975, I served as AX-2 , plank owner , Original det 2 on board USS Reasoner DE 1063 and USS Rathburn DE-1057

1974, formed at NAS Imperial beach I am a plank owner. James Weinheimer AMS3 at the time i was stationed there. Still have a nice certificate Cdr Vananitta was CO. I was also in HSL 30 & HSL 33 Those squadrons were formed fast back then over a period of 19 months. -

1975-1976, Hull tech.USS Fanning.blue/gold crash crew West-pac. Also went to Hhigh school with dave miers in the erly 70s.aviation machinist mate I think.Real close to family.

1976-1979, I served as an AX3 working on all the electronics

1977-1981, I served airframe shop as a lee and hydraulicsman/airframes mechanic. Very fine flying a/c and I enjoyed the detachments and flying on them

1978-1981, I served in the airframe shop I arrived there as an AMHAN and I made E-4 when I transferred I was on two detachments and I loved working on the H2f seasprite. The squadron was fantastic I sure miss everyone that I served with, by the way this is AMH - 2 Michael Moore. Retired.

1979-1981, WS on the line crew .. made pc and enjoyed the hell out of it

1989-1992, I served as aviation electrician and m-60 door gunner. We were deployed to the Persian gulf on West pac. Our battle group entered the Persian gulf the day that Iraq invaded Kuwait. I was proud to serve in this squadron and aboard the USS Barbey during this period.

1992, AW 1 Kenneth Lucas HSl-35 Det. 9 on Board
USS Callaghan
DDG 994 Persian Gulf January 1992 to June 1992 Circumnavigation both Channels Suez and Panama.

Models
HSL-35 List of helicopters
C/N
Version
Built
In this Org
In other Org
27
UH-2A
149023 : Kaman K-20 Seasprite, c/n 27, ff?; del USN as UH2K-1, 149023 unk; redesig +

39

w/o 1982

UH-2A
149035 : Kaman K-20 Seasprite, c/n 39, ff?; del USN as UH2K-1, 149035 unk; redesig +

90
UH-2B
150140 : Kaman K-20 Seasprite, c/n 90, ff?; del USN as HU2K-1U 150140 unk; redesig +

107
UH-2B
150157 : Kaman K-20 Seasprite, c/n 107, ff?; del USN as HU2K-1U 150157 unk; redesig+

188
UH-2B
152204 : 1990, Westpac HSL-35 Det.10 on USS Reasoner (FF 1063)

197
SH-2F
161647 : pictured (pic1) as HSL-35 /TG-36 taking off from USS Badger (FF 1071)

210
SH-2F
161899 : Nov91-Apr92, WestPac 92 HSL-35 Det.4 on board USS Fox (CG-33)

-

221

w/o 1988

SH-2F
161910 : 1987 HSL-35 /TG-35
: The date on this incident is 10 Aug 1988. Hsl-35 is correct