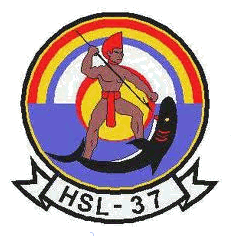 Easy Riders
, tail code
TH
established at NAS Barbers Point, Hawaii on July 3 1975 flying the SH-2F Seasprite LAMPS I. The squadron changed to the SH-60B Seahawk LAMPS III in 1992. As of 2011 is Navys oldest operational LAMPS squadron.
LAMPS ( Light Airborne Multi-Purpose System ) squadrons provides helicopters to be embarked on surface ships escorts as frigates, destroyers and cruisers.
The squadron celebrated 93,000 Class-A mishap-free flight hours in 2011
On September 2013 they received their first 4
MH-60R Seahawk
s.
Redesignated
HSM-37
January 2014
Since Oct 2006, the unit has operated the Virtual Flight Deck Training System to make deck direction training more realistic.

---
1975-1978, Shanghaied by Cdr. Douglas Huff, Aircrew Division Shop Chief Assistant ASW Officer Weapons Certification Board ASW Qualifications Umpire

Jul75, I was one of the enlisted team that commissioned HSL-37 at Barbers Point. CTRCS Ben H. Furnas

1976- 1978, Served 'on the line' as plane captain, SH-2F helos. Unofficial plank owner, as I started in June 1976, one month before their first year. Had a great tour of duty, great group of sailors, still friends with some of them. Commander Curtis was the CO. Best duty ever! EASY RIDERS!

1976-1978, A few short cruises, then WESTPAC 77-78 USS Ouelletten 1985-1990 - Short Cruises on Badger, Brewton, Ingersoll,

I thought CDR Doug Huff was 1sr CO, then Charley Curtis, then Russ Berry.

1983-1987 Transferred over from the USS Kitty Hawk (CV-63), did 4-years at HSL-37, eventually retired in 2004. Had a great adventure and experienced so much while at HSL-37. I still remember vividly most the officers and enlisted I served with there. A great bunch of professionals I am so proud and privileged to have served with. While there we earned the Battle-E, Isabel Trophy, and much more. Senior LSE Instructor Bob Kimo Lastimosa, ABH1.

1985-1989, AW in the mighty Seasprite. My first duty station and my favorite - Doug Howard

1991-1992, I was on the very first SH-60 Det ... the det hogs. Clemente Delgado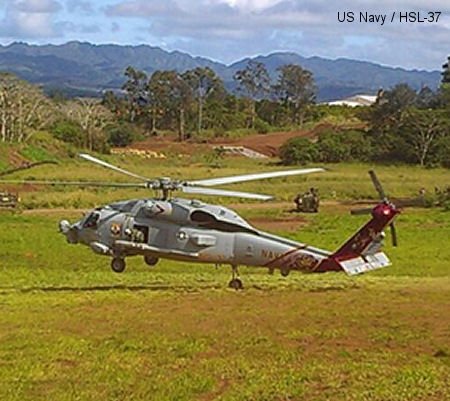 08-May-13 -

MARINE CORPS BASE HAWAII By Lt. j.g. David Indiveri - Helicopter Anti-Submarine Squadron Light 37 successfully surpassed 100,000 SH-60B flight hours Monday, March 26, 2013; a remarkable milestone for the Navy's only helicopter squadron based in Hawaii.
Helicopter Anti-Submarine Squadron Light 37 Operations