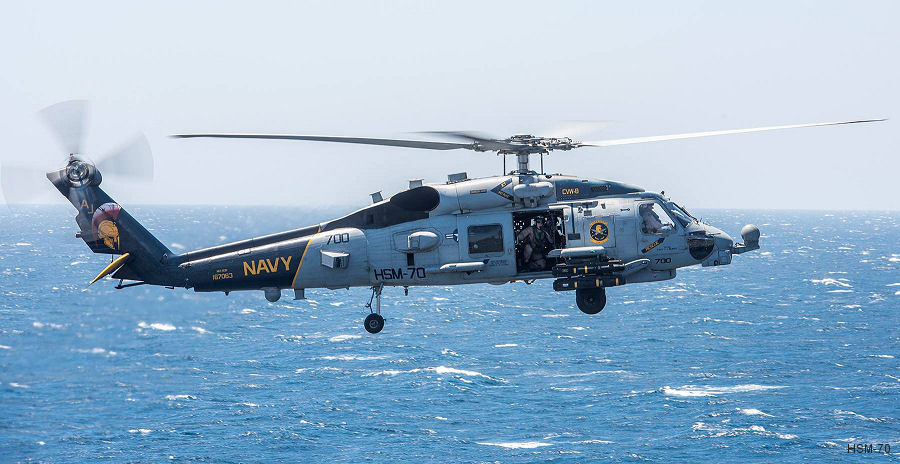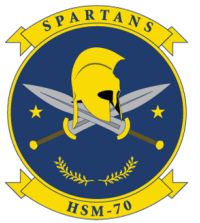 HelMarStrikeRon 70 was established February 12, 2009 at NAS Jacksonville, Florida flying the MH-60R Seahawk. Provides flight detachments to cruiser/destroyer ships and as 2017 part of CVW-8 aboard USS George H.W. Bush (CVN-77).
News of Helicopter Maritime Strike Squadron Seven Zero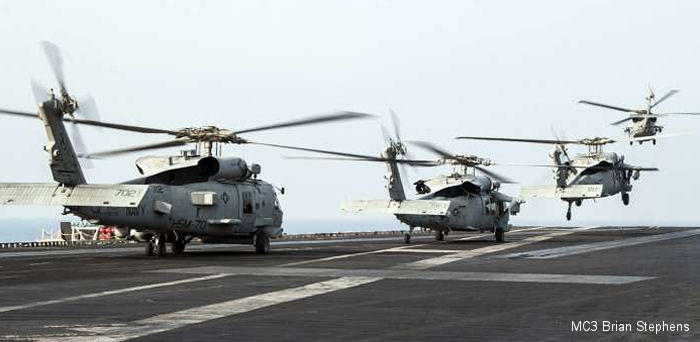 HSM-70 Spartans return from nine-month deployment, 12-Nov-14 : US Navy HSM-70 Squadron attached to Carrier Air Wing 8 George H W Bush Strike Group return to NAS Jacksonville after a nine-month combat deployment to the Arabian Gulf, Mediterranean and Black Sea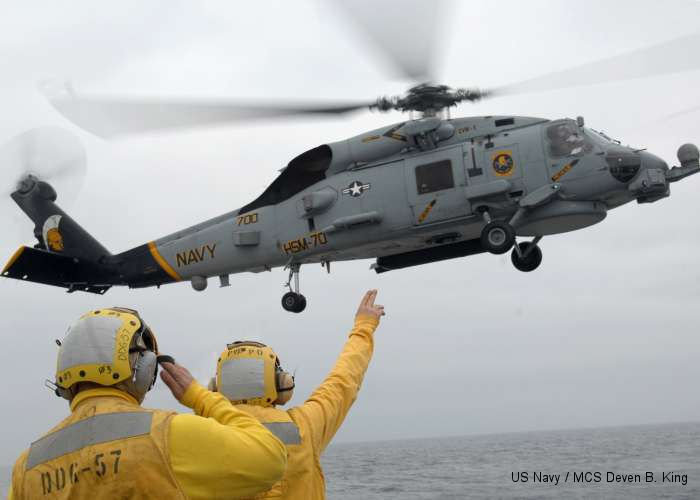 HSM-70 Spartans home from deployment, 14-Dec-11 : By Lt. j.g. Shannon Miller, HSM-70 PAO - The HSM-70 "Spartans" returned home Dec. 8 from their inaugural deployment with the George H. W. Bush Carrier Strike Group. Nine Spartan aircraft flew from USS George H. W. Bush (CVN 77), guided-missile cruiser USS Gettysburg (CG 64), and guided-missile destroyer USS Truxtun (DDG 103) and proceeded to their home hangar at NAS Jacksonville.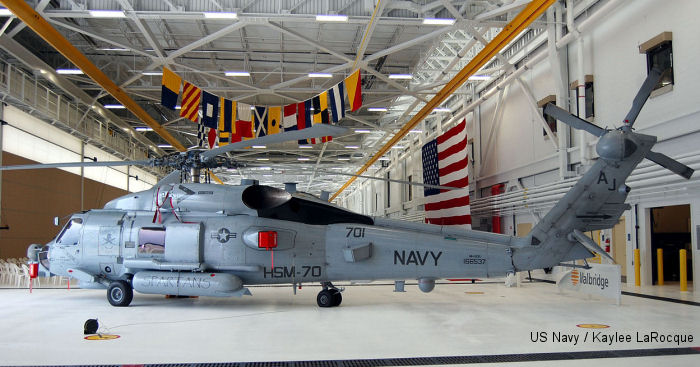 Navy newest helicopter hangar opens at NAS Jacksonville, 04-Jul-09 : JACKSONVILLE (NNS) By Kaylee LaRocque, Naval Air Station Jacksonville Public Affairs - Numerous dignitaries, military personnel, contractors and their families turned out for a ribbon-cutting ceremony to officially open the Navy's newest helicopter hangar at NAS Jacksonville June 30.
C/N
Version
Built
In this Org
In other Org
70-3069
mh-60r
166536 : HSM-70./AJ-700 at Las Vegas
: Nov12 HSM-70 /AJ-700 CAG

70-3071
mh-60r
166537 : USN; HSM-70 /AJ-701

mh-60r
166538 : USN; HSM-70 /AJ-702
: HSM-70./AJ-702 at Las Vegas

mh-60r
166539 : USN; HSM-70 /AJ-703

70-3106
mh-60r
166545 : USN; Jan13 HSM-70 /AJ-704

mh-60r
166547 : USN; HSM-70 /AJ-705

70-3145
mh-60r
166552 : USN; HSM-70 /AJ-706

70-3150
mh-60r
166554 : HSM-70 /AJ-707 at Las Vegas

mh-60r
166555 : USN; Jan13 HSM-70 /AJ-710

mh-60r
166557 : HSM-70./AJ-711 at Las Vegas
: Jan 13 HSM-70 /AJ-711

70-3171
mh-60r
166558 : USN; Jan13 HSM-70 /AJ-712

70-3276
mh-60r
166574 : 2019 HSM-70 (?)

mh-60r
167062 : USN; May13 HSM-70 /AJ-710

mh-60r
167063 : USN; Oct13 HSM-70 /AJ-700 CAG

mh-60r
167065 : USN; Nov13 HSM-70 /AJ-711

mh-60r
167066 : USN; Oct14 HSM-70 /AJ-701

70-4812
mh-60r
168123 : USN; 2016 HSM-70 /AJ-712

70-4815
mh-60r
168125 : USN; 2016 HSM-70 /AJ-701

70-4826
mh-60r
168131 : USN; 2016 HSM-70 /AJ-710
: as HSM-70 /AJ-710 asg USS Gravely (DDG 107) pictured during JW19-1 in the+