Members from
HSL-42
form the unit after their Afghanistan deployment. HUQ-1 will train, prepare and provide personnel for future ship-based deployments.
The primary mission of Unmanned Helicopter Reconnaissance Squadron ONE is to support the naval aviation Vertical Takeoff and Tactical Landing Unmanned Air Vehicle (VTUAV) requirements. HUQ-1 shore component will serve as the command element and as the first unmanned
Fleet Replacement Squadron
(FRS) that conducts level 100 training for all MQ-8B/
MQ-8C
VTUAV Fire Scout Air Vehicle Operators (AVO) and Mission Payload Operators (MPO) for the fleet. HUQ-1 sea component will provide detachments that operate VTUAVs from air capable ships to support sea-based Intelligence, Surveillance, and Reconnaissance (ISR) requirements for special operations forces. HUQ-1 consists of sea and shore elements supporting both an FRS and an operational squadron. Located in building 1458, on board naval base Coronado, North Island, San Diego.
On March 2014, HUQ-1 was changed from the MQ-8B/C Firescout VTUAV FRS at North Island to a
VTUAV maintenance detachment
at
Point Mugu
. VTUAV training requirements shift to Helicopter Sea Combat Wing, Pacific and ship deployments will be operate by composite detachments of MH-60R/S helicopters and MQ-8B/C by HSM / HSC squadrons.
---
Disestablished in 2014 due to funding.

News of Unmanned Helicopter Reconnaissance Squadron 1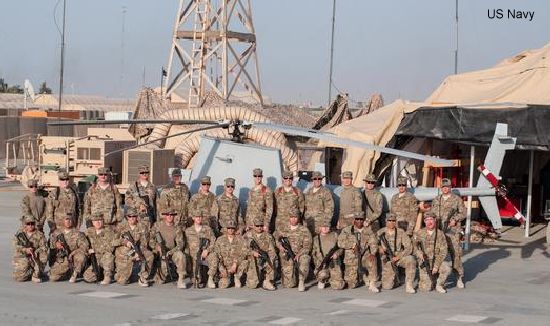 US Navy create new UAV squadron HUQ-1, 20-Sep-12 : PATUXENT RIVER, Md. – Manned aircraft have dominated the Navy for the last century; however, the use of unmanned air vehicles has been rising recently along with the demand for those who know how to operate and maintain them.
C/N
Version
Built
In this Org
In other Org