Established December 2005 to provide training for US Army Europe 7th Army and allies. Comprised the Grafenwoehr and Hohenfels training areas, the Combined Arms Training Center in Vilseck and the Training Support Activity Europe at Roedelheim. Previously known as CMTC
Allies Prepare for Saber Junction 16, 10-Apr-16 : 5,000 personnel from the U.S. 173rd Airborne Brigade, 10 NATO and six European partner nations in preparation for exercise Saber Junction 16 in Germany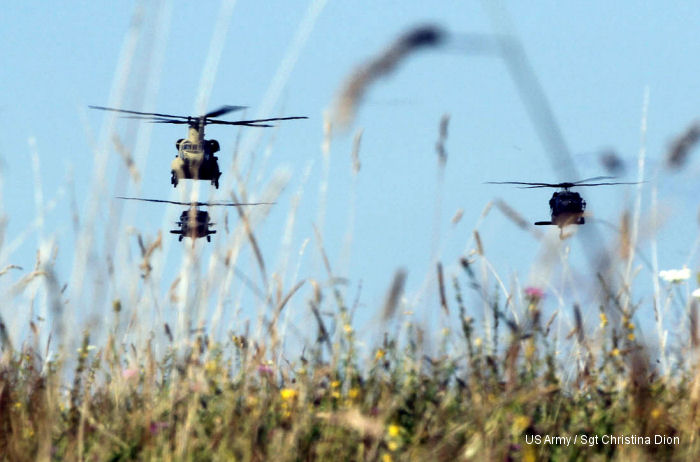 Paratroopers air assault in Saber Junction 14, 01-Sep-14 :

HOHENFELS, Germany by Sgt Christina Dion - After walking about 3 kilometers through forests, paratroopers of Company A, 1st Battalion, 503rd Infantry Regiment, 173rd Airborne Brigade, made their way from the air assault infiltration location and tactically moved on foot through thick vegetation. Their objective was to conduct a deliberate attack on the military operations on an urban terrain site known as Haaslat Village at Hohenfels Training Area Aug. 28.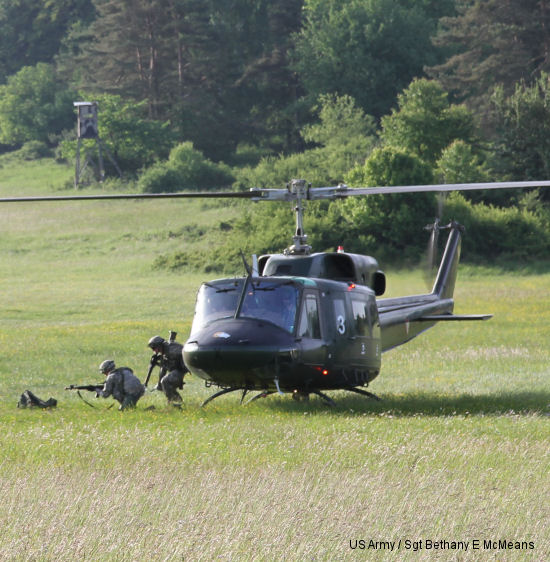 US and Austrian Military Training in Germany, 23-May-14 : HOHENFELS, Germany by Sgt Bethany McMeans - U.S. and Austrian Soldiers jumped out of Army UH-60 Black Hawks and Austrian helicopters to begin an air assault mission to attack and defend an operating base during Combined Resolve II.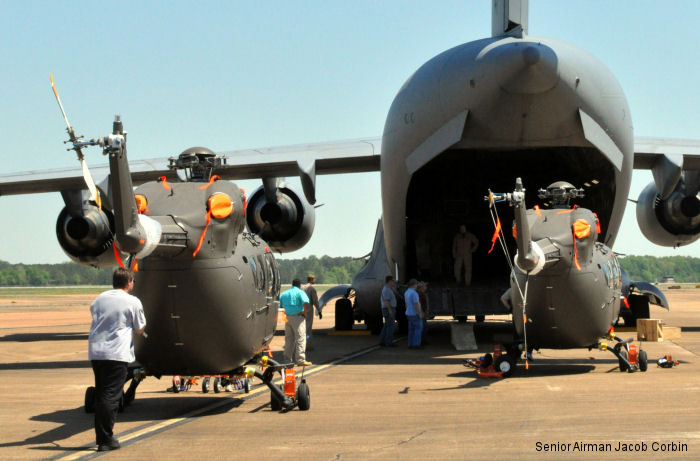 US Army Lokotas Arrived to Europe, 23-Apr-10 :

U.S. Army first UH-72A Lakota transferred directly from factory overseas to be used by the Joint Multinational Readiness Center at Hohenfels, Germany
C/N
Version
Built
In this Org
In other Org
9163
uh-72a
07-72029 : Jan14 JMRC agressor camo

9304
uh-72a
2009
09-72097 : LUH097;JMRC apr10 jan14 Agressor c/s N669AE

N669AE : Eurocopter toward US Army

9307
uh-72a
09-72098 : US Army l/n:LUH098; 2011 JMRC

N674AE : Eurocopter toward 09-72098

9315
uh-72a
09-72100 : US Army d/d March 2010; 100th UH-72A delivered; 09sep10 pictured at Hohen+

N697AE : American Eurocopter; to 09-72100

9320
uh-72a
09-72105 : US Army c/n 9320/LUH105; originally to be 07-2105; 2010 JMRC camo c/s
: Feb19 still JMRC, Germany

N710AE : Eurocopter toward 09-72105

9325
uh-72a
09-72106 : US Army; JMRC light cammo; 09sep10 pictured at Hohenfels Training Area, G+

N741AE : Eurocopter test serial toward 09-72106

9329
uh-72a
09-72107 : JMRC at Ramstein

9332
uh-72a
09-72108 : US Army, test serial N745AE; 24jun15 pictured asg Falcon Team, Joint Multi+

13335
uh-1h
72-21636 : US Army; JMRC at Ramstein

N636WW : State Dept from 2011, conv to Huey II; 2017 INL/A in Panama as 21636
21636 : US State Dept INL/A

13356
uh-1h
73-21668 : JMRC at Ramstein

N668WC : State Dept from 2011, conv to Huey II; 2017 INL/A in Panama as 21668
21668 : US State Dept INL/A

13474
uh-1h
73-21786 : JMRC at Ramstein

N668WC : State Dept from 2011, conv to Huey II; 2017 INL/A in Panama as 21786
21786 : US State Dept INL/A

13789
uh-1h
74-22465 : JMRC at Ramstein

N433EA : State Dept Apr11-Sep18
N465WC : State Dept Apr11-Sep18
N465WC : Louisiana Dept Public Safety at Baton Rouge, LA from Nov18; Louisiana DPS