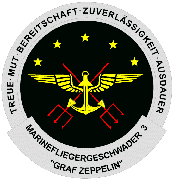 Stationed at Nordholz, operates super lynx from german navy frigates
18jul63 - Marinefliegergeschwader 3 (Naval Air Wing 3) established.
01apr64 - Official formation in Kiel-Holtenau.
15jan65 - Nordholz Air Base became home of MFG3 (NAW 3).
09jul67 - MFG 3 (NAW 3) named Graf Zeppelin.
01oct81 - 3.Staffel (3.Sqd) with Sea Lynx formed
07may97 - Official Opening Naval Air and Air Ship (Zeppelin) Museum at Nordholz Air Base.
01jul99 - 85 Years Nordholz Air Base and 35 Years MFG 3 Annivarsary.
01apr00 - Landing of the first 4 Super Lynx Mk.88a.

On November 2012, the Sea Lynx helicopters were transferred to
MFG5
.
The unit flies the Do228 and P-3C Orion patrol aircraft
Years
Location
ICAO/FAA
1958-
Nordholz
ETMN




Models
Marinefliegergeschwader 3 Operations