Established 1981, Care Flight is a non-profit, non-subsidized, self-supporting organization and is a service of REMSA (Regional Emergency Medical Services Authority).
Care Flight provides services throughout the northwest Nevada and northeastern California region with base locations in Reno, Gardnerville and Fallon, Nevada and Truckee and Beckworth, California.
Accredited by
CAMTS
in 2002. As of 2017 uses 4 AS350B3 helicopters operated by
Med-Trans
, 1 fixed-wing aircraft operated by
REACH
and the Plumas Ground Ambulance Service with three ambulances.
News of REMSA Care Flight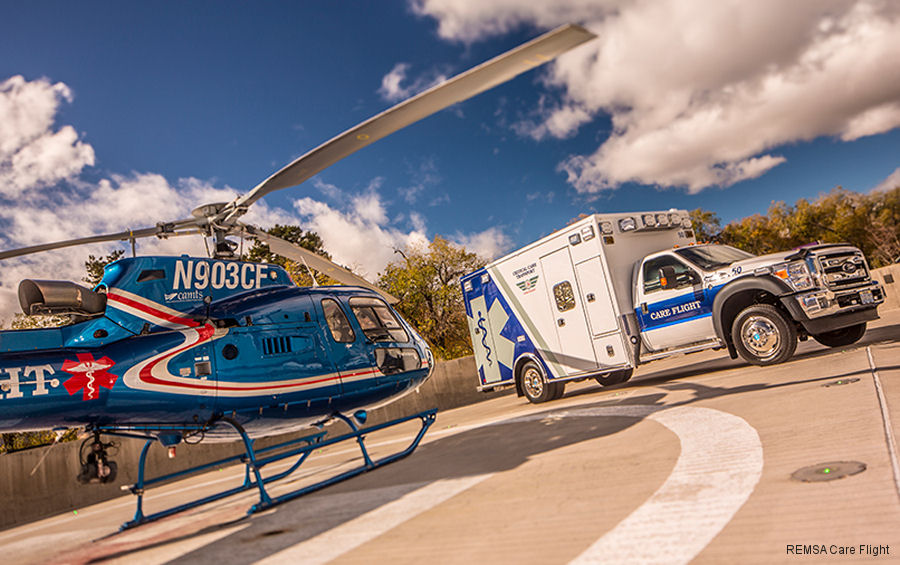 Med-Trans Partners with REMSA Care Flight, 14-Feb-18 : Med-Trans Corp, a national air medical transport company, to provide flight services including pilots and maintenance crew members to REMSA Care Flight to serve large parts of Nevada and California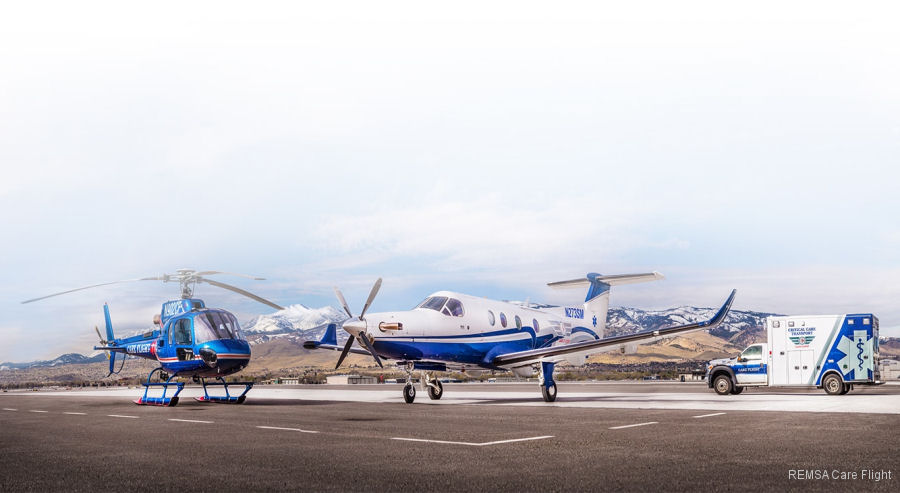 Care Flight Reaccreditation From CAMTS, 06-Feb-18 : Nevada's Regional Emergency Medical Services Authority (REMSA) Care Flight received re-accreditation from the Commission on Accreditation of Medical Transport Systems (CAMTS)
Years
Models
Eurocopter AS350B3 Ecureuil
Eurocopter AS350B3e Ecureuil


REMSA Care Flight List of helicopters

Help Us
C/N
Version
Built
In this Org
In other Org
4160
as350b3
2006
N901CF : Regional Emergency Medical Services Authority at Reno, NV from Jan07; REMS+

3630
as350b3
2002
N902CF : Regional Emergency Medical Services Authority at Reno, NV from May13; REMS+

N477AE : American Eurocopter

3645
as350b3
2002
N903CF : Regional Emergency Medical Services Authority at Reno, NV from May13, op b+
: 20dec18 pictured (pic2) as REMSA Care Flight 1 delivered Santa to the REM+

N481AE : American Eurocopter

3676
as350b3
2003
N904CF : Regional Emergency Medical Services Authority at Reno, NV May13-Nov18; REM+

N484AE : American Eurocopter
N904CF : Eurotec Vertical Flight Solutions Llc at Eudora, KS from Nov18
: Oct20-Mar21 for sale Eurocopter AS350B-3 2003 - 7514 flight hours, locatio+

7278
as350b3e
2011
N905CF : REMSA Care Flight Feb18, op by Med-Trans; pictured (pic2)

N873AG : American Eurocopter Oct11
N852MB : AMRG Guardian Flight at South Jordan, UT Apr12-Nov17; pictured (pic1)
N905CF : Med Trans Corp from Nov17