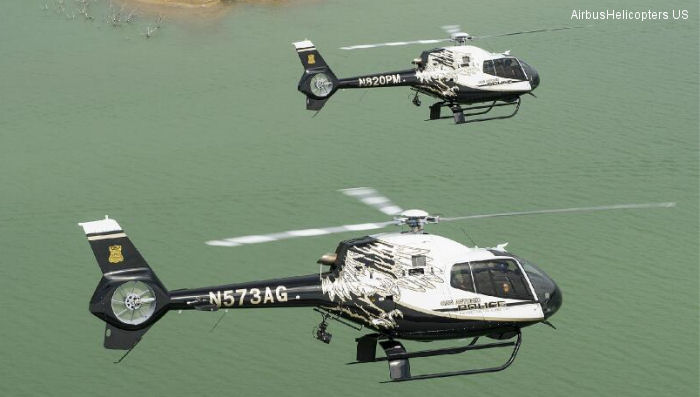 News of San Antonio Police Department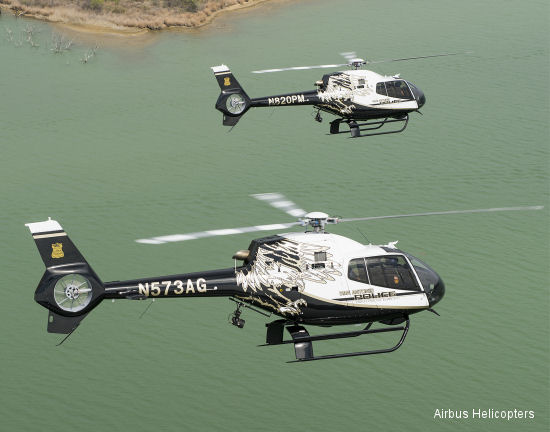 San Antonio Police puts 2 EC120 into service, 15-Jul-14 : GRAND PRAIRIE,Texas – Airbus HelicoptersInc. (AHI) is pleased to announce that the San Antonio Police Department has placed two new EC120's into service, giving them an all-Airbus Helicopters helicopter fleet for patrol and search-and-rescue missions.
San Antonio Police Dept orders 2 EC120, 16-Jul-13 : Grand Prairie, Texas – American Eurocopter is pleased to announce the purchase of two Eurocopter EC120 helicopters by the San Antonio Police Department as part of an upgrade to their fleet of patrol helicopters.
Years
Models
Airbus Helicopters H120
Airbus Helicopters H125
Eurocopter AS350B3 Ecureuil


San Antonio Police Department List of helicopters

Help Us
| | | | | | |
| --- | --- | --- | --- | --- | --- |
| | C/N | Version | Built | In this Org | In other Org |
| | 4101 | as350b3 | 2006 | N111NK : AS350B3+, test serial F-WWPV; San Antonio Police Department (SAPD) at San+ | |
| | 8563 | h125 | 2018 | N1603M : City Of San Antonio Texas at San Antonio, TX from Oct19; SAPD | N496AH |
| | 1688 | H120 | 2015 | N520DT : City of San Antonio Texas from Jun16; San Antonio Police Dept (SAPD) | N520DT |
| | 1683 | H120 | 2014 | N573AG : San Antonio Police Department (SAPD) from Mar14 | N573AG |
| | 1686 | H120 | 2014 | N820PM : San Antonio Police Department (SAPD); pictured brand new at Airbus helic+ | N820PM |