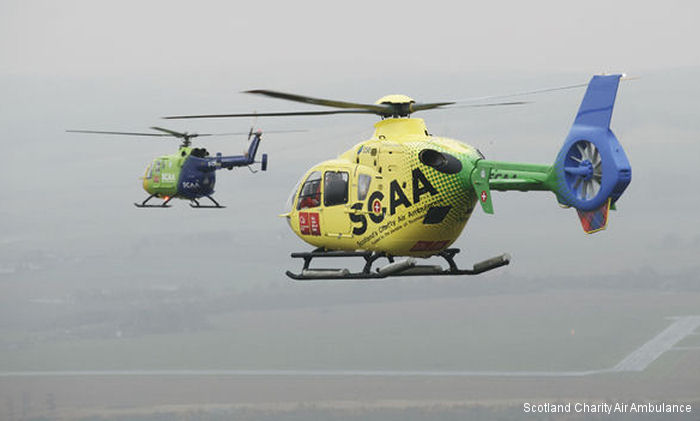 From 2013, Scotland Charity Air Ambulance (SCAA) started operations with a Bo105 based at Perth Airport.

By March 2015, SCAA has flown 500 missions
SCAA operates from Perth.
SAS
operates from Aberdeen, Glasgow and Inverness.

---
The Bo-105 as Helimed 76 operating from Perth Airport 3 miles North of Perth was put into service operated by
Bond Air Services
and Medics supplied by
Scottish Ambulance Services
.

Scotland Charity Air Ambulance List of helicopters
C/N
Version
Built
In this Org
In other Org
S-41/913
105d
1993
G-BUXS : Scottish Air Ambulance (SCAA); at Perth (Scone)

G-BUXS
- N191SJ

S-738
105cbs-2
1985
G-CDBS : Scottish Ambulance Services; Scotland Charity Air Ambulance (SCAA) as Heli+

N970MB
N970MB
VH-MBK
D-HDRZ
G-CDBS
- N192SJ

0448
ec135t2
2005
G-EMAA HELIMED-79 : Scotland Charity Air Ambulance /Helimed 79 based at Aberdeen from Apr20, p+
: pictured (pic4) in medical evacuation at Orkney islands
RHD79 :

D-HECF
G-EMAA
G-EMAA

0151
ec135t1
2000
G-SCAA : Scotland Charity Air Ambulance (SCAA) from Sep15
: Scotland Charity Air Ambulance (SCAA) 2018, op by Babcock, pictured
: 3000th mission of Scotland Charity Air Ambulance

G-SASB
G-SCAA
G-SCAA

0245
ec135t2
2002
G-SPHU : Scotland Charity Air Ambulance

D-HKBA
G-SPHU
G-SPHU
G-SPHU
G-SPHU

0745
ec135t2+
2008
G-WASS : Scotland's Charity Air Ambulance (SCAA)

G-WASS
G-WASS
- SE-JTO