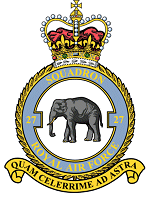 Formed on 5 Nov 1915 from a core of 24 Squadron at Hounslow, 27 Squadron saw service in both World Wars. It was a V-Bomber unit throughout the 1960s and 70s and operated Tornados during the 1980s. On 1 Oct 1993, 27(R) Squadron took over the role of
240 Operational Conversion Unit
and with it, its
Chinook
HC.1a and Puma HC.1s at RAF Odiham (EGVO). On 1 Jan 1998 27(R) Squadron lost its reserve status and shortly afterwards, its Pumas departed for
RAF Benson
.

For c 12 days during early May 2015, a flight of 3 Chinooks was deployed in stages to assist in humanitarian disaster efforts, following the
Nepal earthquakes
, but were held on the ground in India at Chandigarh AFS, while the
Nepalese
Government decided that they were not required. They returned to RAF Odiham via
RAF Brize Norton
in May 2015 without taking any part in the relief effort.

On 28 Dec 2015, in response to flooding in York, the unit delivered critical parts to repair machinery at the Citys
River Foss Barrier
.

News about this Rotary Wing Unit :
Construction Numbers for 27 Sq
Help Us
| | | | | | |
| --- | --- | --- | --- | --- | --- |
| | C/N | Version | Built | In this Org | In other Org |
| | M.7007 | ch-47d | 1980 | ZA671 : while operating from NAF El Centro, heavily damaged in a practice landing + | |
| | M.7031 | ch-47d | | ZA683 : 06oct16 pictured at RAF Northolt during Nightshoot XXI in 27 Sq anniversar+ | |
| | M.7018 | ch-47d | | ZA708 : Arrived in theatre 21 May 2010. Damaged prior to emergency landing on 10 A+ | |
| | M.4480 | mh-47e | | ZH901 : with 27 Squadron, first to deploy on 1 May, to offer aid after the Nepal e+ | N2060M : Boeing toward ZH901 |
4 serials found for 27 Sq