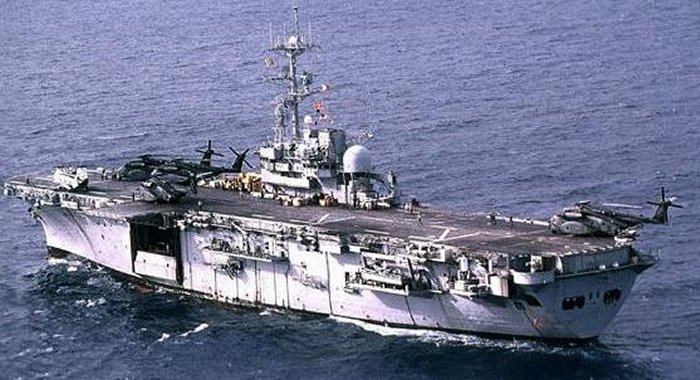 Developed from a WWII escort carrier design, were the world's first units designed and built to operate exclusively with helicopters.
The air group ( actual mix depends upon mission) could carry 25 - 30 helicopters ( of types
CH-46
,
CH-53
,
UH-1N
and
AH-1
) for the 1800 marines that can go on board, and/or some AV-8 Harriers ( vertical take-off aircraft ).
The USS Guam (LPH 9), the last of the Iwo Jima assault ships Class in service, was decommissioned August 25, 1998 although her sister ship USS Inchon (LPH 12) was converted to a mine countermeasures support ship (as MCS 12) in 1996 and remains in service with the Naval Reserve until decommissioned on Jun 20, 2002.
The lead ship, USS IwoJima (LPH2), on April 17, 1970, was the flagship of the Task Force that wait for the Apollo 13 spaceship 's astronauts after their memorable "successful failure" mission.
Picture above notice the size of the Sikorsky CH-53
660
crew
2100
troops
11000
light (tn)
18400
full load (tn)
180
length (m)
26
beam (m)
8.20
draught (m)
22
max speed (knots)
22000
power (shp)
2
Naval Engine boilers
1
Naval Engine steam turbines
2
Close-In Weapon System CIWS Phalanx 20 mm
The Max option implies only aircraft of this model onboard
US Navy
LPH-2
USS Iwo Jima
NXXG - 2
1961
1993
US Navy
LPH-3
USS Okinawa
1962
1992
US Navy
LPH-7
USS Guadalcanal
NIEG - 7
1963
1994
US Navy
LPH-9
USS Guam
NAHM - 9
1965
1998
US Navy
LPH-10
USS Tripoli
1966
1995
US Navy
LPH-11
USS New Orleans
1968
1997
US Navy
LPH-12
USS Inchon
1970
2002
US Navy
LHA-1

Tarawa class

USS Tarawa
NLHA - 1
1976
2009
US Navy
LHA-2

Tarawa class

USS Saipan
NHOV - 2
1977
2007
US Navy
LHA-3

Tarawa class

USS Belleau Wood
NBWD - 3
1978
2005
US Navy
LHA-4

Tarawa class

USS Nassau
NJPX - 4
1979
2011
US Navy
LHA-5

Tarawa class

USS Peleliu
NPEL - 5
1980
2015
US Navy
LHD-1

Wasp class

USS Wasp
NEBP - 1
1989
--
US Navy
LHD-2

Wasp class

USS Essex
NESX - 2
1992
--
US Navy
LHD-3

Wasp class

USS Kearsarge
NNKP - 3
1993
--
US Navy
LHD-4

Wasp class

USS Boxer
NBXR - 4
1995
--
US Navy
LHD-5

Wasp class

USS Bataan
NBAT - 5
1997
--
US Navy
LHD-6

Wasp class

USS Bonhomme Richard
NBHR - 6
1998
2020
US Navy
LHD-7

Wasp class

USS Iwo Jima
NXXG - 7
2001
--
US Navy
LHD-8

Wasp class

USS Makin Island
NMXG - 8
2009
--
US Navy
LHA-6

America (2014) class

USS America
NUSA - 6
2014
--
US Navy
LHA-7

America (2014) class

USS Tripoli
NTRP - 7
2020
--


22 units
1959-apr-2
Laid down
LPH-2 USS Iwo Jima at Puget Sound Naval Shipyard, Bremerton, WA
1959-dec-21
Ordered
LPH-7 USS Guadalcanal
1960-apr-1
Laid down
LPH-3 USS Okinawa
1960-sep-17
Launched
LPH-2 USS Iwo Jima
1961-aug-19
Launched
LPH-3 USS Okinawa
1961-aug-26
Commissioned
LPH-2 USS Iwo Jima
1961-sep-1
Laid down
LPH-7 USS Guadalcanal
1962-apr-14
Commissioned
LPH-3 USS Okinawa
1962-nov-15
Laid down
LPH-9 USS Guam
1962-dec-10
Ordered
LPH-10 USS Tripoli
1963-mar-16
Launched
LPH-7 USS Guadalcanal
1963-jul-20
Commissioned
LPH-7 USS Guadalcanal
1964-jun-15
Laid down
LPH-10 USS Tripoli
1964-aug-22
Launched
LPH-9 USS Guam
1964-dec-18
Ordered
LPH-11 USS New Orleans
1965-jan-16
Commissioned
LPH-9 USS Guam
1965-jul-31
Launched
LPH-10 USS Tripoli
1966-mar-1
Laid down
LPH-11 USS New Orleans
1966-jun-16
Ordered
LPH-12 USS Inchon
1966-aug-6
Commissioned
LPH-10 USS Tripoli
1968-feb-3
Launched
LPH-11 USS New Orleans
1968-apr-4
LPH-3 USS Okinawa Apollo 6 mission, 1st LPH as primary recovery ship, 370 miles north of Hawaii
1968-apr-8
Laid down
LPH-12 USS Inchon
1968-nov-16
Commissioned
LPH-11 USS New Orleans
1969-mar-3
LPH-11 USS New Orleans Arrived at her homeport San Diego by way of the Panama Canal
1969-mar-13
Deployment
LPH-7 USS Guadalcanal Deployed to North Atlantic to recover Apollo 9 command module and crew.
1969-may-24
Launched
LPH-12 USS Inchon
1969-jun
LPH-3 USS Okinawa HMM-265 replaced HMM-362 onboard, replaced by HMM-165 in August, SLF helicopter squadrons HMMs 164 and 362 were rotated to Phu Bai in support of the 3rd MarDiv
1969-jul-22
LPH-11 USS New Orleans Commander COMPHIBRON ONE transferred his pennant from USS Dubuque LPD-8
1969-aug
LPH-11 USS New Orleans Flagship for Amphibious Ready Group Bravo
1969-aug-27
LPH-11 USS New Orleans Offloaded 18 CH-53As from HMM-361 to join MAG-36 at Phu Bai
1969-oct
LPH-11 USS New Orleans Operation Keystone Cardinal
1969-oct
LPH-11 USS New Orleans Offloaded Battalion Landing Team 2-26
1969-nov-1
Deployment
LPH-10 USS Tripoli Underway WESTPAC
1970
LPH-11 USS New Orleans Marines of the 26th Regiment boarded at Da Nang for trip back home
1970-feb-17
Deployment
LPH-10 USS Tripoli Arrived at North Island, San Diego from Vietnam with 1,250 marines as part of President Nixon s withfrawal of combat troops. Aircraft Group 16, VMA-223 and HMH-361
1970-mar-12
LPH-11 USS New Orleans Docked at Da Nang
1970-apr-17
Deployment
LPH-2 USS Iwo Jima Apollo XIII splashdown recovery assigned as Flagship for Task Force 130, operating 300nm west of Cook Islands for Apollo XIII recovery
1970-jun
Deployment
LPH-9 USS Guam Great Peruvian Earthquake relief operations spent 10 days during Jun offshore Chimbote, delivering aid and medical services to Peru.
1970-jun-20
Commissioned
LPH-12 USS Inchon at NS Norfolk.
1970-aug
LPH-11 USS New Orleans Provided support and security for President Nixon visit to Puerto Vallarta, Mexico
1970-dec-13
LPH-3 USS Okinawa At Subic Bay Naval Base, Philippines
1970-dec-25
LPH-3 USS Okinawa Returned to San Diego, California after 7 month WESTPAC
1971
LPH-11 USS New Orleans Mike Douglas TV Show filmed onboard
1971
Trials
LPH-7 USS Guadalcanal 1st US Ship to operate the AV-8A.
1971-feb-9
LPH-11 USS New Orleans Apollo 14 astronauts quarantined on Pacific Carrier. Sea kings 152123, 152121
1971-feb-9
LPH-11 USS New Orleans Helicopters of HS-6 and frogmen of UDT-11 made recovery
1971-aug-7
LPH-3 USS Okinawa Apollo 15 astronauts lifted aboard by helicopter with Soviet tug in target area
1971-oct-27
Aircraft
LPH-10 USS Tripoli UH-1E 151865 accident
1971-dec-14
Deployment
LPH-10 USS Tripoli Arrived in Indian Ocean, part of a 10-ship task force, with 800 marines, to evacuate American civilians from embattled East Pakistan
1971-dec-27
Aircraft
LPH-10 USS Tripoli Marine helicopter crashed at sea, another crashed a week earlier, in Indian Ocean because of Indo-Pakistan War
1972-may
Aircraft
LPH-10 USS Tripoli MAU, HMM-165 onboard in support of the Vietnamese Marines
1972-may
LPH-3 USS Okinawa HMM-164 from the 9th MEB arrived in support of the Vietnamese Marines, each ARG consisted of 4 H-53s (including 156656 ) , 14 H-46s and 4 UH-1Es
1972-jun-22
Deployment
LPH-9 USS Guam Flood of 72: embarked HS-15 SH-3H provided air rescue during major flooding of north-central Pennsylvania
1972-jul-22
Deployment
LPH-10 USS Tripoli Delivered relief supplies with 10 helicopters in the Philippines due to flooding by Tropical Storm Rita
1972-nov-22
Deployment
LPH-12 USS Inchon Departed Norfolk, goto Hawaii to pickup helo squadron for Operation End Sweep clearing mines from North Vietnam major harbors and coastal waterways. Relieve USS Tripoli on Subic Bay as she was having Engineering problems at the time.
1973
Deployment
LPH-10 USS Tripoli Assigned Amphibious Ready Group Alpha (ARG Alpha)
1973-mar-28
LPH-11 USS New Orleans Operation End Sweep, neutralized mines in Haiphong Harbor with Navy and Marine CH-53 Sea Stallion helicopters
1973-jun-6
Aircraft
LPH-9 USS Guam SH-3 151557 accident.
1973-jul-26
LPH-11 USS New Orleans Transfer 13 CH-53s from Cubi Point as substitutes for HMM-165 s CH-46s, equiped with ALE-29 flare dispensers to counter heat-seeking missles, (MAU s aviation element - 13 CH-53s, 4 CH-46s, 4 AH-IJs and 2 UH-IEs)
1973-aug
LPH-10 USS Tripoli Operations off Thailand
1973-aug-6
LPH-11 USS New Orleans Departed Subic Bay reaching Gulf of Thailand in four days, MAU, 1st Battalion 4th Marines and HMM-165
1973-sep
Deployment
LPH-10 USS Tripoli Operation End Sweep, cleared mines from North Vietnam major harbors and coastal waterways using helicopters
1973-sep-8
LPH-10 USS Tripoli Towed to Subic Bay due to loss of propulsion system. Relieved on station by USS Inchon
1973-sep-19
LPH-10 USS Tripoli USMC 1st battalion 4th marines
1973-sep-25
LPH-11 USS New Orleans Skylab 2 astronauts sleep aboard as ship arrives in San Diego
1973-oct
LPH-3 USS Okinawa Replaced the USS Tripoli LPH-10 in Subic Bay, (in the Pacific fleet there were only 3 LPHs for 5 squadrons), transferred all embarked MAU elements
1974-jan-4
LPH-11 USS New Orleans Underway for Skylab IV mission
1974-feb-8
LPH-11 USS New Orleans Recovered astronauts Gibson, Pogue and Carr about an hour after splashdown, 176 miles from San Diego, California
1974-apr-5
LPH-3 USS Okinawa Arrived at Subic Bay with elements of the 31st MAU that unloaded cargo for LPH turnover to the USS New Orleans LPH-11
1974-apr-6
LPH-11 USS New Orleans 31st MAU s LPH unit swap complete from LPH-3
1974-jun-22
LPH-11 USS New Orleans Returned to Subic Bay from Okinawa where HMM-164 replaced HMH-462
1974-jul
Deployment
LPH-12 USS Inchon Partition of Cyprus detached from US 6th Fleet in Mediterannean and ordered off Cyrprus to support and if neccesary evacuate US Nationals in aftermath of Turkish invasion of the island. Operated in support of USS Forrestal. HMM-162 and HMH-362 embarked.
1975-mar
LPH-3 USS Okinawa Underway from Subic Bay for the Gulf of Thailand
1975-apr-12
LPH-3 USS Okinawa Operation Eagle Pull, in the Gulf of Thailand with US Marines CH-53 helicopters to evacuate personnel from Phnom Penh
1975-may-3
LPH-3 USS Okinawa Arrived at Subic Bay with 150 evacuees aboard from Phnom Penh
1975-jul
LPH-11 USS New Orleans At Pearl Harbor, lowered Apollo capsule to the dock
1975-jul-24
LPH-11 USS New Orleans Apollo lands 6.2 miles from recovery ship, 330 miles west of Pearl Harbor, Hawaii, craft lowered by crane onto deck
1977-sep
Port Visit
LPH-11 USS New Orleans U.S. Naval Base Yokosuka, Japan
1977-sep-28
LPH-11 USS New Orleans AV-8 Harrier jet landed on the deck, then rose and roared off, near the coast of Okinawa
1977-oct
LPH-11 USS New Orleans 3rd Battalion 4th Marines onboard, WESTPAC 77
1977-oct-11
LPH-11 USS New Orleans UNREP with USS San Jose (AFS-7)
1977-nov-1
Port Visit
LPH-11 USS New Orleans Pierside Subic Bay, Philippines
1977-dec-7
Homeport
LPH-11 USS New Orleans Moored NAV STA San Diego Pier
1978
Aircraft
LPH-7 USS Guadalcanal organic ship helo UH-1N 160827
1978-jun-7
LPH-11 USS New Orleans WESTPAC 78 June 7-Oct.5, 4 months
1978-jul-31
Port Visit
LPH-11 USS New Orleans Port visit Hong Kong after typhoon hit
1978-oct-5
LPH-11 USS New Orleans Arrived at San Diego from WESTPAC 78
1978-oct-8
Port Visit
LPH-7 USS Guadalcanal at Southampton Docks, UK. CH-53 156960 on board
1979
LPH-11 USS New Orleans In the fall of 79, HS-2 participated in amphibious operations with a multi-nation task force
1979-oct
Port Visit
LPH-11 USS New Orleans Kernel Potlatch II, Vancouver, Canada
1980-jan
LPH-3 USS Okinawa WESTPAC, in place of USS New Orleans LPH-11, relieves USS Tripoli LPH-10
1980-mar
LPH-11 USS New Orleans West Pac-Indian Ocean, Gulf of Oman
1980-may-23
LPH-11 USS New Orleans U/W WESTPAC
1980-may-30
Deployment
LPH-11 USS New Orleans Operation Eagles Claw HMM-262 Flying Tigers flew aboard and joined a detachment of four AH-1T from HMA-169 to conduct operations in the Northern Arabian Gulf in response to the hostage crisis in Iran
1980-jul
LPH-11 USS New Orleans Typhoon Kim means stand down, Philippines
1980-aug-19
LPH-11 USS New Orleans Miss America Troop arrives by helicopter
1980-sep
Port Visit
LPH-11 USS New Orleans Port Mombasa, Kenya after 33 day patrol
1980-sep-2
LPH-11 USS New Orleans Shellback Initiation Ceremony
1980-sep-18
Port Visit
LPH-11 USS New Orleans Inport Diego Garcia, for 8 hrs to refuel
1980-sep-27
Port Visit
LPH-11 USS New Orleans Fremantle-Perth, Australia, Sept.27-Oct. 2
1980-oct-19
Port Visit
LPH-2 USS Iwo Jima Liverpool Docks, UK
1980-nov-13
LPH-11 USS New Orleans Inport Pearl Harbor, Hawaii where Tiger Cruise 80 started Nov. 15th
1980-nov-22
Homeport
LPH-11 USS New Orleans Arrive in San Diego, end of WESTPAC 80
1982-feb-11
Port Visit
LPH-7 USS Guadalcanal visited Devonport en route Norfolk, Va to Norwegian waters. Her USMC HML-167 air group of CH-46E and UH-1N were aboard.
1982-sep-30
Port Visit
LPH-7 USS Guadalcanal visited Portsmouth 25-28 Sep 1982 with helos of HMA-767, HMA-773 and HMH-777 embarked
1985-nov-17
Aircraft
LPH-2 USS Iwo Jima accident during VERTREP with UH-46D 152565
1987
Deployment
LPH-7 USS Guadalcanal deployed to Persian Gulf with Navy MH-53E in the first operational mine countermeasures role.
1987-aug
Aircraft
LPH-9 USS Guam asg UH-1N 158230
1987-dec-25
LPH-3 USS Okinawa Bob Hope Christmas show onboard
1990-oct-12
LPH-3 USS Okinawa Operation Desert Shield/Storm During Operation Desert Storm, UNREP with fleet oiler Andrew J. Higgins TAO 190
1991
Aircraft
LPH-10 USS Tripoli Cross-decked her MH-53E helicopters and equipment to USS New Orleans after hitting mine
1991
LPH-11 USS New Orleans Cross-decked MH-53E helicopters and equipment from the USS Tripoli in the Persian Gulf
1991
Aircraft
LPH-10 USS Tripoli helo went down in the Indian Ocean during Desert Storm Operation
1991-jan-5
Deployment
LPH-9 USS Guam Operation Eastern Exit in company with USS Trenton for non-combatant evacuation of Diplomatic Corps and support staff from US Embassy in Mogadishu. Launched 5 CH-46 from HMH-263 and 5 CH-46 from HMM-365 to collect evacuees and the protection team. Evacuees arrived in Muscat on 11 Jan.
1991-jan-20
Deployment
LPH-10 USS Tripoli Off coast, Dubai, proceeded to northern Gulf with mine-sweeping helicopters
1991-jan-29
LPH-3 USS Okinawa Marines capture Umm al Maradim Island, 12 miles off the coast of Kuwait
1991-feb-18
Deployment
LPH-10 USS Tripoli Operation Desert Shield/Storm Northern Persian Gulf, struck an Iraqi mine during Operation Desert Storm sustaining a 16 by 20 foot hole in her forward starboard side flooding six spaces. Assisted in temporary repairs by a diving team from RFA Diligence.
1992-apr
Aircraft
LPH-2 USS Iwo Jima asg UH-1N 158264
1992-nov-17
Decommissioned
LPH-3 USS Okinawa
1992-nov-17
Struck
LPH-3 USS Okinawa
1992-dec-9
Deployment
LPH-10 USS Tripoli Operation Provide Hope, in Somalia, humanitarian operation
1993-jul-14
Decommissioned
LPH-2 USS Iwo Jima
1993-sep
LPH-11 USS New Orleans Operation Restore Hope, Mogadishu, Somalia
1993-sep-3
LPH-11 USS New Orleans Underway WESTPAC 93-94
1993-sep-24
Struck
LPH-2 USS Iwo Jima
1994-aug-31
Decommissioned
LPH-7 USS Guadalcanal
1994-oct-8
Deployment
LPH-10 USS Tripoli Deployed to Persian Gulf region in response to Iraqi troops massing on border of Kuwait
1994-nov
LPH-11 USS New Orleans Portions of the movie Apollo 13 filmed onboard
1995-mar
Refit
LPH-12 USS Inchon until May96 conv to Mine Countermeasures Command and Support Ship
1995-mar-6
LPH-12 USS Inchon redesignated MCS-12
1995-aug
Aircraft
LPH-11 USS New Orleans CH-46 157693 ditched on sea near Jordan
1995-aug-17
LPH-11 USS New Orleans Dispatched to station off Kuwait
1995-sep-15
Decommissioned
LPH-10 USS Tripoli
1995-dec-18
Fate: scrapped
LPH-2 USS Iwo Jima sold fro scrap, but Island retained as museum exhibit in Texas
1995-dec-22
LPH-11 USS New Orleans Returned from WESTPAC with more than 4,000 sailors and marines, the 11th Marine Expeditionary Unit
1997
LPH-11 USS New Orleans Decommissioned after 90,000 helicopter landings and traveling 750,000 miles
1997-oct-31
Decommissioned
LPH-11 USS New Orleans
1998-aug-25
Decommissioned
LPH-9 USS Guam
1998-oct-23
Struck
LPH-11 USS New Orleans
2002-jun-6
Fate: sunk
LPH-3 USS Okinawa COMSUBPAC off Southern California
2002-jun-20
Decommissioned
LPH-12 USS Inchon
2004
Fate: transfered
LPH-10 USS Tripoli loan to US Army
2004-dec-5
Fate: sunk
LPH-12 USS Inchon as a target
2005-may-19
Fate: sunk
LPH-7 USS Guadalcanal as a target
2006
LPH-10 USS Tripoli in Hawaii, used as launch platform for missiles trials
2010-jul-10
Fate: sunk
LPH-11 USS New Orleans as a target during RIMPAC
2011
LPH-10 USS Tripoli Docked at Pearl Harbour, HI