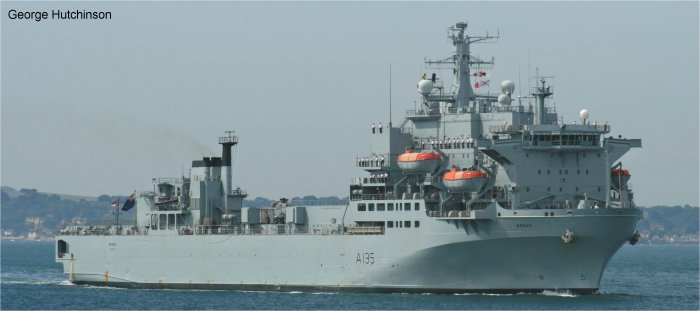 The Max option implies only aircraft of this model onboard
1 units
1982-apr
Commissioned
A135 RFA Argus Operation Corporate taken up from trade (mv Contender Bezant) for South Atlantic operations. Departed Plymouth Sound 20 May 1982 with Wasp HAS.1 XS562/371 and XT427/372 embarked, returned to Southampton 1 Aug 1982.
1984
Refit
A135 RFA Argus until 1988 at Harland and Wolff
1984-feb
Fate: transfered
A135 RFA Argus purchased by MoD for RFA service
1984-mar
Refit
A135 RFA Argus conversion from RO-RO ferry in Belfast, until 3 Mar 1988.
1988-jul-26
Aircraft
A135 RFA Argus Sea King HAS.5 ZE418 and Lynx XZ690 whilst on ship hot weather trials
1990-oct
Refit
A135 RFA Argus rapid refit to add primary casualty receiving facilities as response to Iraqi invasion of Kuwait
1990-oct
Deployment
A135 RFA Argus Operation Desert Shield/Storm departed HMNB Devonport for Persian Gulf, embarked Sea Kings of 846 NAS en route and arrived in theatre15 Nov.
1991-apr-2
Port Visit
A135 RFA Argus Arrived Portland Harbour and disembarked Sea Kings of 846 and 848 Squadrons after combat service in the Gulf.
1991-apr-20
Deployment
A135 RFA Argus Operation Haven Departed UK with eight 846 NAS and two 845 NAS Sea King HC.4, plus six Lynx and four Gazelles from 3 CBAS, for Iskenderun to deploy the air assets as part of Operation Haven, arriving on 30 Apr.
1992-nov
Deployment
A135 RFA Argus departed UK for the Adriatic, with 4 Sea King HC.4 of 845 Sq B Flt embarked..
1993-jan
Deployment
A135 RFA Argus UNPROFOR for Adriatic deployment to assist UNPROFOR, as aviation support for HMS Ark Royal, troop transportation and medical support for the group. Returned to UK in Jun.
1994-jan-11
A135 RFA Argus major fire at Portland. Delayed return to service after refit
1999-jun-1
Deployment
A135 RFA Argus replaced HMS Invincible off Kosovo.
2002-nov-13
Aircraft
A135 RFA Argus While operating in Lyme Bay, the rotors of 848 NAS Sea King ZF123/ZQ struck the ship and crashed.
2003-jan-15
Deployment
A135 RFA Argus Operation Telic to support operations in Iraq as Primary Casualty Receiving Station with 2 Sea King from 820 NAS embarked, completing 28 May 2003.
2006-oct
Refit
A135 RFA Argus weapons systems upgrade at A&P Falmouth Docks, completed mid Jan 2007
2009-jan-21
Refit
A135 RFA Argus Major refit of casualty receiving facilities at A&P Falmouth (pic 1), until Nov 2009
2010-jun-13
A135 RFA Argus Participated with 100 years AERONAVALE with R91 Charles de Gaulle at Rade d hyeres.
2011-nov-7
Trials
A135 RFA Argus Hosted first deck landing for Lynx Wildcat by 700W Squadron for c 1 month of type handling trials
2012-apr
Aircraft
A135 RFA Argus 815 NAS 228 Flt Lynx HMA.8 /322 assigned as Argus Flt
2012-may-12
Deployment
A135 RFA Argus left UK for a 7 month Caribbean maritime security and anti-narcotic deployment as Atlantic Patrol Task (North), and to be on station during the hurricane season to provide disaster relief
2012-aug-10
Port Visit
A135 RFA Argus 3 day visit to Cayman Islands during APT(N) deployment
2012-sep-5
Port Visit
A135 RFA Argus 3 day visit to Montserrat for disaster planning and coordination exercise
2012-nov
Deployment
A135 RFA Argus operating in Caribbean on counter-narcotics mission with Dutch Navy frigate ZrMs Van Amstel.
2013-jan-21
Refit
A135 RFA Argus refit at A&P Falmouth, principally addressing main machinery and engine control systems plus improvements to medical facilities, completing 10 Jul.
2013-oct-18
Trials
A135 RFA Argus sea trials with AW139 Wildcat until Nov 7
2014-mar-31
Deployment
A135 RFA Argus Exercise Joint Warrior 14-1 JW 14-1
2014-oct-11
Port Visit
A135 RFA Argus arrived in Falmouth, to load medical supplies before setting off for Sierra Leone as part of the UK contribution (Operation Gritrock, qv) to combat the 2014 Ebola outbreak. 3x Merlin HM.2 of 820 NAS embarked.
2014-oct-17
Deployment
A135 RFA Argus Operation Gritrock departed Falmouth for Sierra Leone to assist British nationals in fighting the Ebola outbreak. Arrived Freetown 30 Oct and first of 6 UK built hospitals opened on 5 Nov. Departed Freetown on 27 Mar 2015, for return to Mounts Bay (pic 2) on 6 Apr and Falmouth on 7 Apr.
2014-oct-17
Aircraft
A135 RFA Argus embarked Merlin HM.2 ZH850, ZH856, ZH864 of 820 NAS. Disembarked to RNAS Culdrose on return to UK, from Mounts Bay, 6 Apr 2015
2015-apr-11
Deployment
A135 RFA Argus Exercise Joint Warrior 15-1 participated in JW 15-1, off NW Scotland
2015-may
Refit
A135 RFA Argus entered Falmouth for 11 month refit, completed 24 Mar 2016
2017-jun-24
Port Visit
A135 RFA Argus Arrived at Greenwich for Armed Forces Day and Seafarers Day celebrations. Departed 28 Jun.