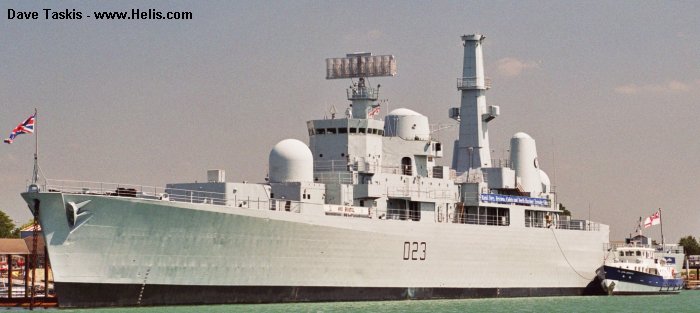 The Max option implies only aircraft of this model onboard
Royal Navy
D23
HMS Bristol
GYFE - BS
1973
--
Royal Navy
D80

Type 42 (Batch 1 and 2) class

HMS Sheffield
GNUD - SD
1975
1982
Royal Navy
D86

Type 42 (Batch 1 and 2) class

HMS Birmingham
GQEN - BM
1976
1999
Argentine Navy
D1

Hercules class

ARA Hercules
LOHE
1977
1999
Hercules class B52 ARA Hercules

2004

--
Royal Navy
D88

Type 42 (Batch 1 and 2) class

HMS Glasgow
GQIJ - GW
1977
2005
Royal Navy
D87

Type 42 (Batch 1 and 2) class

HMS Newcastle
GQIH - NC
1978
2004
Royal Navy
D118

Type 42 (Batch 1 and 2) class

HMS Coventry
GQIG - CV
1978
1982
Royal Navy
D108

Type 42 (Batch 1 and 2) class

HMS Cardiff
GQIF - CF
1979
2005
Royal Navy
D89

Type 42 (Batch 1 and 2) class

HMS Exeter
GVUJ - EX
1980
2009
Argentine Navy
D2

Hercules class

ARA Santisima Trinidad
LOSS
1981
2000
Royal Navy
D90

Type 42 (Batch 1 and 2) class

HMS Southampton
GVUK - SN
1981
2009
Royal Navy
D92

Type 42 (Batch 1 and 2) class

HMS Liverpool
GZIS - LP
1982
2012
Royal Navy
D91

Type 42 (Batch 1 and 2) class

HMS Nottingham
GZIR - NM
1983
2010
Royal Navy
D95

Type 42 (Batch 3)

HMS Manchester
GYHG - MC
1983
2011
Royal Navy
D96

Type 42 (Batch 3)

HMS Gloucester
GBBF - GC
1985
2011
Royal Navy
D98

Type 42 (Batch 3)

HMS York
GBBB - YK
1985
2012
Royal Navy
D97

Type 42 (Batch 3)

HMS Edinburgh
GBBE - EN
1986
2013


17 units
1966-oct-4
Ordered
D23 HMS Bristol
1967-nov-15
Laid down
D23 HMS Bristol Yard No. 2030
1969-jun-30
Launched
D23 HMS Bristol
1973-mar-31
Commissioned
D23 HMS Bristol
1979
Refit
D23 HMS Bristol for flagship duties, completed 1980
1982-may-10
Deployment
D23 HMS Bristol Operation Corporate Departed HMNB Portsmouth for South Atlantic as leader of Bristol Group, leaving theatre on 28 Aug 1982 after being relieved by HMS Illustrious.
1984
Refit
D23 HMS Bristol air search radar Type 1022 replaced original Type 965 AKE Double Bedstead air search radar with newer Type 1022, repairs to boilers and removal of Ikara ASW equipment.
1987
D23 HMS Bristol into reserve to become Dartmouth Training Ship, replacing HMS Kent
1990-jan-15
Deployment
D23 HMS Bristol leading the Dartmouth Training Squadron, departed for a 6 month round the world Endeavour 90 training cruise, in company with HMS Ariadne and HMS Minerva. Returned to HMNB Portsmouth on 13 Jul.
1991
Homeport
D23 HMS Bristol Training Ship alongside HMS Excellent (see picture) at Whale Island, replacing HMS Kent. Original International Callsign GYFE changed to 2AIT7.
1991-may
Deployment
D23 HMS Bristol Final deployment to Baltic Sea before entering reserve
2010-nov
Refit
D23 HMS Bristol on Tyneside for training ship life extension. Included removal of mainmast.